The celebrities did it again! Surprised us with some breathtaking looks. Take a look at June's hottest style statements made by your favourite, best-dressed celebrities. 
The fashion-conscious crowd is taking the game of styling quite seriously. From flaunting suave, cut-out dresses to soaking in sequin gowns, they're bringing the best of trending dresses to show. Elevating this very fashionable energy are your favourite celebrities who never fail to make an impact by going the experimental way. 
Celebrities over the years have risen to immense popularity due to their strong and impactful take on fashion. And with time this showcase of fashion has only gotten better and served the fashionistas with aspirational style statements to adapt and look up to.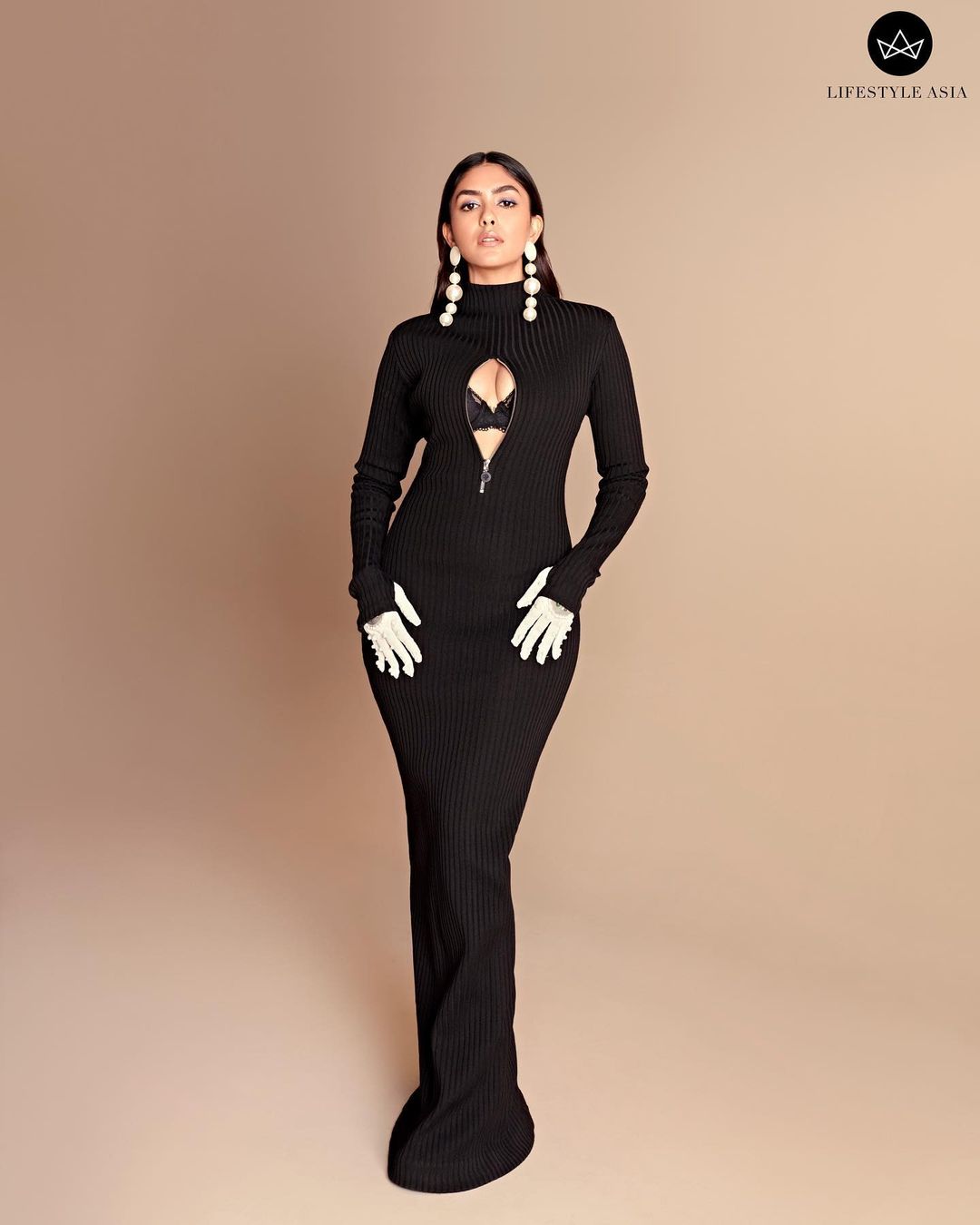 June 2023 was no different. Celebrities were seen pushing the envelope in revolutionary ways that marked new and bright moments of fashion. From actor Rakul Preet Singh in B-town to model Claudia Bouza in the West—these influential celebrities served some major fashion goals, birthing fashion moments that are both iconic and worth replicating. 
While the personalities of the celebrities did bring eyeballs to every event they marked their presence at, Falguni Shane Peacock's trendsetting designer dresses paved the way for a series of statement looks. The collaboration hinted at the bright future of fashion that's soon to get more experimental and extravagant. 
Continue to scroll to discover the magic of glamour and style that your favourite best-dressed celebrities of June 2023 and globally celebrated designer duo, FALGUNI SHANE PEACOCK brought to show. 
Best-dressed celebrities of June 2023 x FALGUNI SHANE PEACOCK
Rakul Preet Singh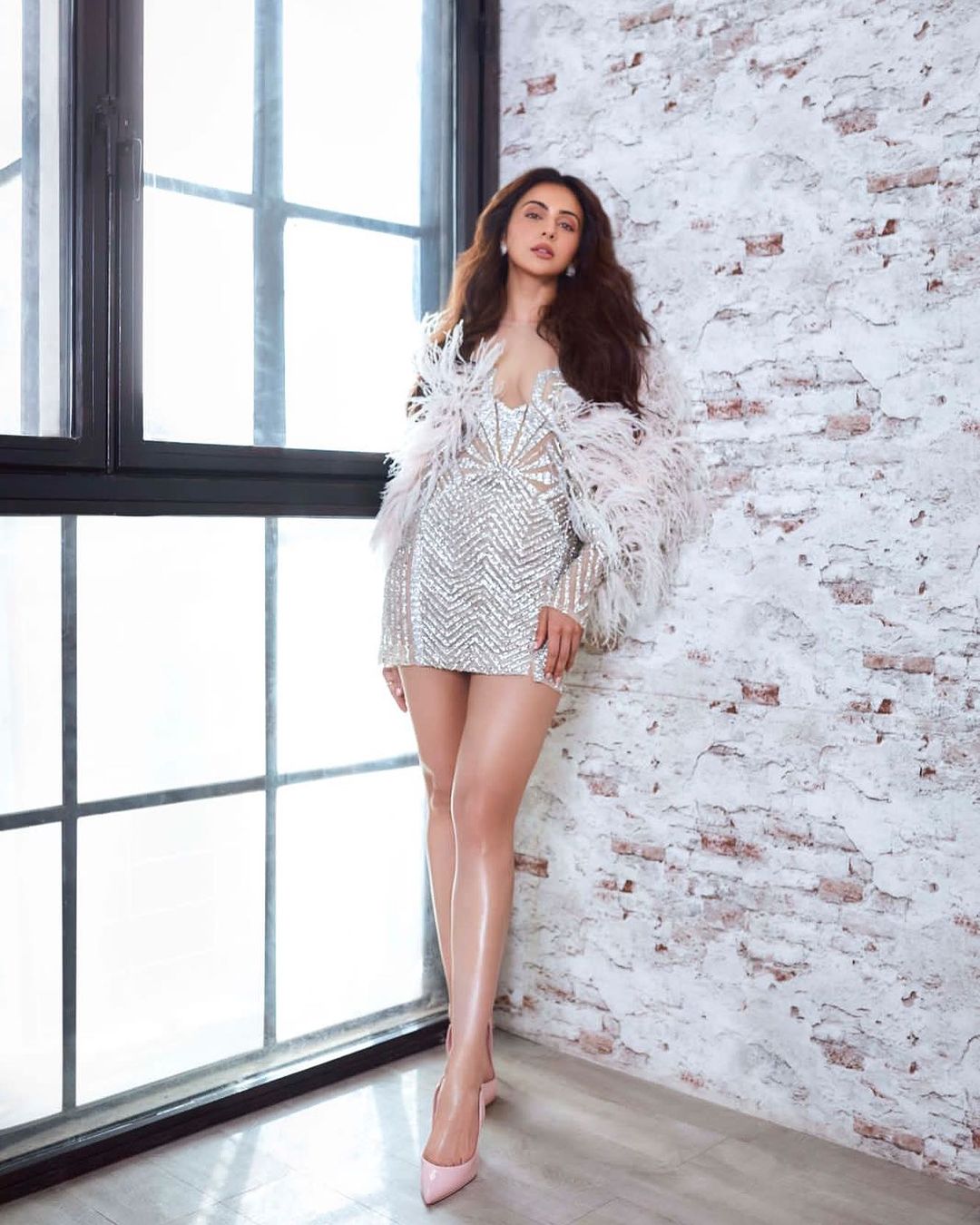 Rakul Preet Singh, the actor known for her impeccable style, made a bold fashion statement during her cover shoot for Filmfare. Sporting a custom-designed silver and mauve short dress by FALGUNI SHANE PEACOCK, she looked her absolute stylish best. 
The chevron pattern of the dress was adorned with a dazzling array of sequins, crystals, and beads, creating a shimmering effect. Additionally, the sleeves of the dress were embellished with feathers, adding an extra touch of glamour.
Tamannaah Bhatia

Actress Tamannaah Bhatia makes an effortless style statement in an exclusive FALGUNI SHANE PEACOCK ensemble, perfectly capturing the essence of luxe street fashion. 
The exquisite attire that Bhatia flaunts is a bespoke dual-toned cutout gown, featuring captivating shades of black and silver, embellished with shimmering sequins.
Najwa Karam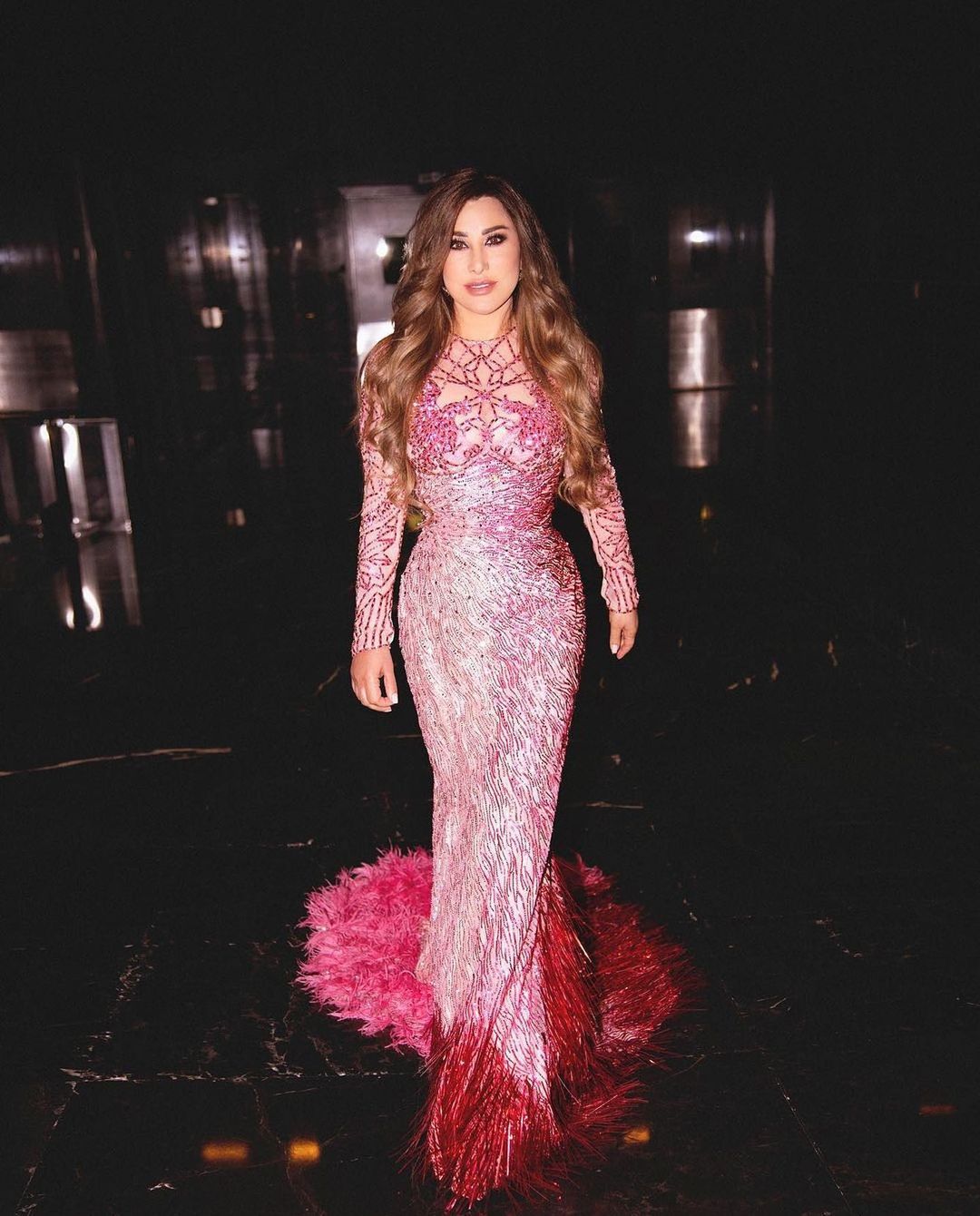 Radiating a captivating charm in shades of pink, the Lebanese singer, songwriter and fashion trailblazer, Najwa Karam elevates the glamour quotient by donning a custom hot pink and crimson red gown by FALGUNI SHANE PEACOCK. 
This mesmerising mermaid-cut attire is embellished with a multitude of sequins, crystals and beads, exuding a truly opulent vibe. The flowing cascading trail of the gown adds a touch of theatricality, making the ensemble all the more captivating.
Mrunal Thakur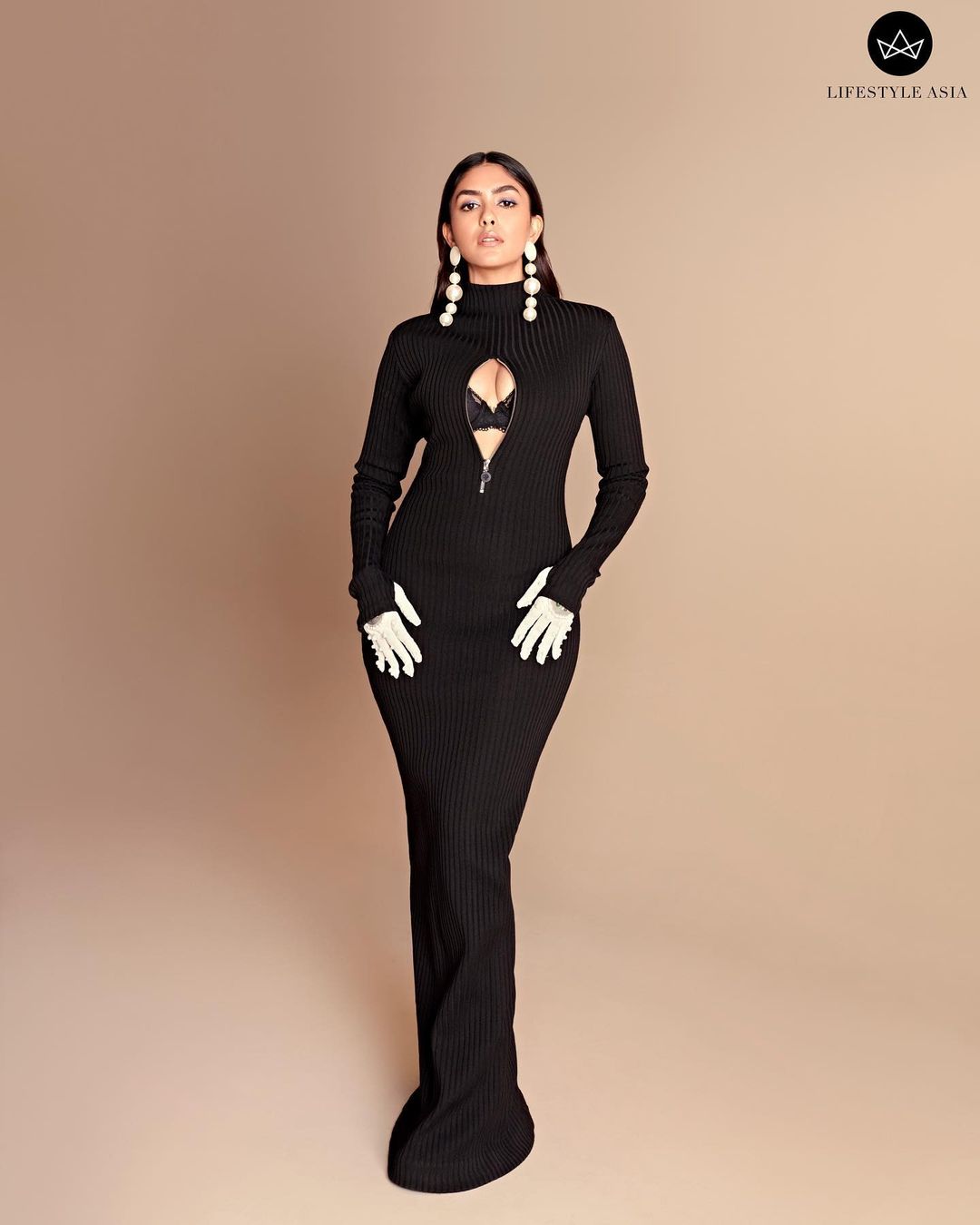 Exuding effortless style, Mrunal Thakur graces an ensemble by FALGUNI SHANE PEACOCK, seamlessly blending luxury and street fashion. 
Thakur dons the Greca high-neck jersey long dress, boasting a chic high slit that adds a hint of allure to the look. The outfit is impeccably complemented with FSP metal zip detailing, delicately placed over a front cutout, infusing a touch of glamour into the ensemble. With this exquisite combination, Mrunal radiates an enchanting presence.
Aresema Thomas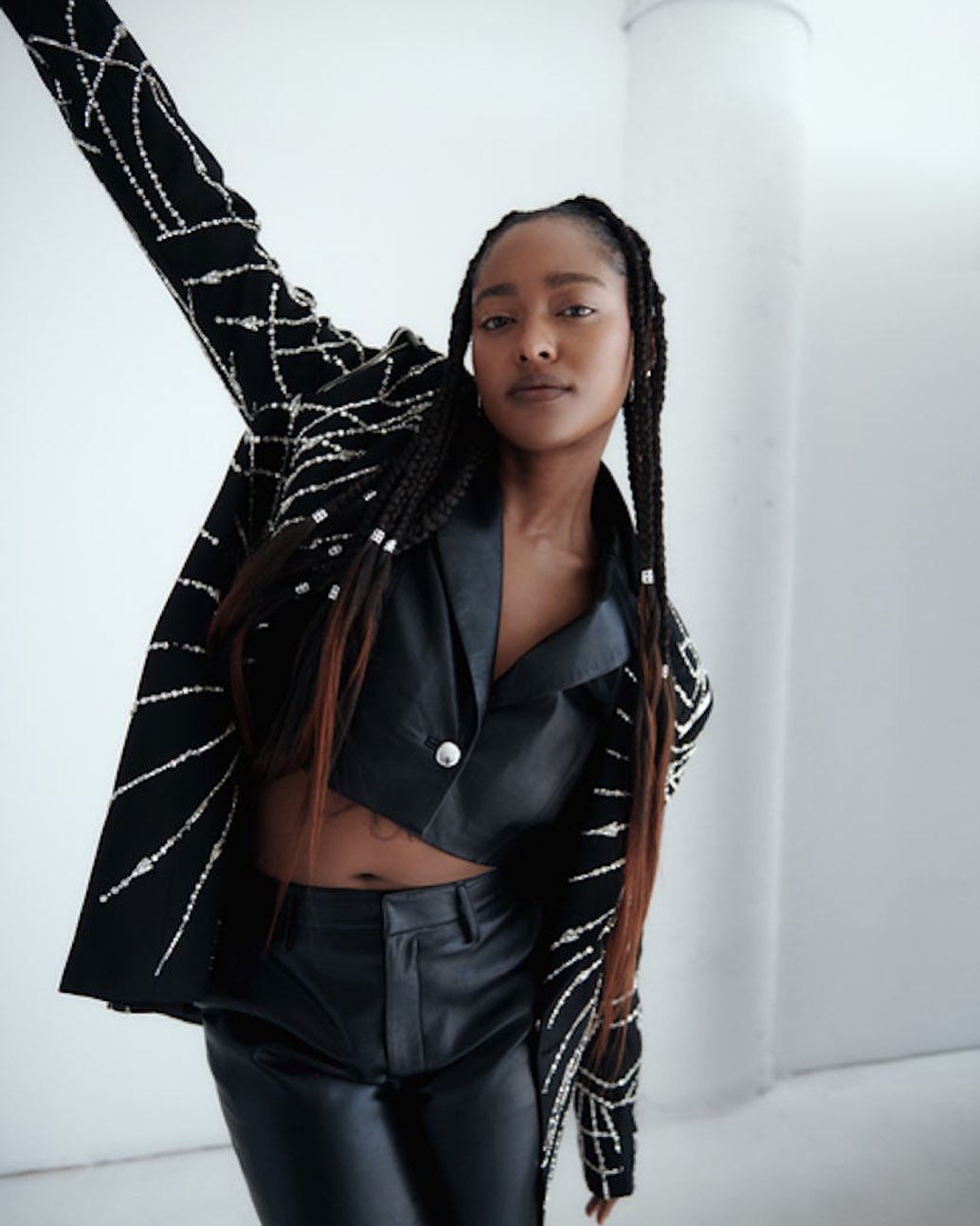 Stepping into the spotlight, Arsema Thomas, the star of "Queen Charlotte," embraces a candid moment with W magazine while donning a luxurious yet street-inspired ensemble by FALGUNI SHANE PEACOCK. 
The USP of her look is a striking black blazer jacket adorned with an exquisite arrangement of crystals and sequins, radiating a captivating allure. This chic outerwear is elegantly paired with a timeless black waistcoat and matching pants, completing the ensemble with a touch of sophistication.
Claudia Bouza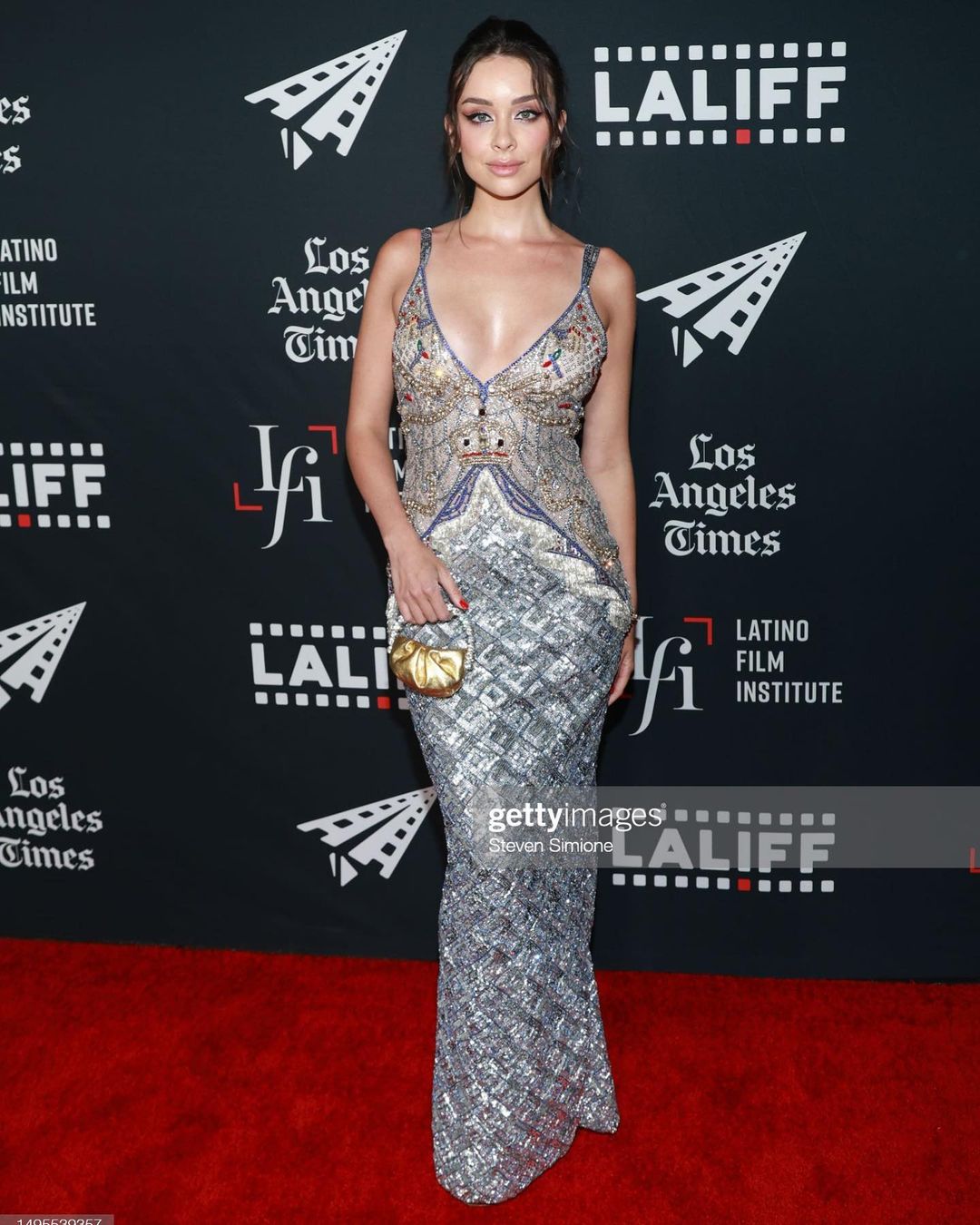 Claudia Bouza, a model and actress, looked stunning on the red carpet at the recent event hosted by Los Angeles Latino International Film Festival. She wore a custom-designed slip dress by FALGUNI SHANE PEACOCK, which featured sequins, multicoloured beads, crystals and stones. Bouza effortlessly rocked this glamorous outfit with her impeccable style.