There's something undeniably captivating about the timeless elegance of a midi dress. It's been there as a timeless wardrobe staple for years, passing the test of time. With every evolving era its popularity has only gotten better—the perfect balance of elegance and versatility it exhibits is to be blamed. These dresses are characterised by their length, which typically falls somewhere between the knee and the ankle, creating a sophisticated and timeless look.
Midi dresses come in various silhouettes, including fitted, A-line, wrap and flowy–allowing women to choose a style based on their individual preferences. The dress offers incredible versatility. It can be paired with heels and statement accessories for a sophisticated and formal look or styled with flats and a denim jacket for a more casual and laid-back vibe. 
The dress has also emerged as a popular choice for both daytime and evening events–making it a staple in many women's wardrobes. When it comes to fabrics and prints, midi dresses offer an array of options. From floral prints to solid colours, from lightweight fabrics perfect for the summers to heavier ones suitable for cooler seasons, there is a midi dress for every season and style.
Whether you're going to work or simply enjoying a weekend brunch, midi dresses provide a chic and elegant solution that effortlessly combines comfort and style. Their timeless appeal and versatility make them a go-to choice for fashion-conscious women seeking a classic yet modern look.
Adding to the effortless elegance of the dress, we have curated a trendsetting guide on how to style a midi dress. As you continue to scroll you will encounter a coveted edit of chic midi dresses that are trending and winning a place in every fashionista's wardrobe. To complement these exquisite midi dresses, we have also put together a series of midi dress styling tips that are sure to surprise the fashion-conscious crowd. 
So without delaying it any further, let's scroll through the season's hottest staple and learn some cool midi dress styling tips to stay ahead of the curve. 
Midi dress styling tips: Outfit ideas that are to rule the season in high fashion 
Botanic wink world midi dress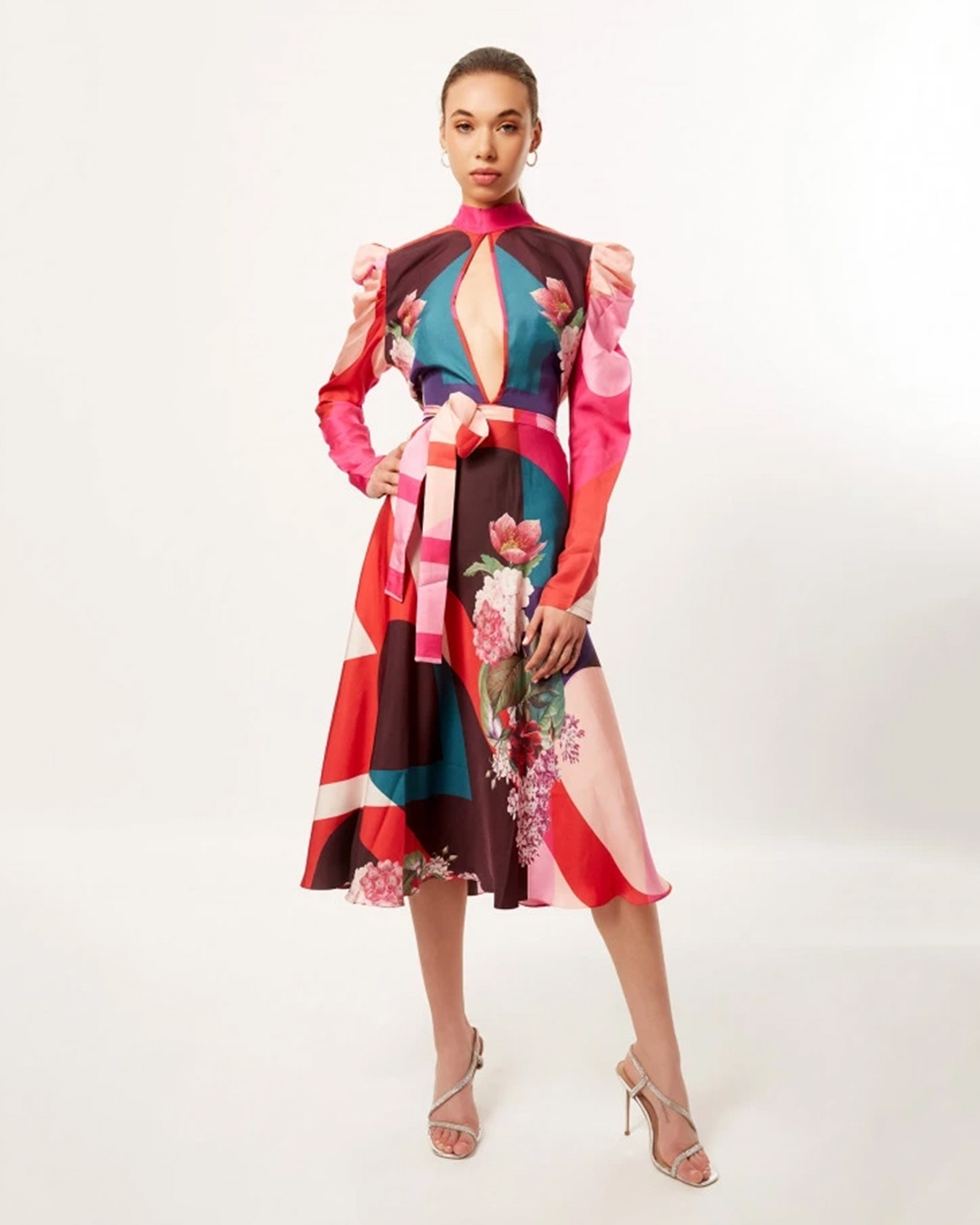 Vatican fresco midi dress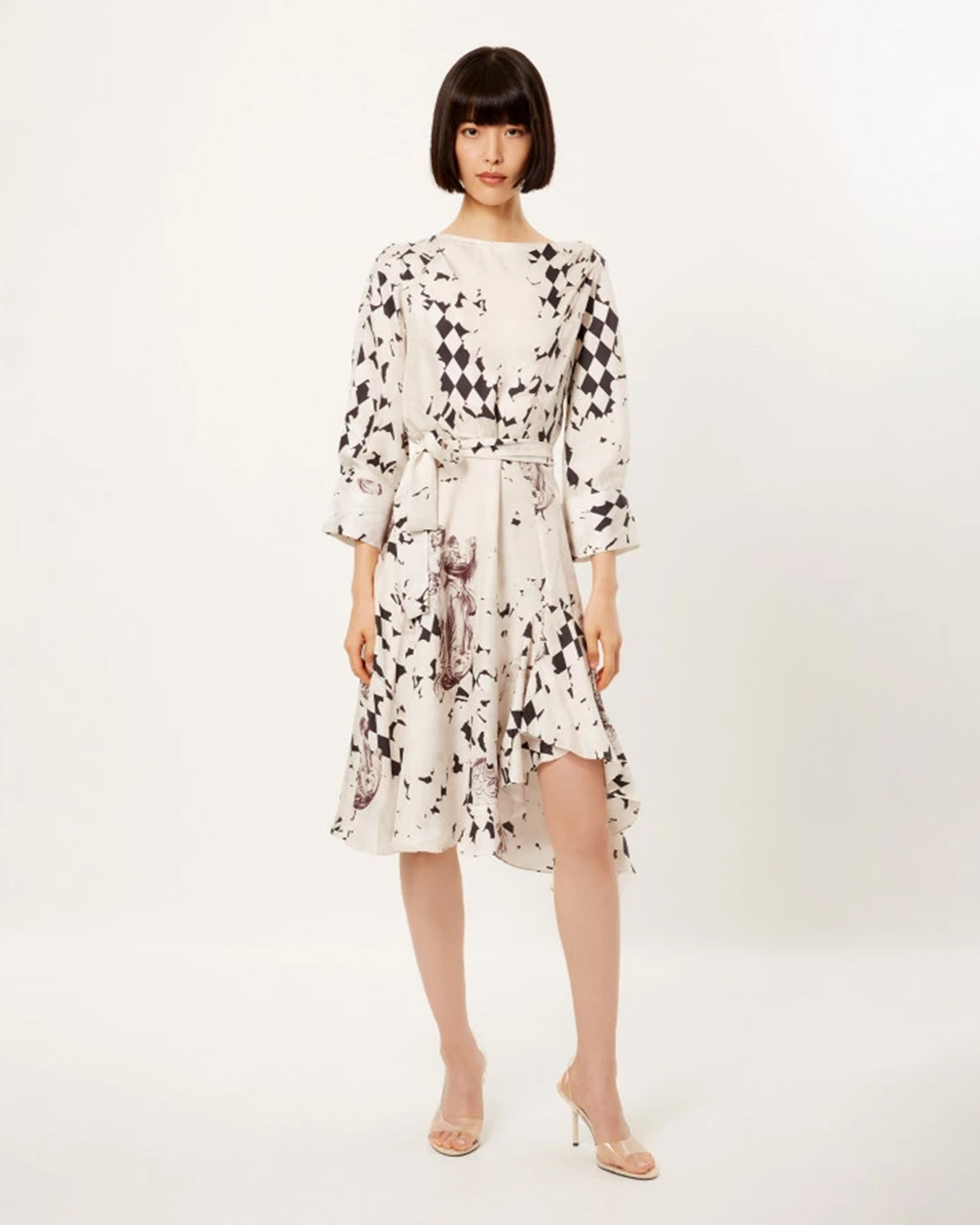 Blue bloom midi dress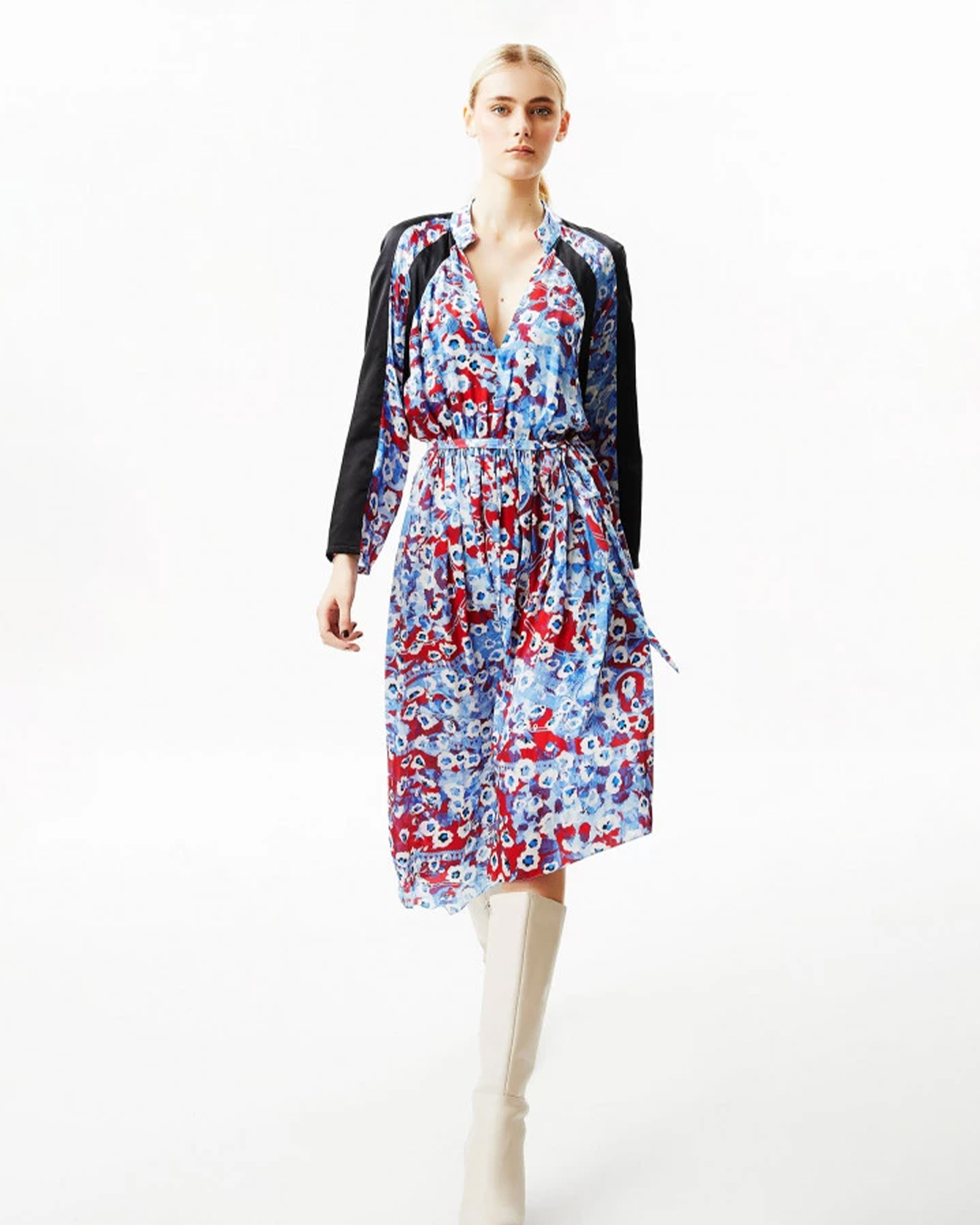 Yellow divine midi dress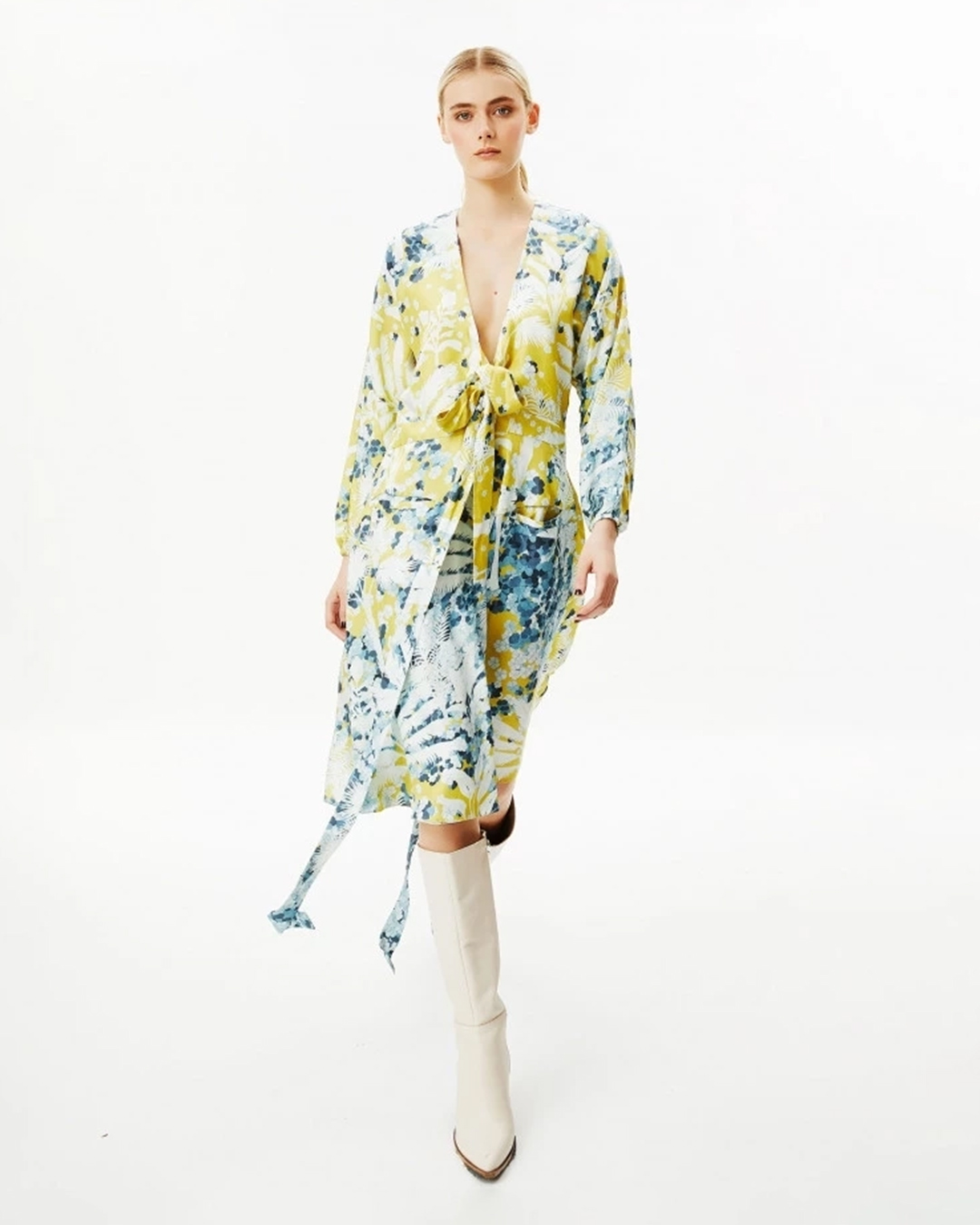 Indigo blue wrap dress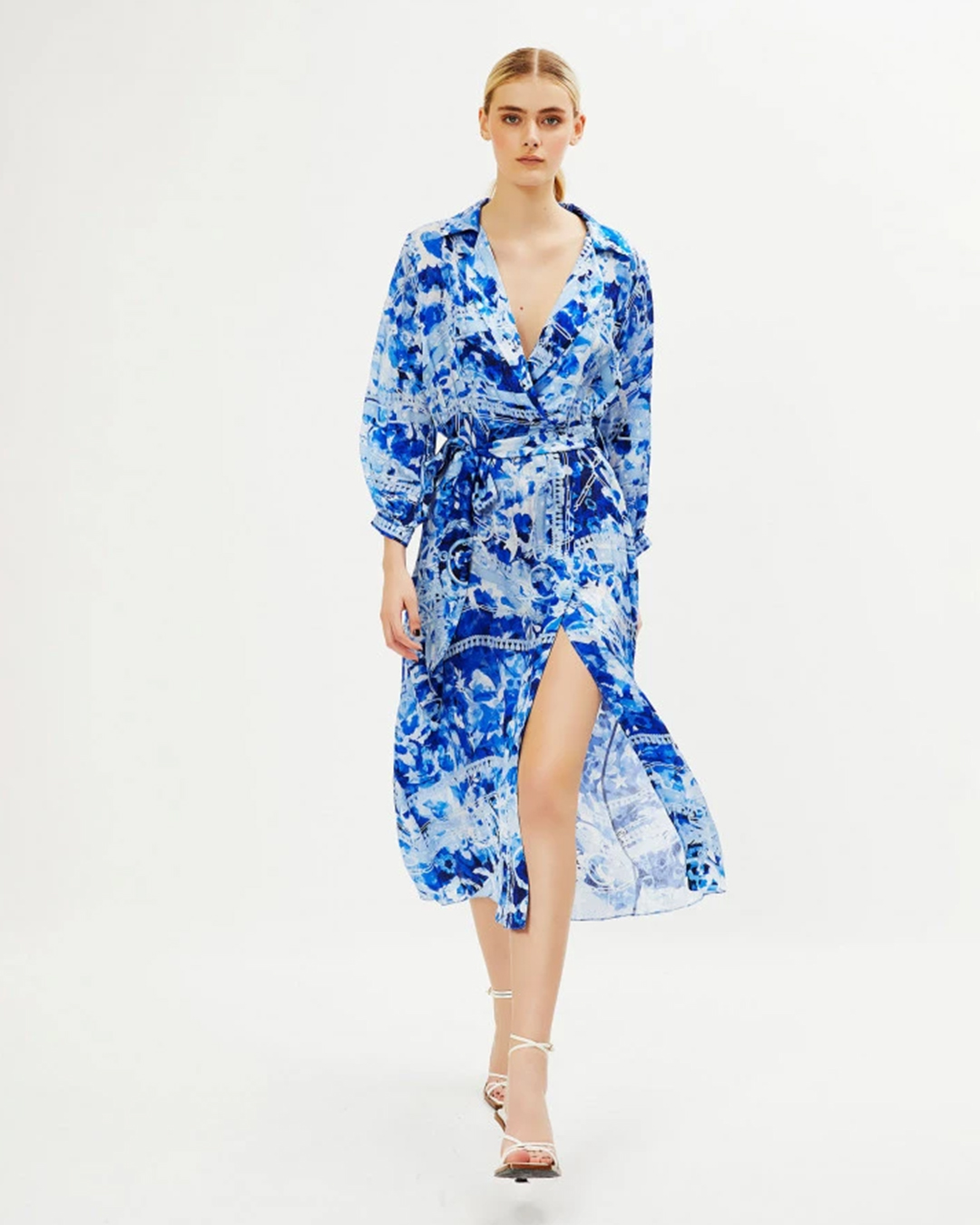 Midi dress styling tips: How to style a midi dress
A 'how-to-style midi dress' guide to elevate your everyday fashion: 
Embrace the power of layering:

Layering is a key styling technique that can elevate your midi dress to new heights. Consider adding a stylish blazer or jacket over your dress or layer it with a trendy cardigan or sweater for a chic and cosy look. Experiment with different lengths and textures to create interesting visual combinations.
Play with proportions:

Midi dresses often have a defined waistline, making them perfect for experimenting with proportions. Pair your dress with a cropped jacket or a structured belt to cinch in the waist and create a flattering silhouette. Alternatively, try a loose, oversized sweater or a longline coat for a more relaxed and effortlessly stylish vibe.
Statement accessories:

Accessorising can make a significant impact on your midi dress outfit. Opt for eye-catching statement jewellery like chunky necklaces, bold earrings or stackable bracelets to add a touch of glamour. Consider adding a wide-brimmed hat, a stylish belt or a vibrant scarf to inject personality and individuality into your look.
Footwear selection:

The right choice of footwear can make or break your look. For a more formal or elegant occasion, pair your midi dress with platform heels or stilettos. For a casual and laid-back look, opt for ankle boots, sneakers or even a pair of trendy flats. 
Outerwear options:

Depending on the weather and the occasion, selecting the right outerwear can enhance your midi dress outfit. A tailored blazer adds a polished touch, while a leather jacket brings an edgy vibe. For colder months, a cosy, oversized sweater or a trendy faux fur coat can keep you warm and stylish. Choose outerwear that complements the style and colour palette of your midi dress to create a harmonious and well-put-together look.
Midi dress styling tips: Must-have accessories
Timeless accessories to style a midi dress: 
Statement belts 

Layered necklaces

Oversized sunglasses

Unique earrings

Structured handbags

Stylish scarves

Stacks of bracelets

Ankle boots or strappy heels

Silk scarf as a belt

Classic watch