The Cannes Film Festival, known for its glitz, glamour, and fashion extravaganza, once again proved to be a platform for some of the most stunning and memorable red carpet appearances. 
Among the sea of celebrities and fashionistas, Sudha Reddy, the philanthropist and socialite, made waves with her impeccable style and grace. Her take on business and philanthropy has always won her accolades. And now it's fashion that's putting her in the best spotlight. 
Be it slipping into a pair of modern-day formals for a boardroom meeting or channeling her inner diva in a mix of traditional and contemporary creations for a prestigious event like Cannes—Sudha Reddy does it like no other. 
Sudha Reddy in FALGUNI SHANE PEACOCK at the Cannes Film Festival 2023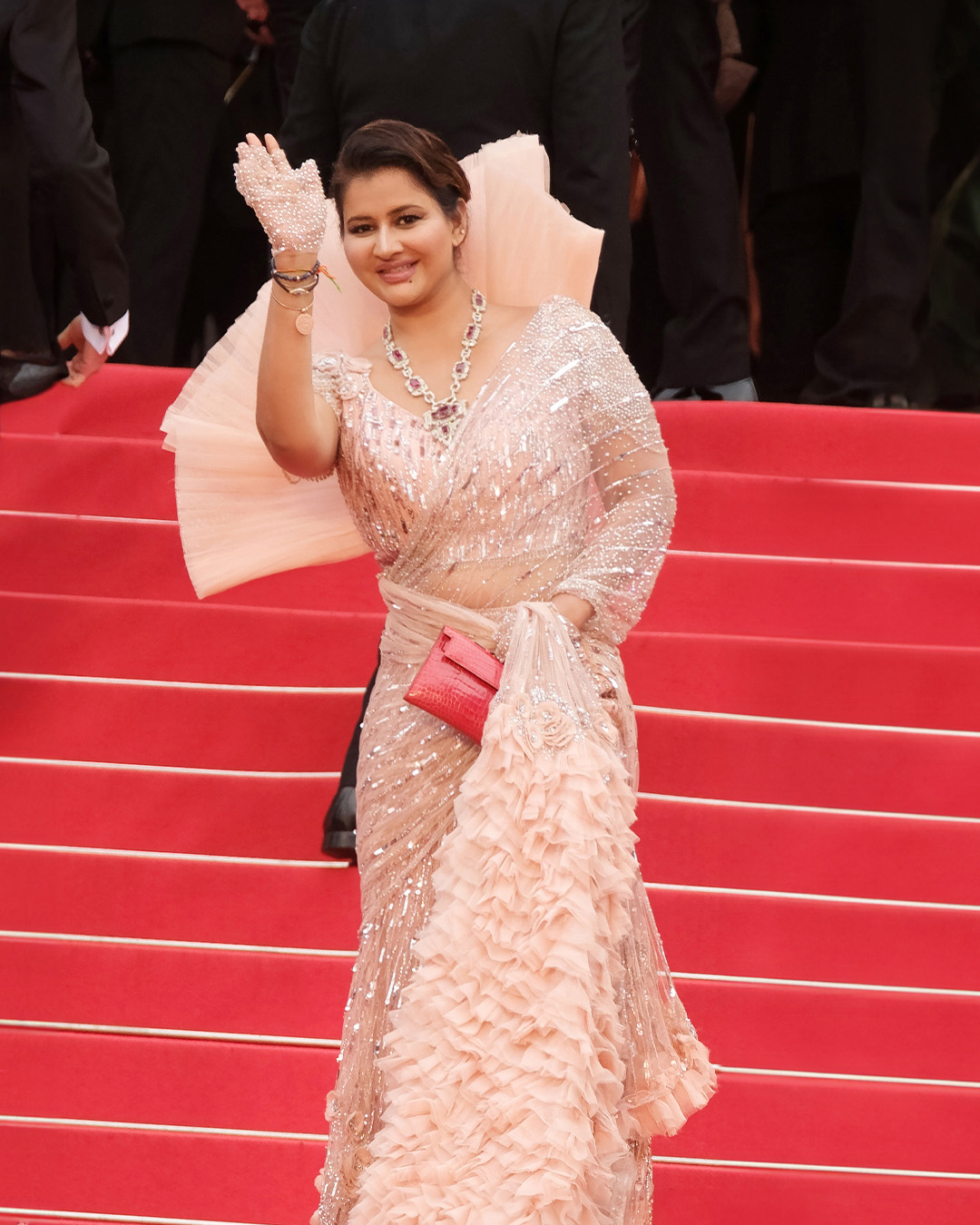 Her taste in fashion stands unmatched and holds a futuristic approach. Her recent appearance at the Cannes Film Festival 2023 was a testament to the futuristic vision she paddles for. To portray the very essence of it, Reddy relied on the years of expertise and excellence of the globally celebrated luxury designers FALGUNI SHANE PEACOCK. 
The duo holds years of reputation for marrying the traditional and contemporary details to create new, approachable and futuristic ensembles—a style similar to Reddy's. 
By donning FALGUNI SHANE PEACOCK's creation at the Cannes Film Festival 2023, Reddy not only made a fashion statement but also brought Indian fashion to the forefront of the international stage. Reddy wanted the brilliance of Indian craftsmanship to take center stage and give the world a notion of how distinctive and aspirational Indian ethnic ensembles are—but in a touch of modernity for the new age crowd to feel relatable.
Sudha Reddy x FALGUNI SHANE PEACOCK – Breaking down the outfit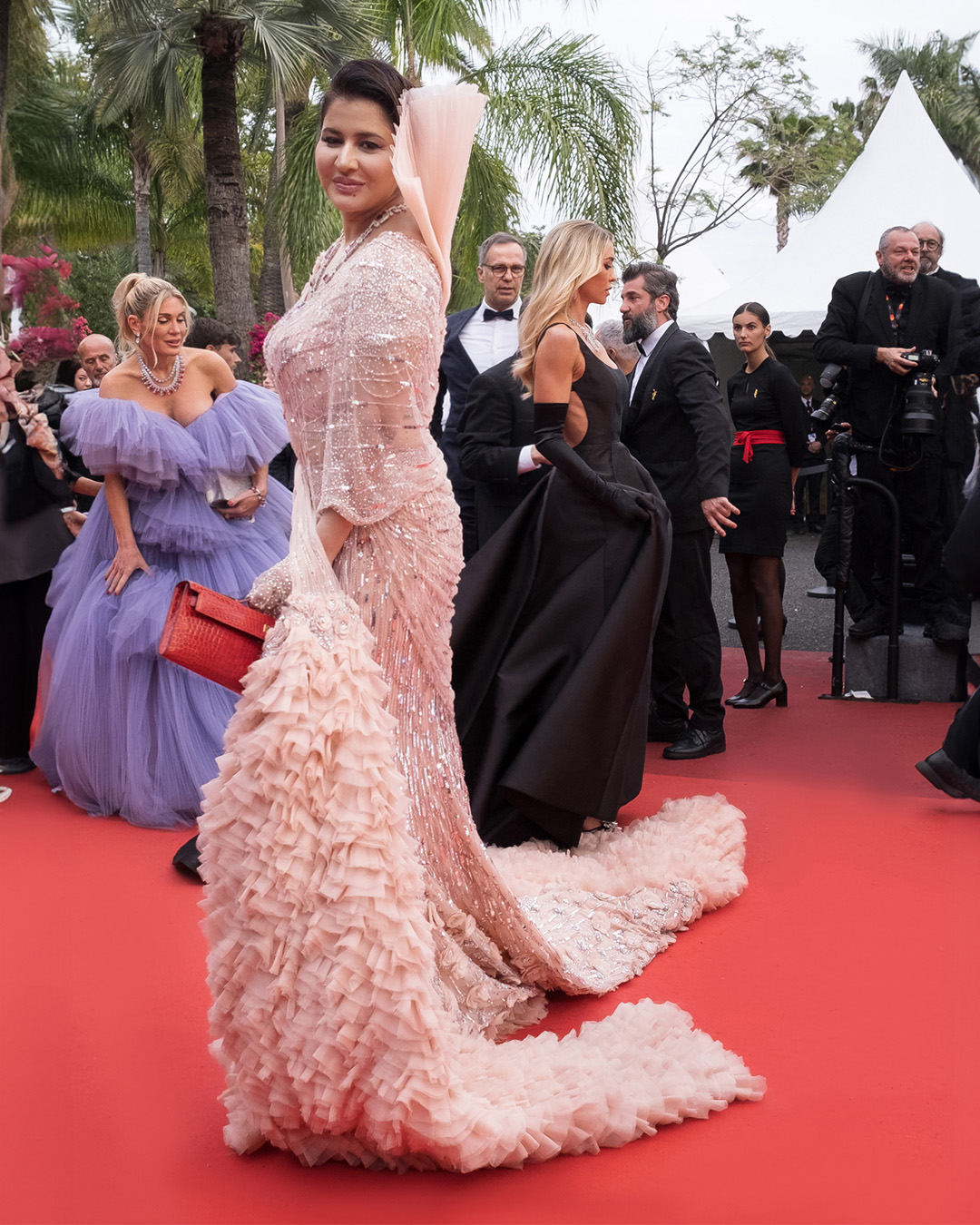 FALGUNI SHANE PEACOCK specialised in marrying the best of East and West understood the assignment and created an elevated tulle saree-gown that was everything Sudha Reddy could ask for. 
The designer-duo created a custom-made tulle saree-gown in the hues of tropical peach. The handcrafted saree-gown was adorned in the embellishments of fine sequins and crystals that made the ensemble look brighter with every light thrown at it. 
To accentuate the outfit the duo added frills to the drape of the saree and brought a fresh approach of construction to show. A trail was attached to the ensemble to give it a touch of royalty and highlight the grace and sophistication of Sudha Reddy. The creation was summed up with sheer tulle drama popping up from the back. 
Sudha Reddy was not alone in choosing FALGUNI SHANE PEACOCK for her Cannes Film Festival appearance in 2023. Joining her in the stunning ensembles were Mrunal Thakur, Diana Penty and Masoom Minawala-Mehta. Together, they showcased the exquisite creations of FALGUNI SHANE PEACOCK on the prestigious red carpet. 
To unravel further captivating moments from this glamorous event, stay tuned.