The season of festivals is round the corner and the hustle bustle of Diwali parties, pujas, and other celebrations are in full swing. After a hushed year with the absence of festivities, social gatherings, and all the revelries, the spirit of celebrating the cultural and traditional festivals has undoubtedly soared this year. Ensure you make up for time lost and double up on the festive joy. Keep up with the merry, celebratory daze by picking the perfect Diwali outfit this festive season.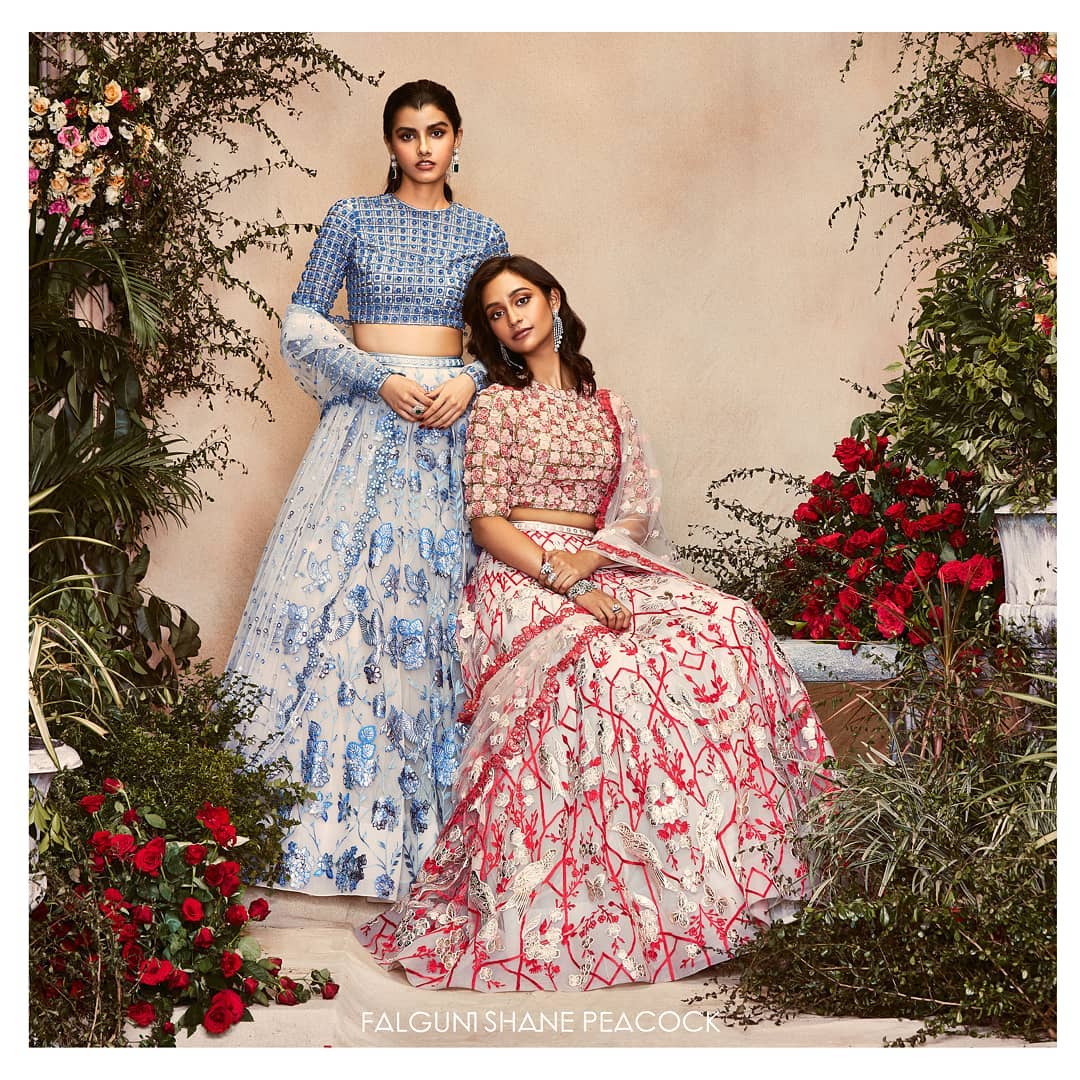 Pick from a lively palette of hues to add on to the festive aura. Dainty, floral details carved in the classic hues of blues and pinks like these Falguni Shane Peacock ensembles. An Indian Lehenga in the hues of pink and blue, replete with floral, foliage, and bird motifs, teamed with a half-sleeved blouse featuring grid-work motifs.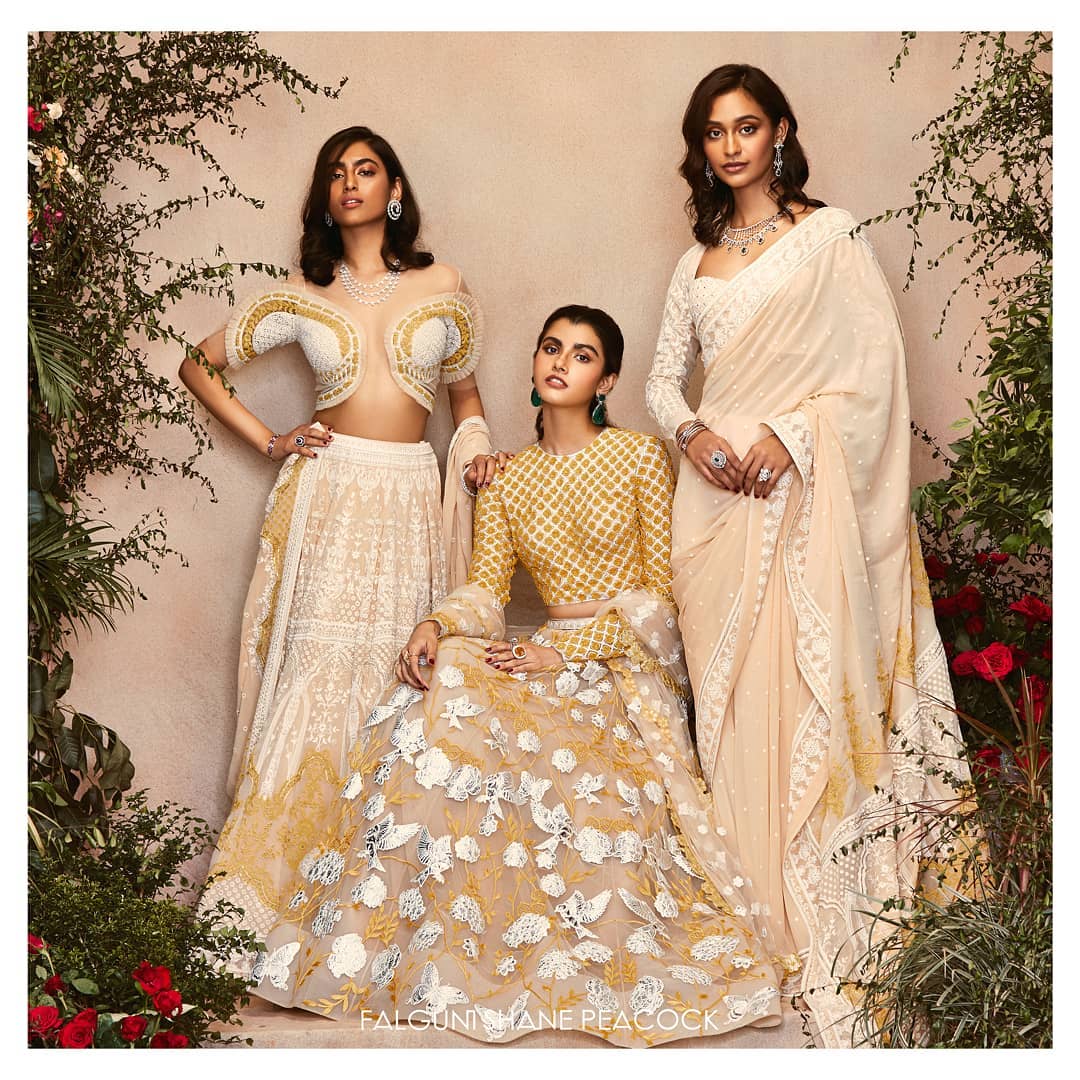 Induce a contemporary twist to your traditional, festive look by opting for unconventional silhouettes and patterns. An ivory and yellow Lehenga paired with a one-of-a-kind blouse is all you need to add a touch of modernity to your ethnic look.
For a Diwali outfit, one cannot go wrong with a saree. The biscotti-hued saree is adorned with ivory thread-work details and is teamed with a full-sleeved, copped corset blouse.
The biscotti coloured Lehenga in the center is paired with a high neckline blouse featuring a pattern of grid-work motifs. The Lehenga is teamed with a tulle Dupatta with mirror-work detailing.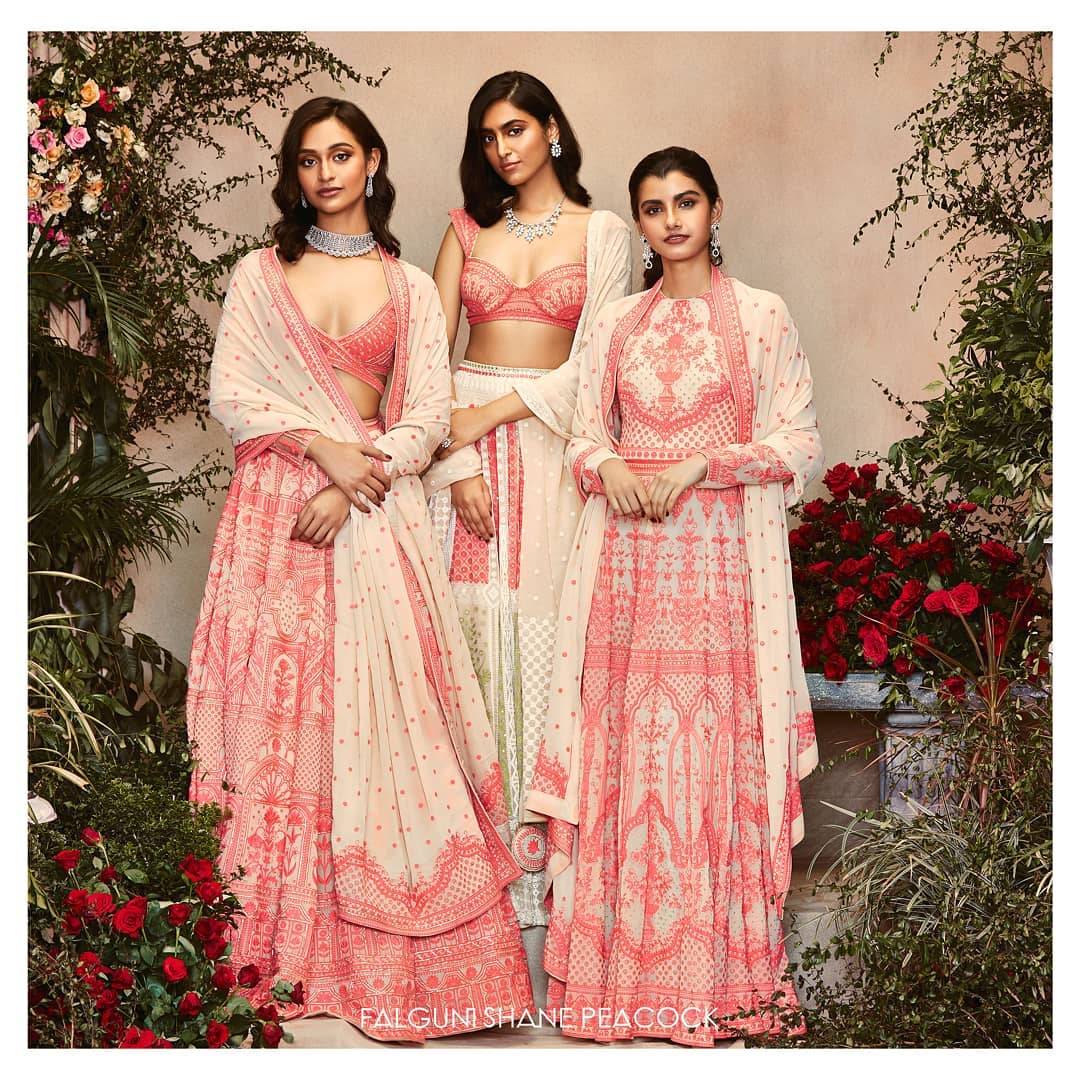 Pick the classically traditional palette of hues like these soft pink Falguni Shane Peacock ethnic ensembles. Couture crafted in striking hues and replete with regal and ethnic motifs are befitting for any festivity. The Anarkali, on the right is crafted with fuschia pink, silk thread work details. The pale pink Lehengas are created in the same hue palette.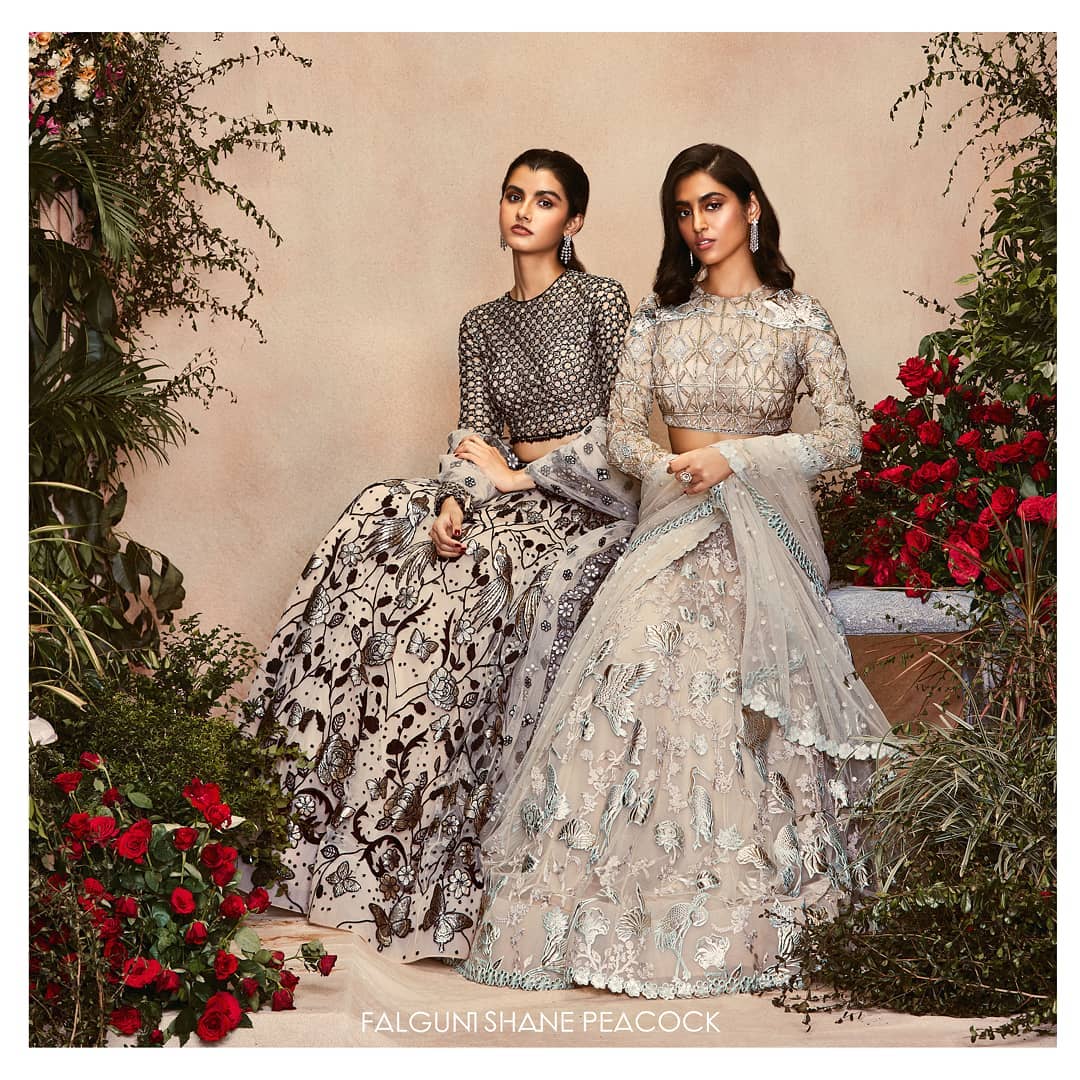 Elevate the elegance with unusual color palettes like beige and black. On the left, a beige Lehenga decked with floral, foliage, bird motifs in the black sequins and crystals.
On the right, a beige-based Lehenga embellished with foil-work details teamed with a full-sleeved blouse.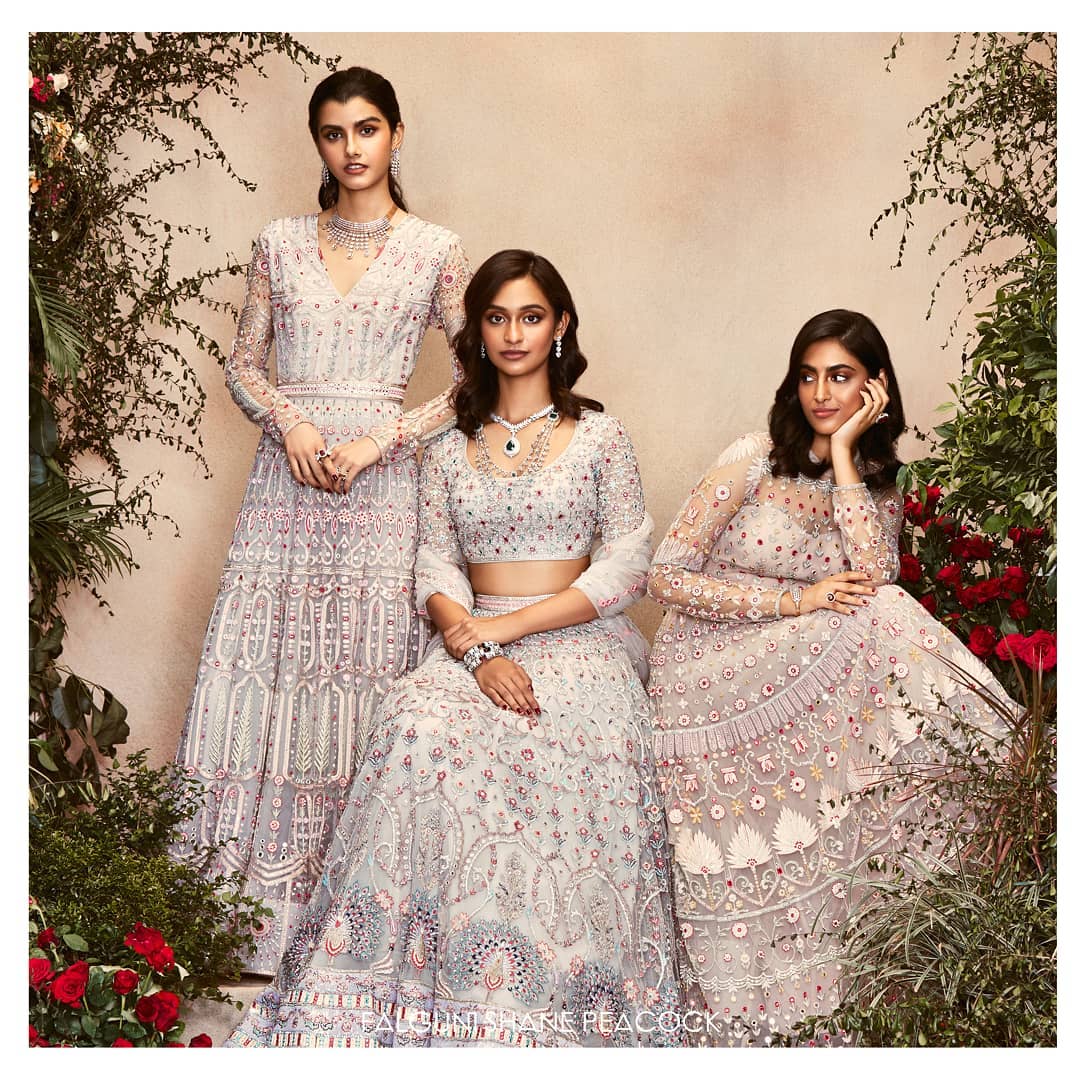 Although trending now, Indian couture in pastels, muted, and neutral hues is slightly underrated. Pick an Anarkali or a Lehenga in soft, pastel hues like these Falguni Shane Peacock outfits. The pale mauve and light pink, floor-length Anarkali and Lehenga set is created aesthetically with multicolored silk thread work details could make a romantic Diwali outfit.