The South Asian Excellence At The Oscars party dazzled in the elite craftsmanship of FALGUNI SHANE PEACOCK. Mindy Kaling's fresh look in a mauve sheer saree was the ultimate proof. 
South Asian Excellence party at the Oscars and how come one not expect to see the magic of traditional ensembles like sarees rule the carpet? It's a must when Asian traditions are on show. Therefore FALGUNI SHANE PEACOCK, with decades of experience and expertise in creating bespoke ensembles, stepped in and wrapped some of the big names of the South Asian community in its celebratory creations.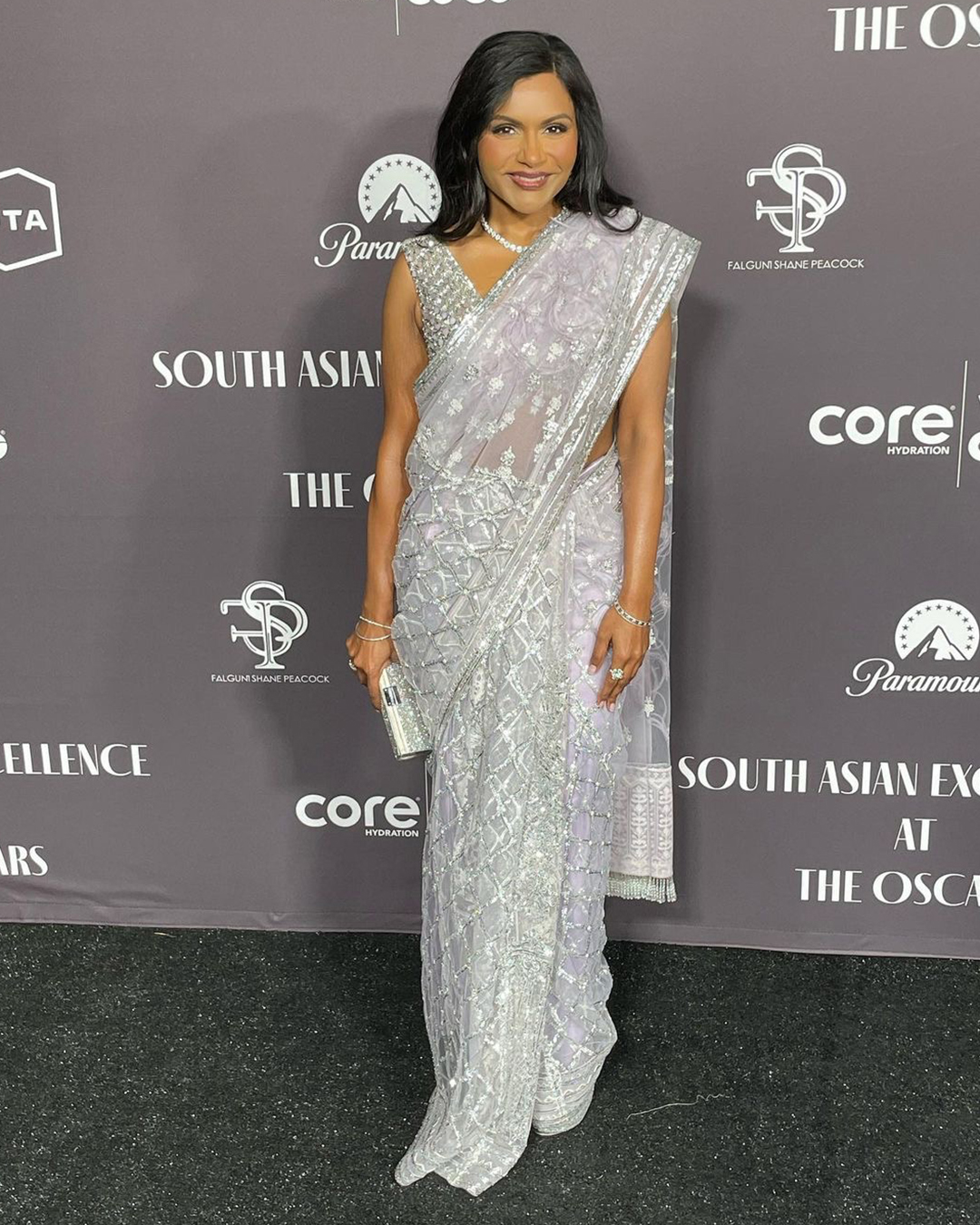 Mindy Kaling in FALGUNI SHANE PEACOCK
Mindy Kaling, the ultimate trailblazer of the time, made quite a statement in the custom-made saree by FALGUNI SHANE PEACOCK. She was seen donning a light mauve sheer saree with sequins arranged in a grid-work pattern. To accentuate the look, the saree was paired with a shimmering silver sequinned blouse. 
Kaling swayed the look in her authentic style and emerged as the fashion critic's ultimate favourite. The detailing drew all the right attention and gave traditionally acclaimed ensembles like the saree – a celebratory platform.
A night where South Asians were celebrated for their influential contribution, there would not have been a better day to embrace the yards of graceful saree and walk the room owning it. From custom-made gowns to immaculately designed sarees, the designer duo made sure there never was a dull moment playing dress up in their creations.
Kaling was accompanied by multiple other powerful personalities who drove the course of cinema and entertainment in a positive attitude. Priyanka Chopra Jonas, Anjula Acharia, Lilly Singh, Falguni Peacock, Shane Peacock to name a few. 
The event proved to be a great success, honouring the South Asian nominations at the Oscars 2023. The celebration and acknowledgement marked more room for new and vibrant talent to fill and lead with a legacy to be followed.