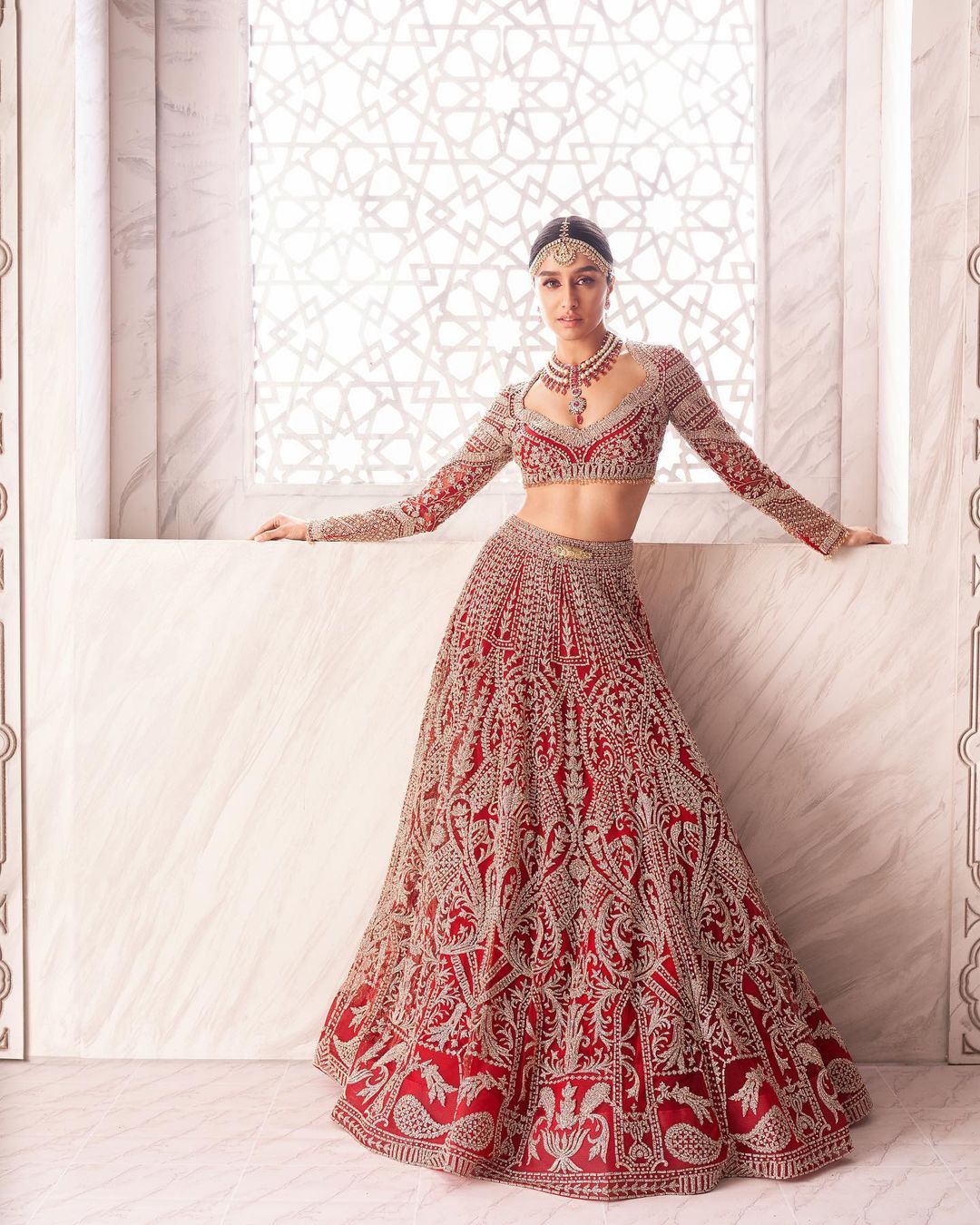 The rich and evocative hue of red is linked deeply to the Indian nuptial heritage. It is considered sacred and auspicious. The color is not merely confined to the bridal garb but is also associated with a number of traditional elements in Hindu matrimony. Although the modern bride has embraced the fad of wearing colors other than red for the marriage ceremony, the tradition of tying the knot in a royal red bridal Lehenga will always prevail. On the account, we trace some of the timeless red bridal Lehengas by Falguni Shane Peacock.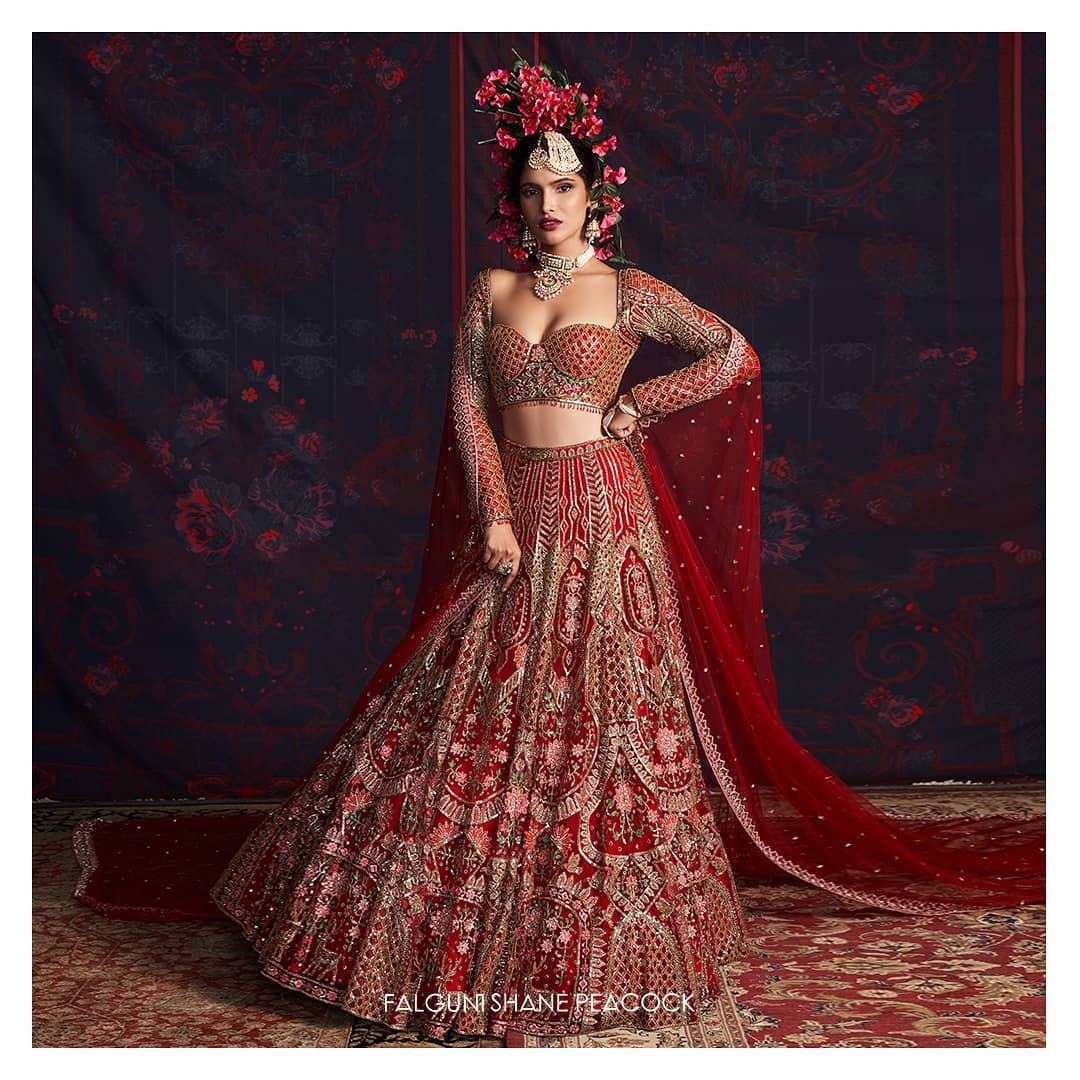 Add a whiff of contemporary allure with a corset-style blouse with your red bridal Lehenga. In the picture, an elaborate, encrusted red bridal Lehenga is paired with a full-sleeved, cropped, corset-style blouse. The blouse features a sweetheart neckline, along with intricate, golden embroidery details on grid-work motifs. The red Indian Lehenga is decked with sequins, beads, and crystals on ethnic foliage and floral motifs. The ensemble is completed with a tulle Dupatta adorned with crystals in Butti motifs.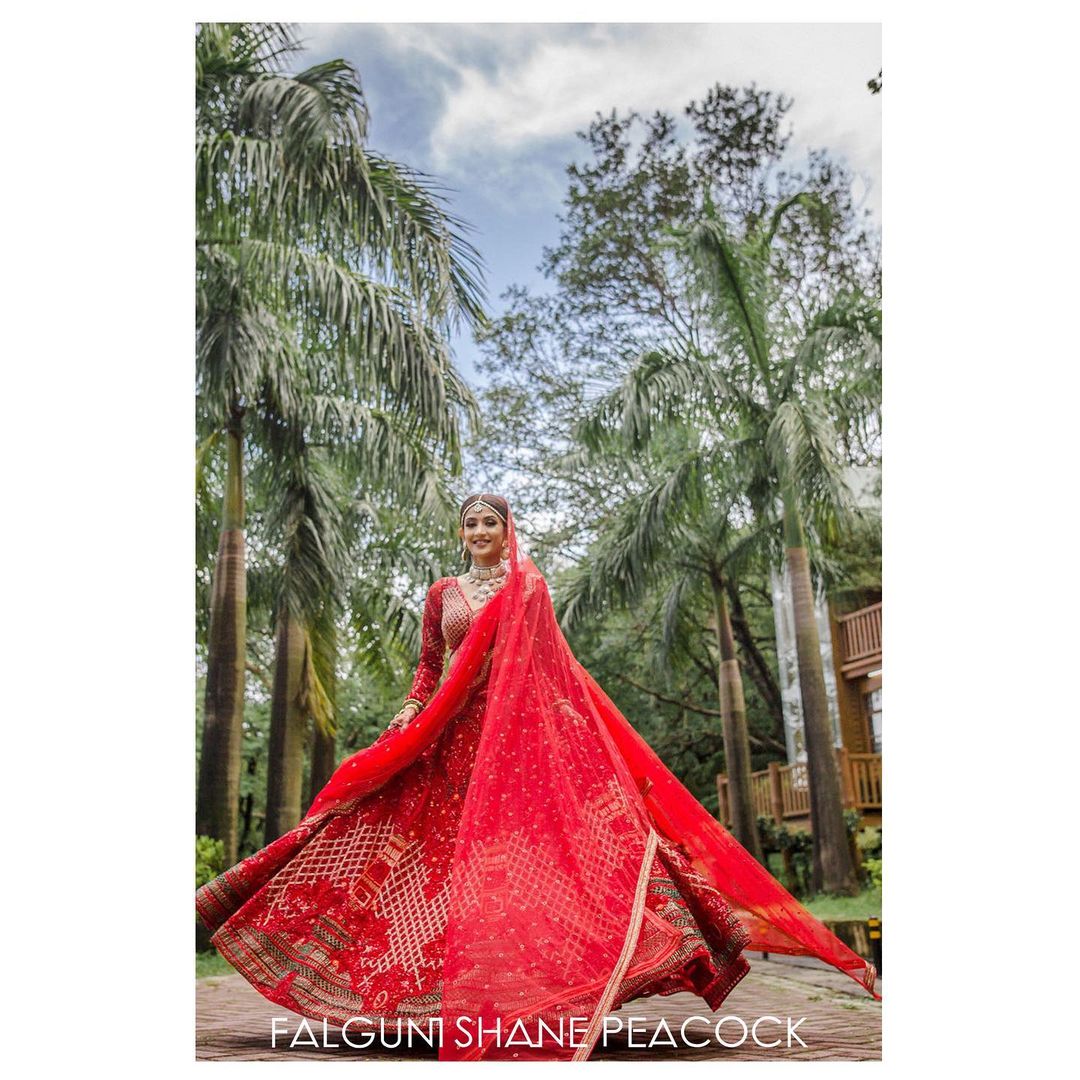 This Falguni Shane Peacock bride twirled mesmerizingly in this royal red bridal Lehenga. The bespoke Indian Lehenga is replete with grid work details, architectural motifs, multicolored thread work, and numerous sequins and beads. The red bridal Lehenga is teamed with a full-sleeved blouse, featuring mesh-work details, winged panel, and a back-tie. The ensemble is completed with dual Dupattas. The uber-traditional look will style immensely well with statement, ethnic accessories like a Matha Patti and a pair of elaborate Chandbalis.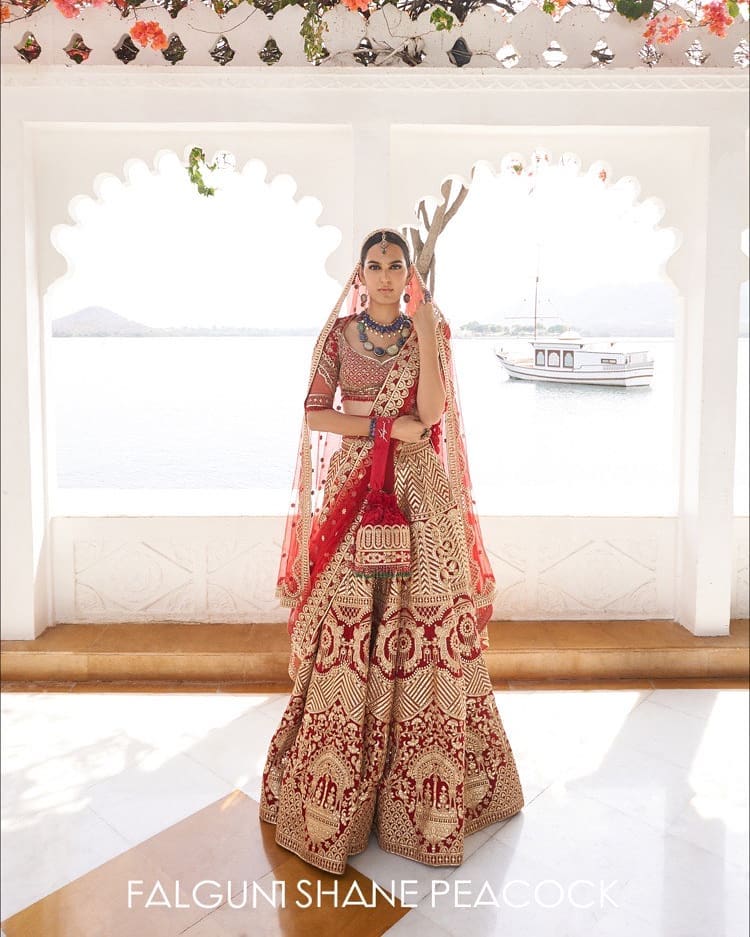 Another number from the latest collection of Falguni Shane Peacock, Mon Amour Jag Niwas, entailing a royal red bridal Lehenga featuring palanquin, chevron, and foliage adornments. The ensemble is paired with a half-sleeved blouse with tassel details, an embellished belt, and two tulle Dupattas. The entire colle.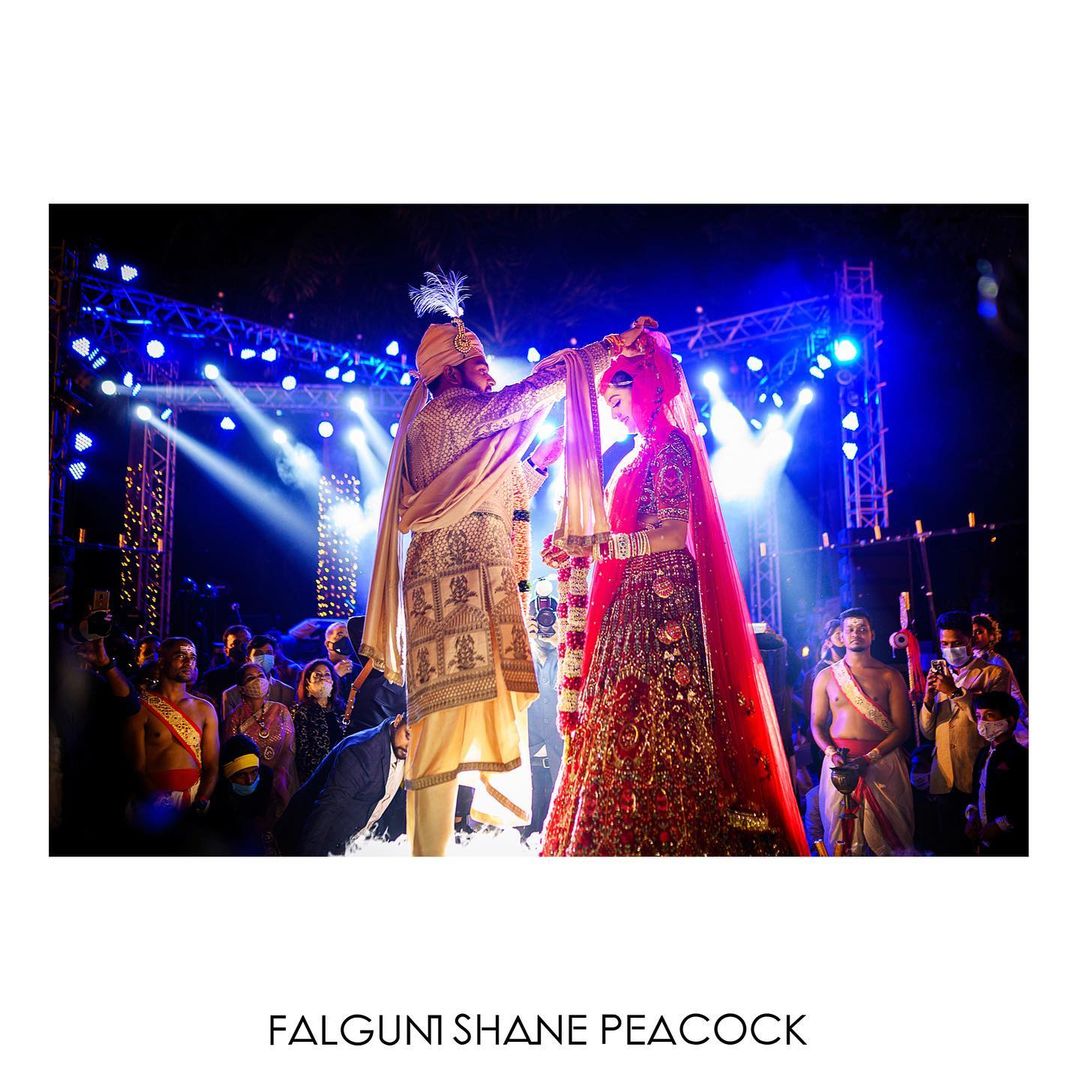 A Falguni Shane Peacock bride donning a bespoke, royal red bridal Lehenga featuring multicolored thread work details and numerous sequins and crystals. The ensemble is teamed with a half-sleeved, equally daedal blouse.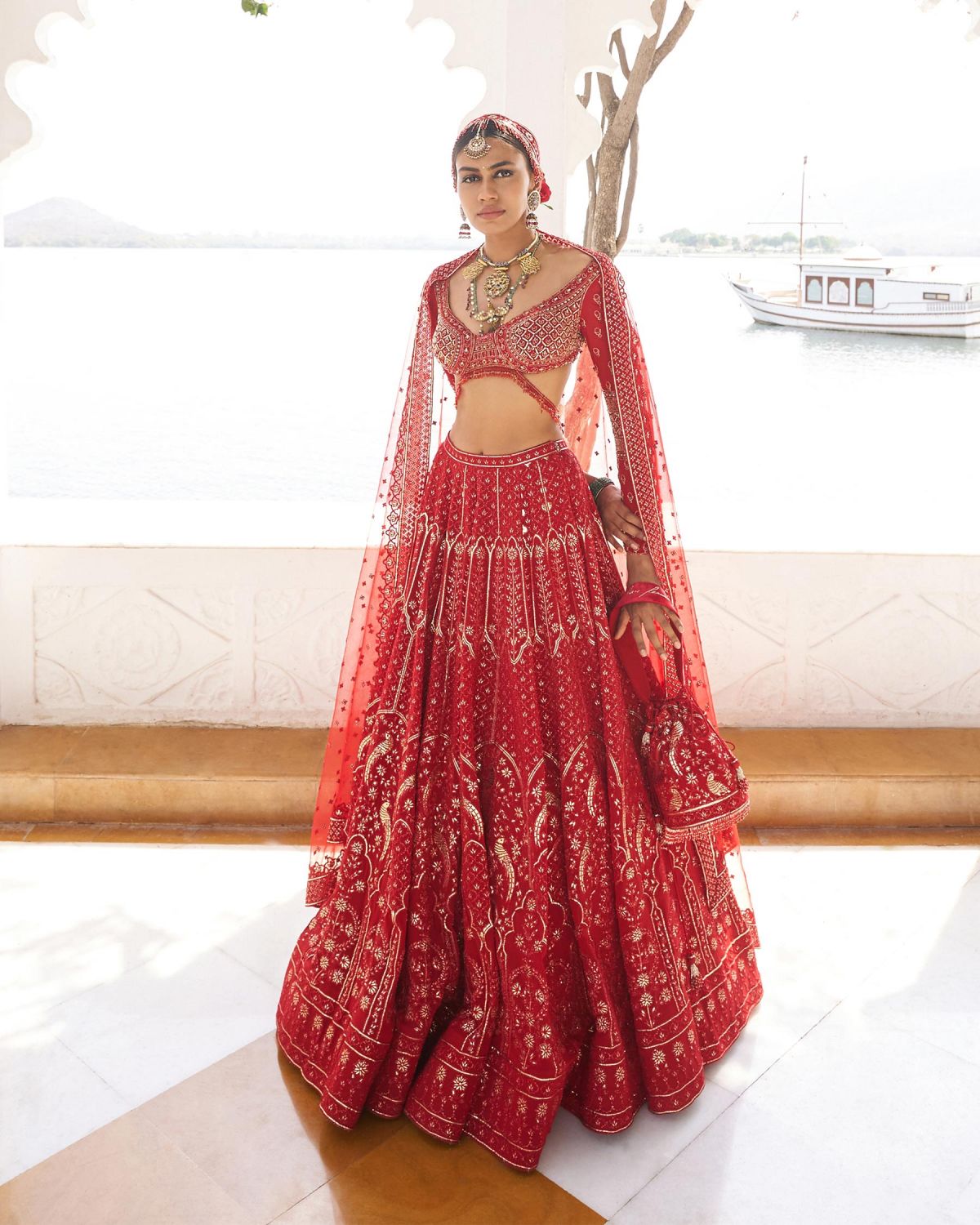 The collection Mon Amour Jag Niwas boasted of numerous ethereal creations inspired by the architectural appeal of the forts and palaces in Rajasthan. One of the numbers from the collection is this red bridal Lehenga cascading with architectural and foliage motifs, crafted with chrome applique details. The Indian Lehenga is teamed with a full-sleeved blouse decked with grid-work motifs, tassels, and a back-tie. The red bridal Lehenga is coupled with a tulle Dupatta adorned with a border and Butti motifs.