There is something super captivating about short dresses which makes them a must-have in every girl's wardrobe. Short dresses for women have stood against the test of time for years and have managed to stay relevant and become one of the most sought-after clothing pieces for women. A short dress is characterised by the length of the dress that is somewhere above the knee or at the mid-thigh level.
The short silhouette dress is loved for its elegance and versatility, as it can be styled and worn for numerous events and occasions. Party wear short dresses for women are available in various fits such as fitted, A-line and flowy—allowing women to experiment with different silhouettes and choose one they are most comfortable with.
The short dresses for women at Falguni Shane Peacock are designed for women who love to delve deeper into the folds of fashion and are always looking forward to revamping their wardrobe with statement fashion pieces.
Falguni Shane Peacock party wear short dress collection is replete with party wear short dresses for women curated from luxurious fabrics showcasing innovative prints and modern silhouettes. Every individual piece from the short dresses for women collection is curated with a completely different idea and showcases a distinctive print, silhouette and fit. This innovative collection can be styled for day as well as night events just as graciously.
Let's scroll along and check out the best 5 short dresses for women that the collection has to satisfy your sartorial desires.
VATICAN FRESCO SHORT DRESS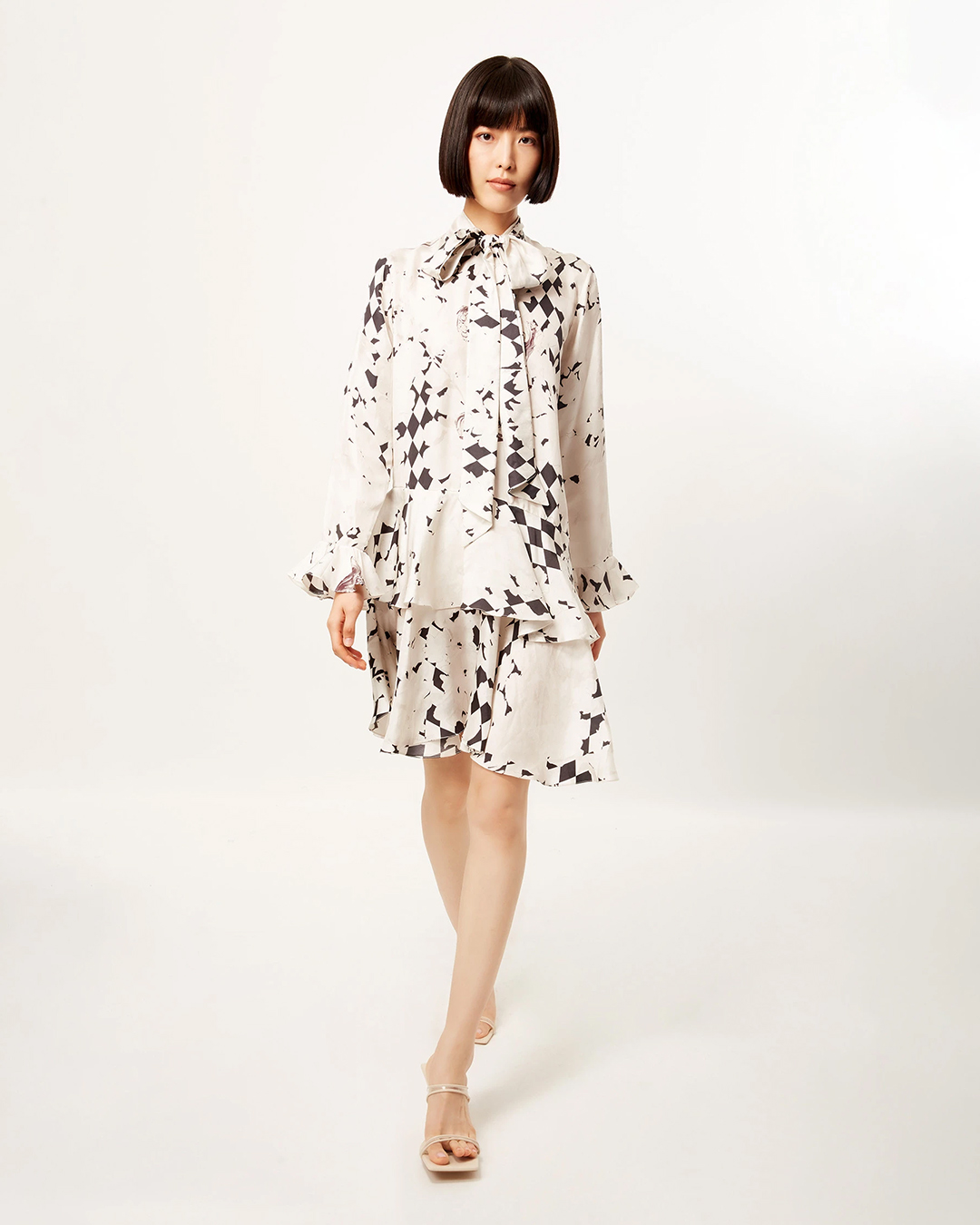 The white-based, printed relaxed fit dress is the ultimate crowd pleaser. The black and white printed dress is curated from twill silk and features a neck tie-up, bell sleeves and all-around frills waist down.
BLUSH FLORET SHORT DRESS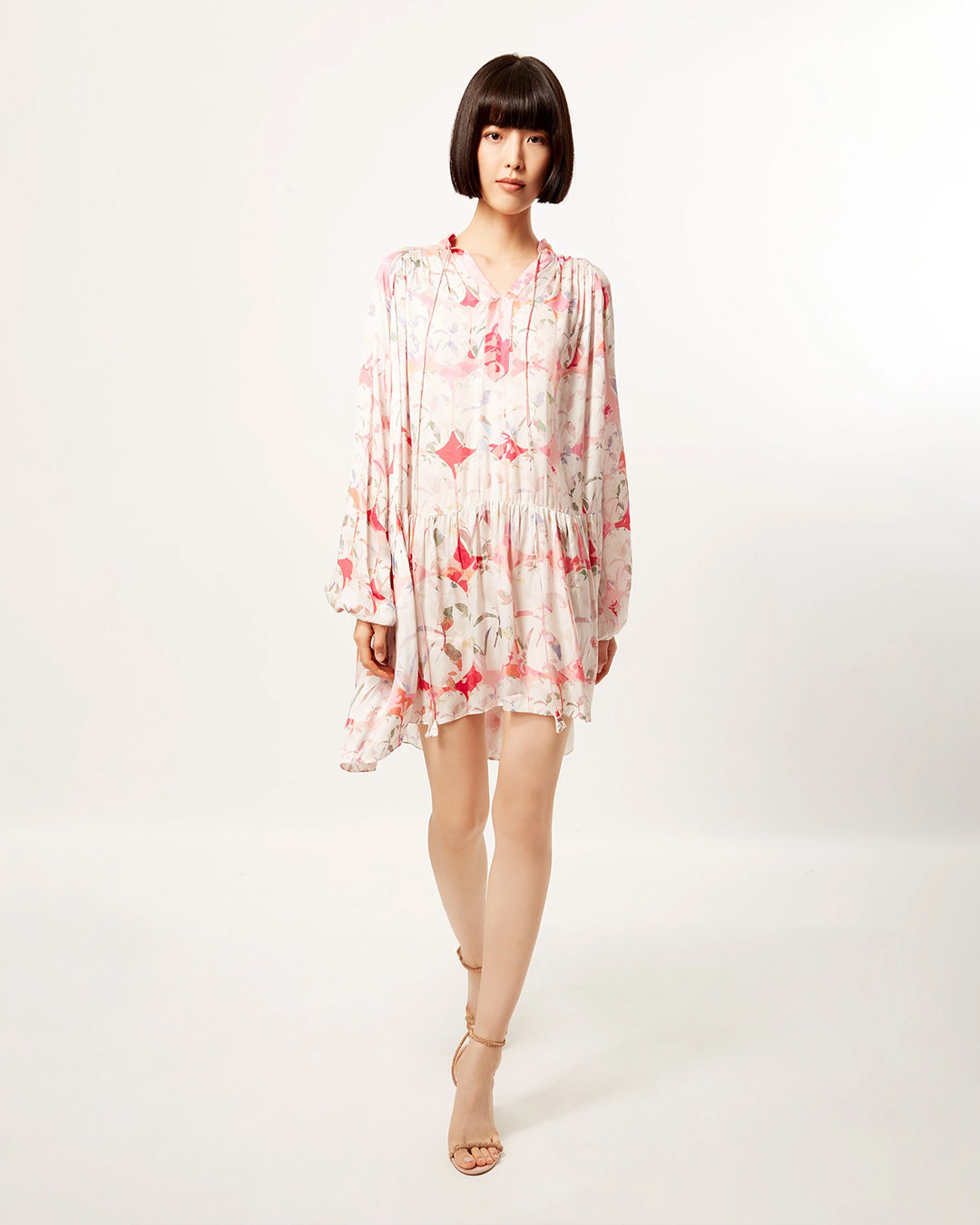 This relaxed-fit pink party wear short dress is one casual short dress you need in your wardrobe. Curated with Bamberg satin, this flared silhouette printed dress features blouson sleeves, a drawstring at the neckline and a slightly low-high hemline.
MINT FLORET SHORT DRESS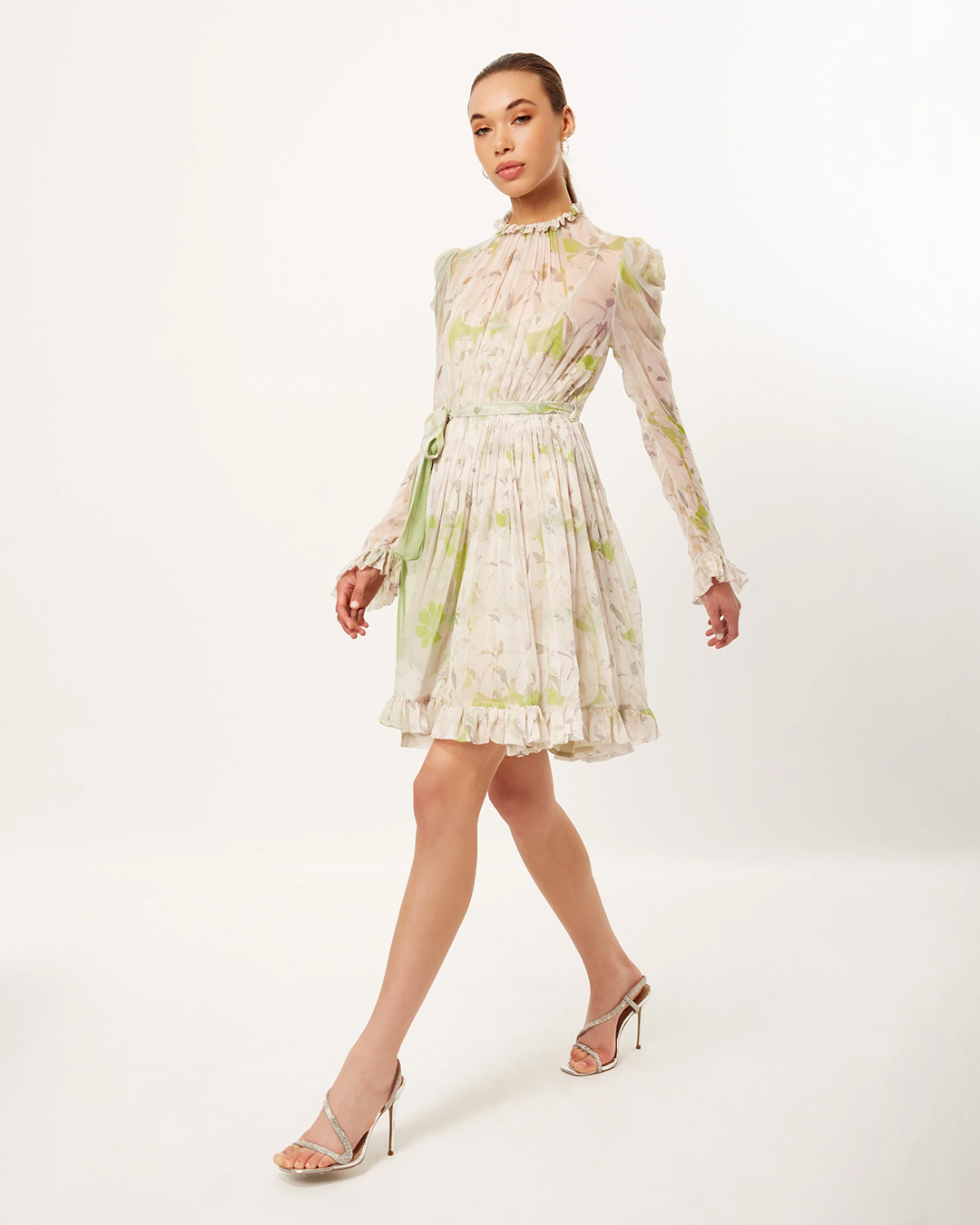 This casual yet elegant party wear short dress by Falguni Shane Peacock is one which is a must in every fashionista's wardrobe. This mint green coloured dress is curated from viscose georgette and showcases a closed neckline gathered detailing long sleeves, tie-up at the waist and a frilled hemline.
LILAC TROPICAL DREAM SHORT DRESS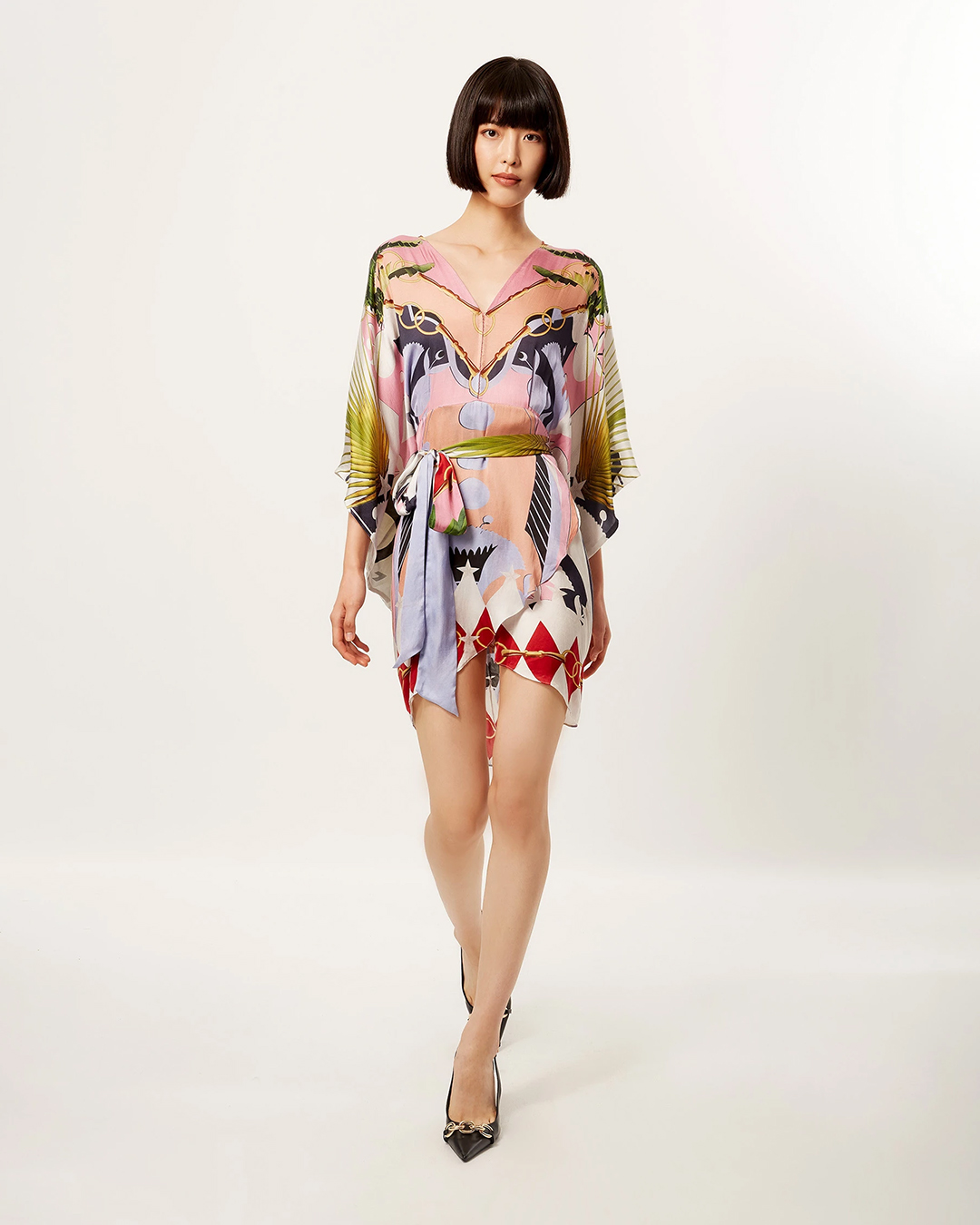 This multicoloured party wear short dress showcases a wide neckline, flared sleeves and a tie-up at the waist. The relaxed-fit dress is curated on a lyocell and viscose base and displays a vibrant, symmetrical print unique to the brand.
HELIOGRAPHIC PINK FLORA SHORT DRESS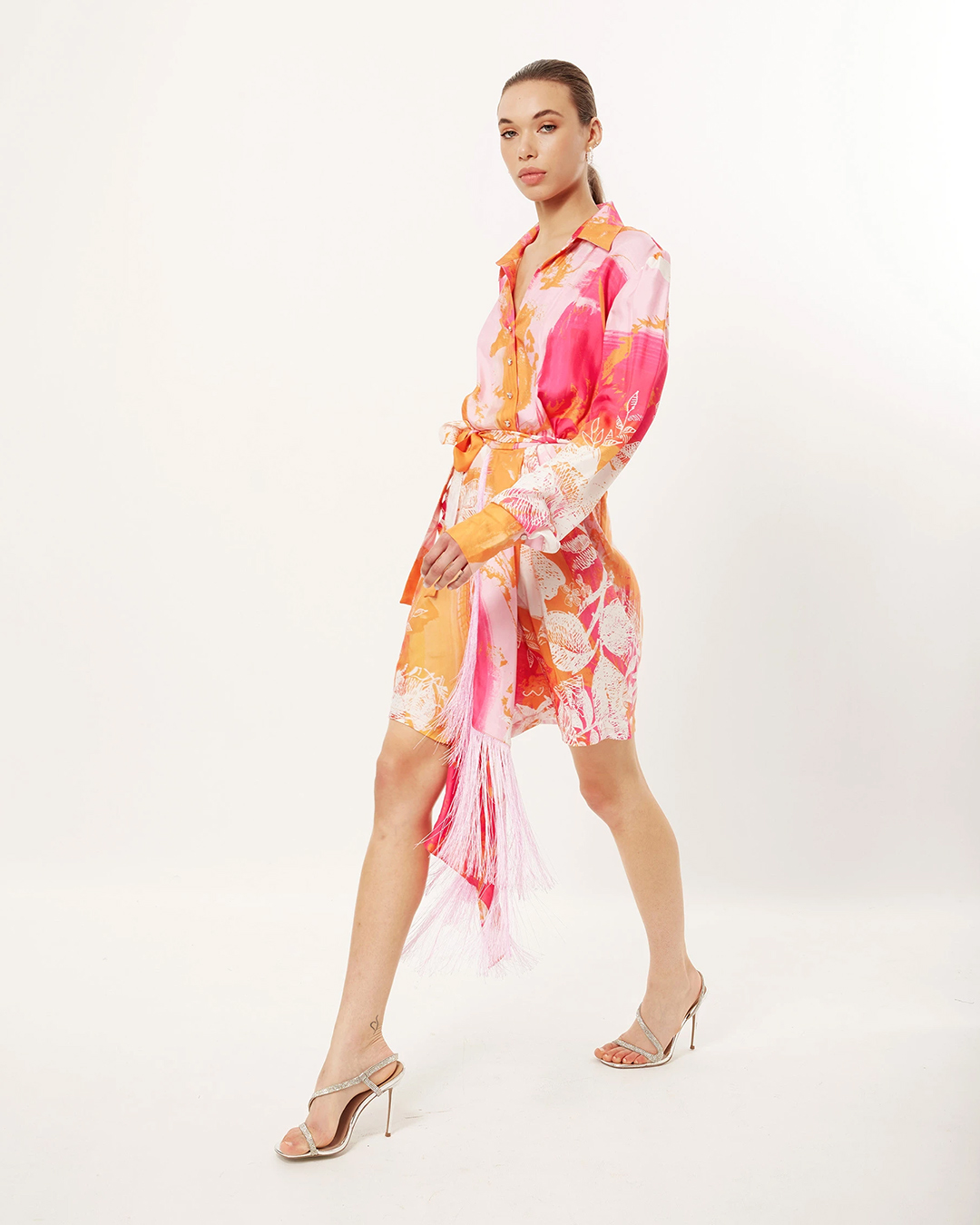 Showcasing the perfect combination of pink and orange, the heliographic pink flora party wear short dress looks as tempting as a tropical drink. Curated from lyocell and viscose material, this relaxed fit short dress showcases a shirt collar with button detailing down the centre front, long sleeves and a waist tie-up with tassel detailing.