The institution of marriage holds a sacred significance in the Indian culture. The ensembles, rituals, practices associated with the marriage ceremonies have an embedded religious substance and are influenced tremendously in that manner. For instance, Indian brides are entwined with the tint of red in multiple ways. Be it the bridal ensemble, or the venerated vermillion, or the archaic custom of imprinting the first footsteps of the bride in red at her affinal home. Undoubtedly, the hue of red plays a heritage role in an Indian wedding.
Since generations, the color has monopolised the bridal garb selection, but the modern bride has developed a will to expand the Indian bridal couture culture by opting for unconventional hues for their wedding looks. Witness the shift in such paradigms by these Falguni Shane Peacock brides who dazzled equally in this contemporary palette of hues.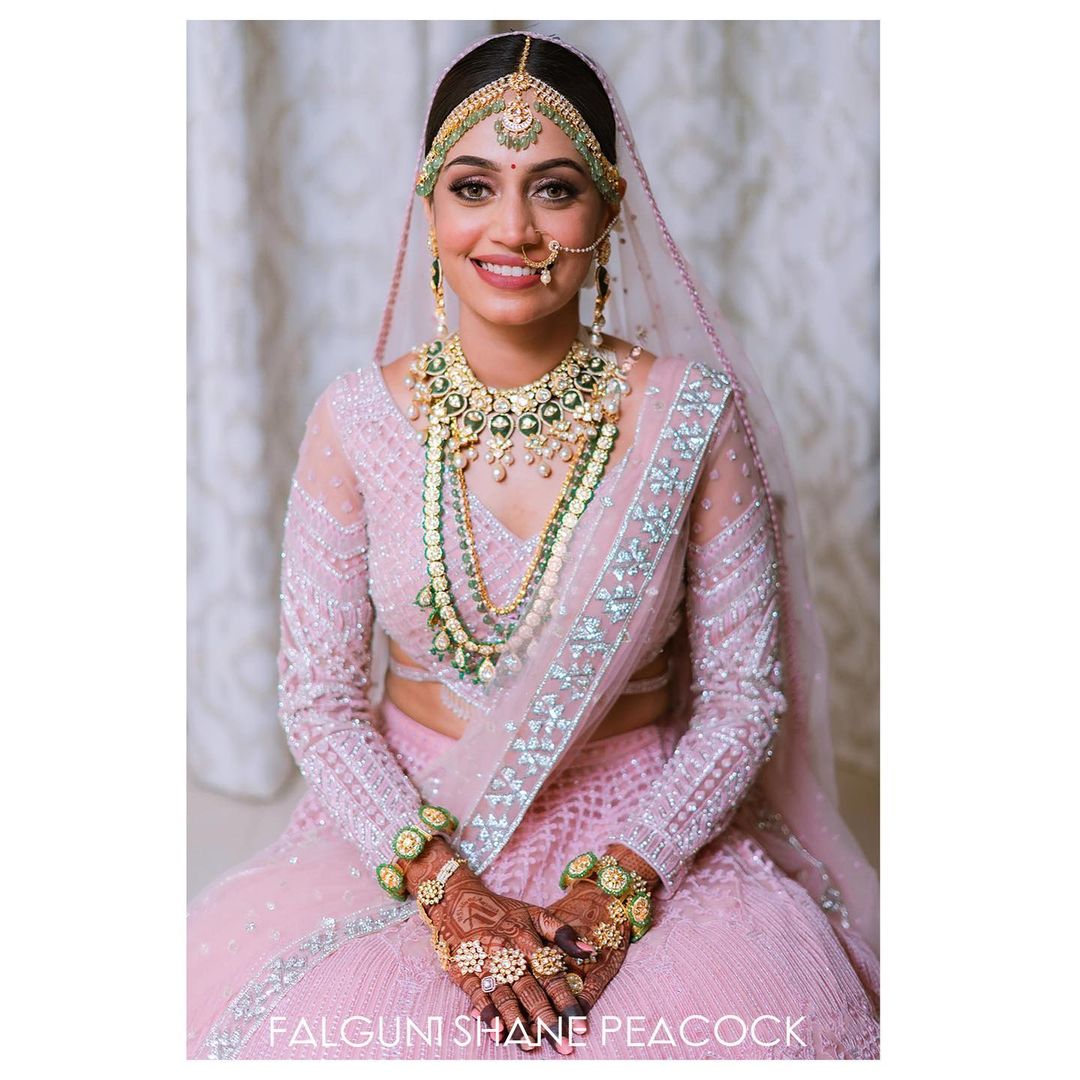 FSP bride Ayushi Singhi opted for a soft pink by Falguni Shane Peacock. Encrusted with crystals and sequins over grid motifs, the Lehenga is teamed with a full-sleeved cropped corset blouse and two tulle Dupattas. She completed her ethereal bridal look with emerald hued jewellery.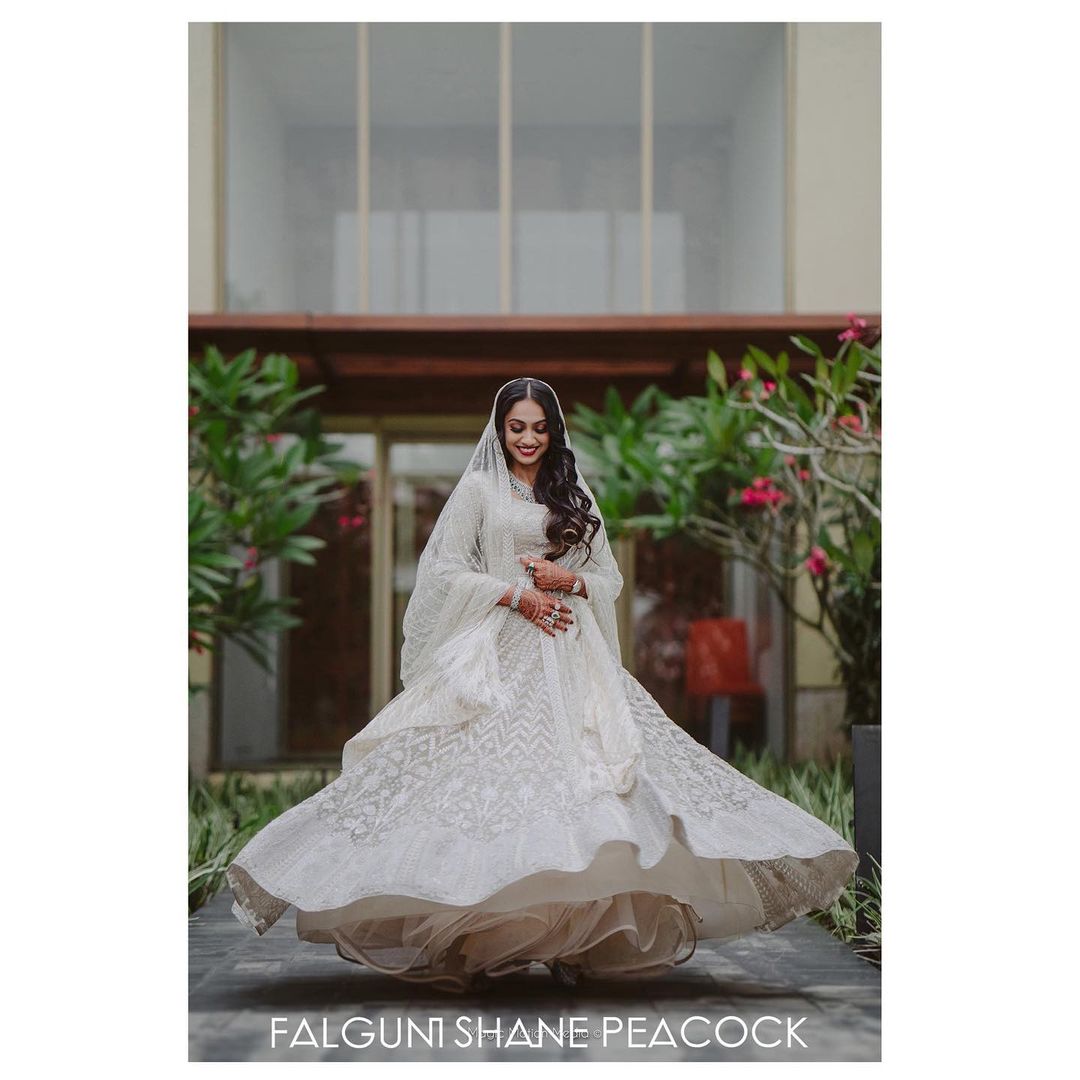 This FSP bride made a unique statement by opting for a mystical, ivory Lehenga by Falguni Shane Peacock for her day wedding.  The garb is bejewelled with Swarovski stones, beads and crystals. She let her wavy, lush locks loose and teamed the look with diamonds and emerald accessories.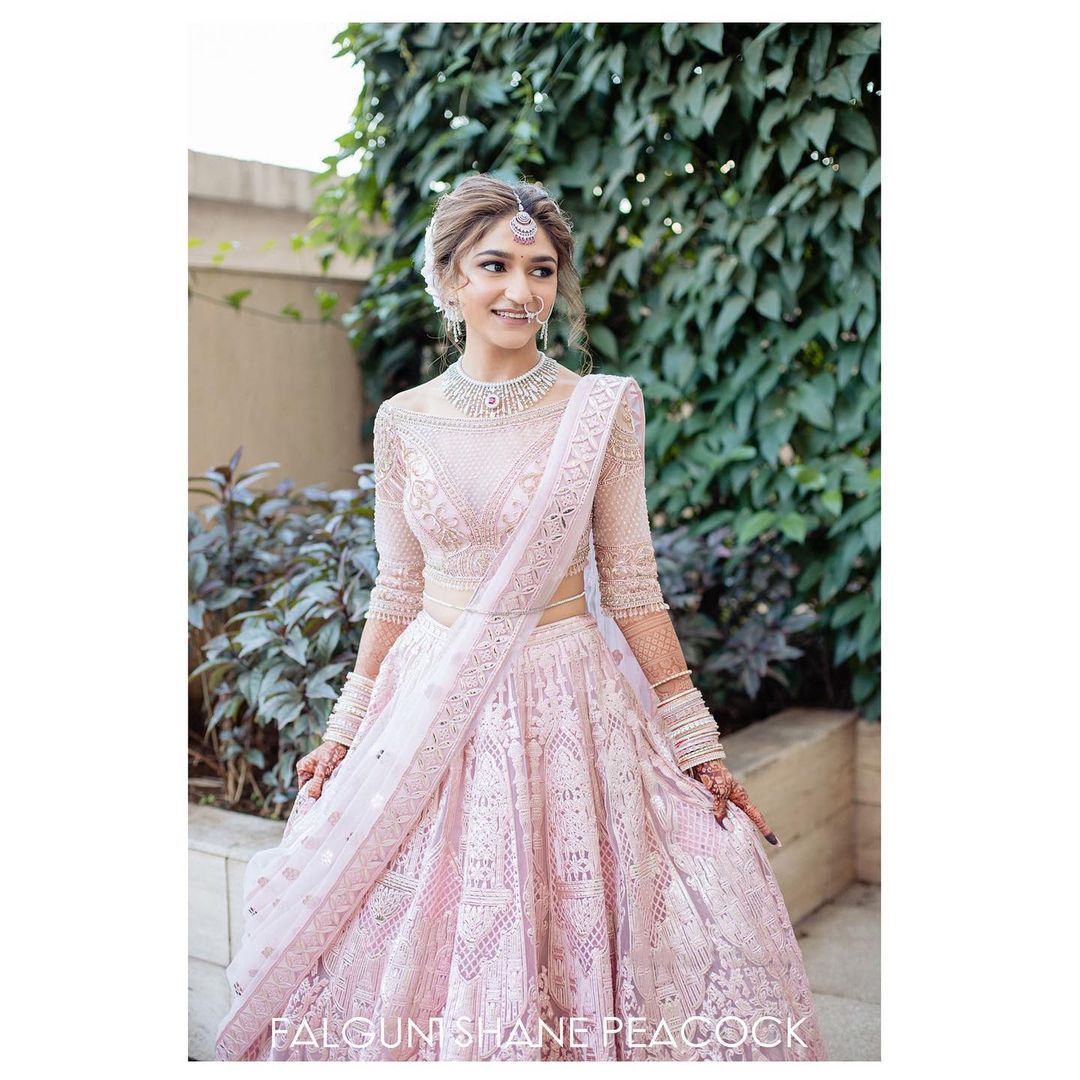 The hue of pink has always remained foremost in the wedding looks' hue palette. FSP bride Diksha Patel made a vision of a bride in the light pink Falguni Shane Peacock Lehenga detailed with gold chrome applique adornments over architectural motifs . The Indian Lehenga is teamed with a 3/4th sleeved blouse, with a boat neckline and tassel details.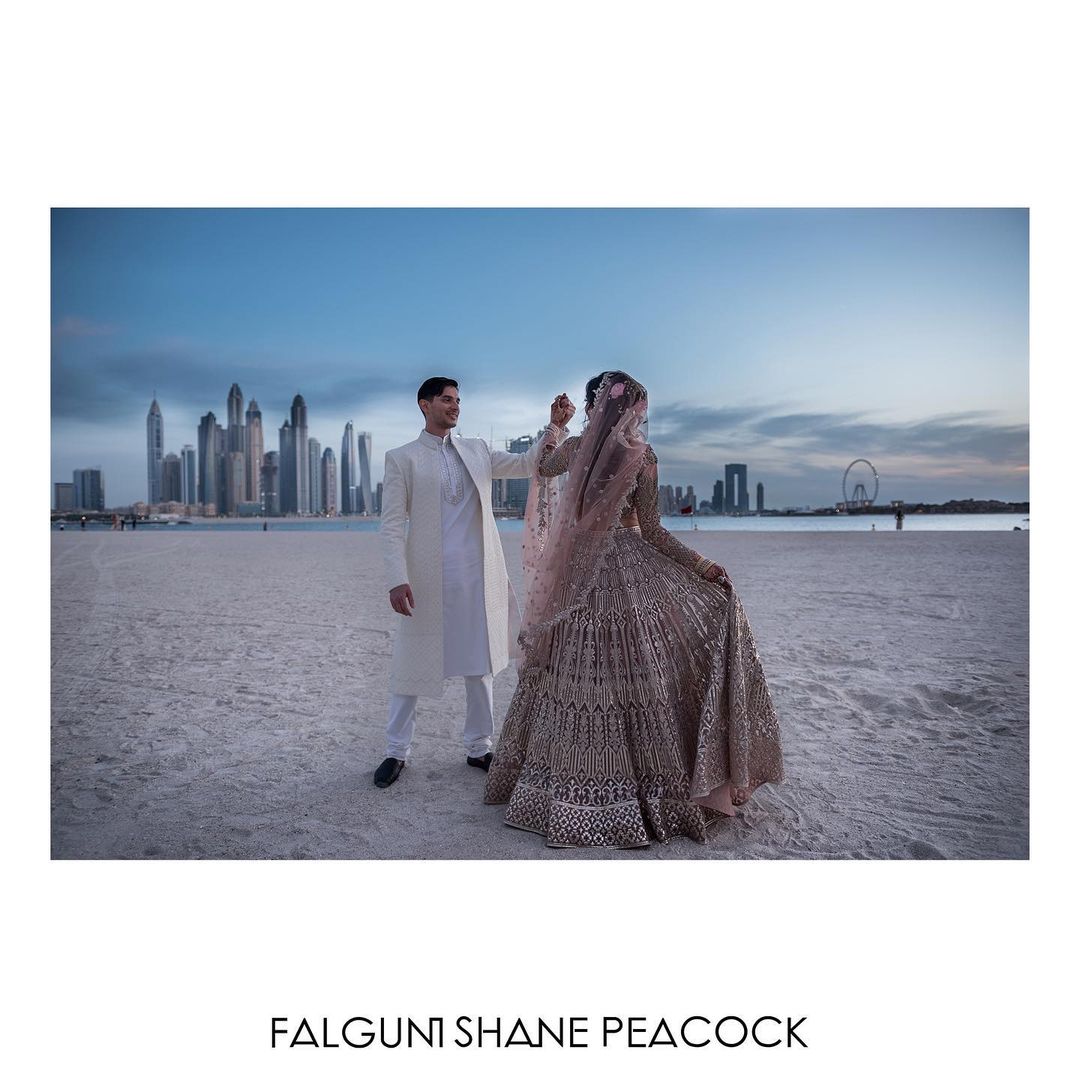 This bride tied the knot against a picturesque waterfront in a mild mauve Lehenga by Falguni Shane Peacock. The chrome applique Lehenga is adorned with architectural and floral motifs, and is teamed with a corset-style blouse and a tulle Dupatta.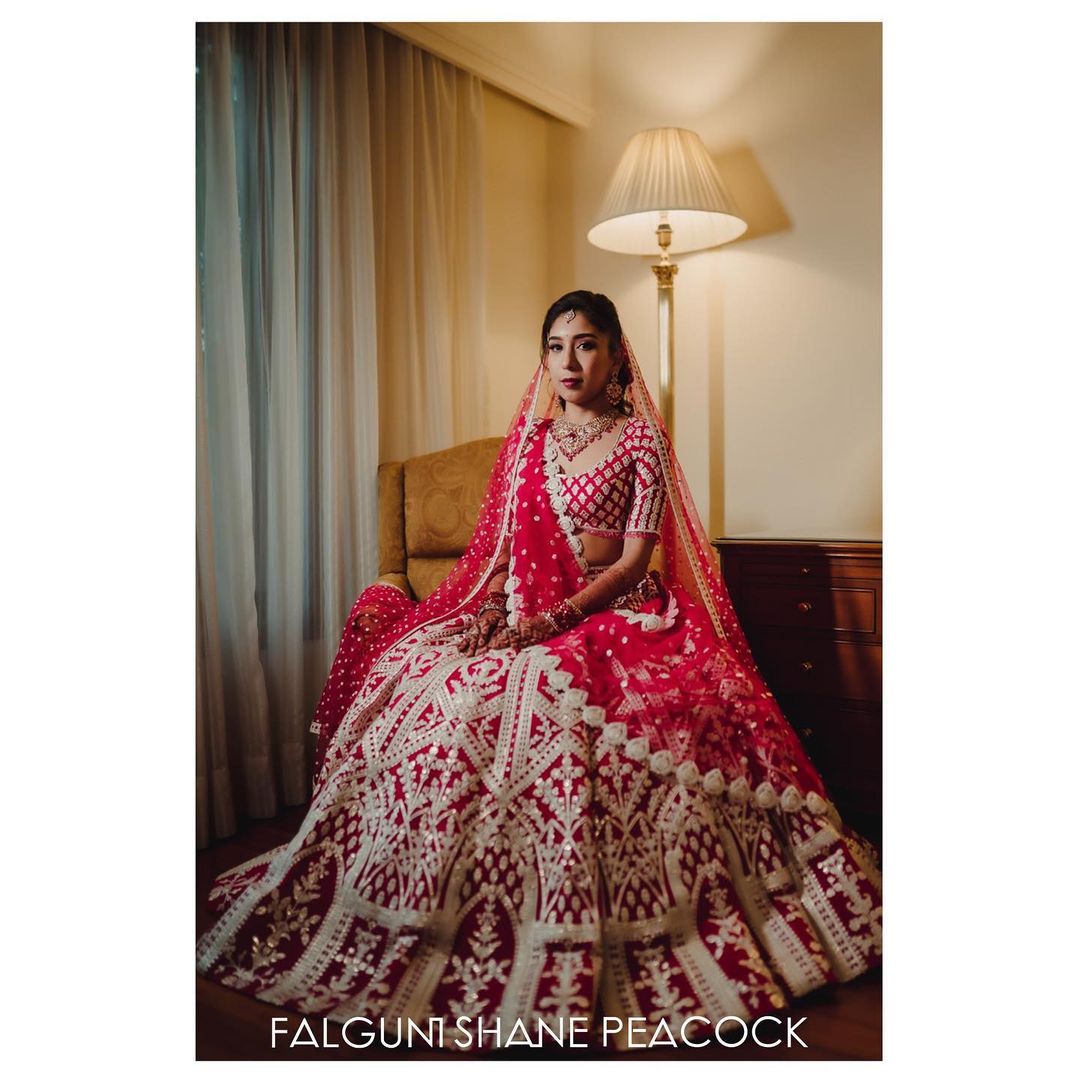 FSP bride Rachita Ravi enhanced the bridal radiance in this berry pink chrome applique Indian Lehenga. The elaborate arch motifs over the Lehenga and the blouse highlighted the suavity in her bridal look. The ensemble is teamed with double tulle Dupatta detailed with exquisite motifs and embellishments.