The onset of a marriage begins with anticipation, hope and promises of a lifetime. The bliss of the celebration could be multiplied with a meld of multiple factors like the presence of your loved ones, a dreamy destination (if you want to tie the knot with a view), delectable cuisines, and exquisite wedding semblances.
Your bridal or groom look is largely influenced by your creed, culture, theme, seasons etc. It is even influenced by the kind of gathering or events included in the wedding. The ensembles for the different events and rituals held in the wedding are chosen considering all the aforementioned factors. For brides, the ethnic Indian ensembles for Haldi and Mehendi commonly entail an Indian Lehenga with a sleeveless or short-sleeved blouse, and a subtle Dupatta or an embellished Anarkali. Take inspo from these Falguni Shane Peacock Lehengas for a splendid Mehendi.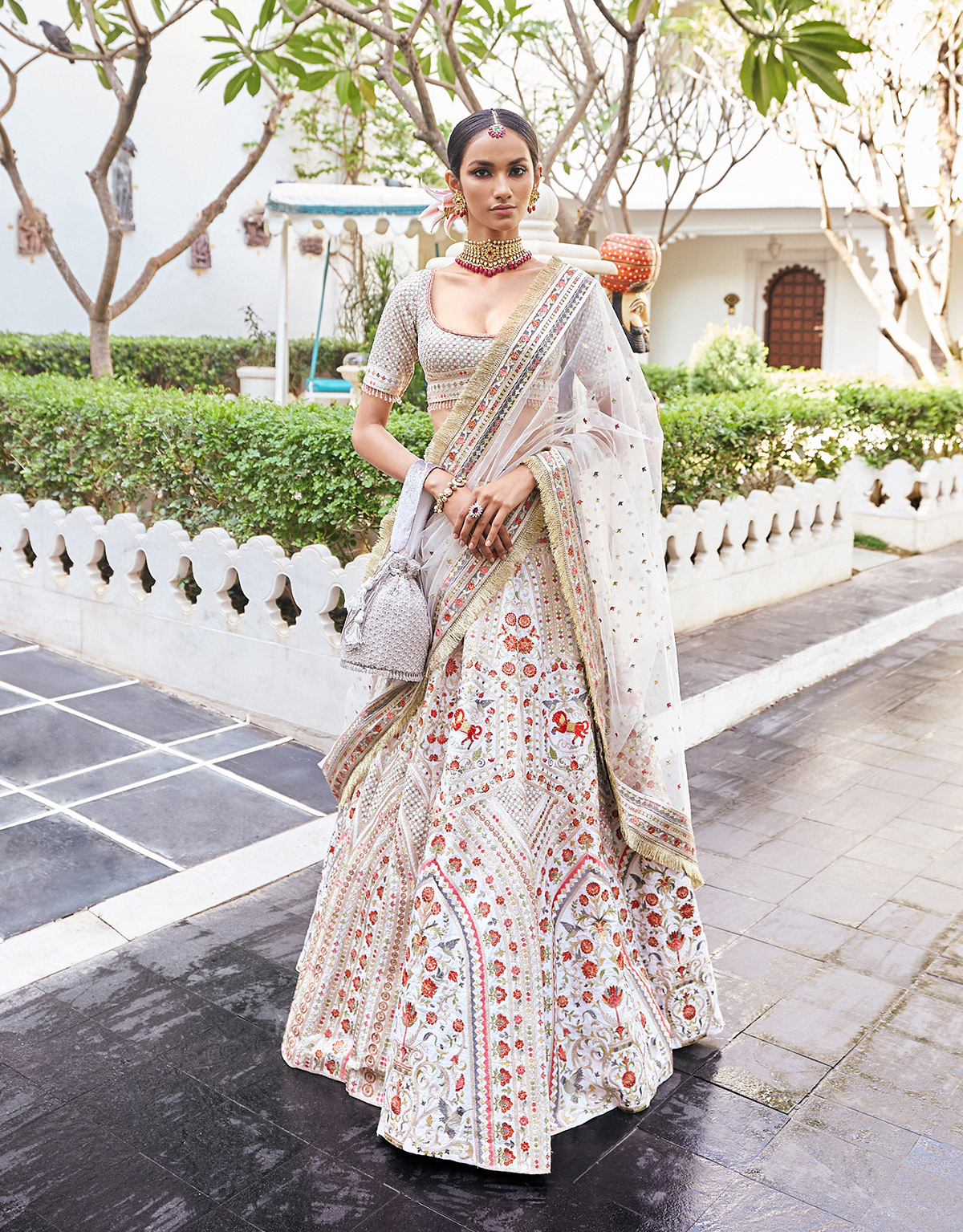 The off-white, Falguni Shane Peacock Indian Lehenga makes a romantic pick for a Mehendi. The embroidered Lehenga is detailed with foliage motifs created with multicolored silk threads. The Lehenga is teamed with a blouse detailed with tassels and a tulle Dupatta with an ornate border.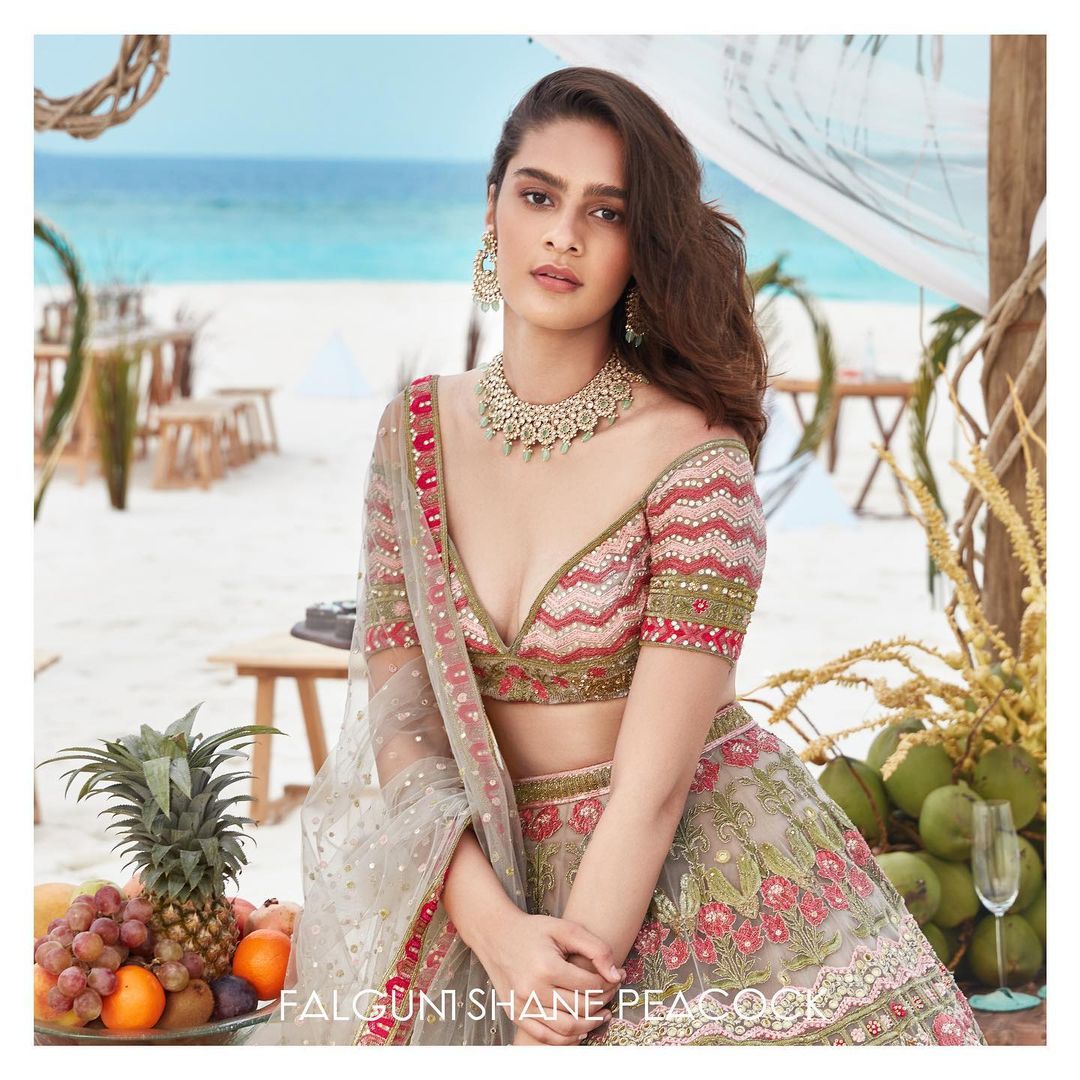 This multicolored Falguni Shane Peacock Indian Lehenga is everything you need for an intimate Mehendi shindig. The ensemble is handcrafted with red and green foliage and floral motifs. It makes it a befitting pick for a Mehendi.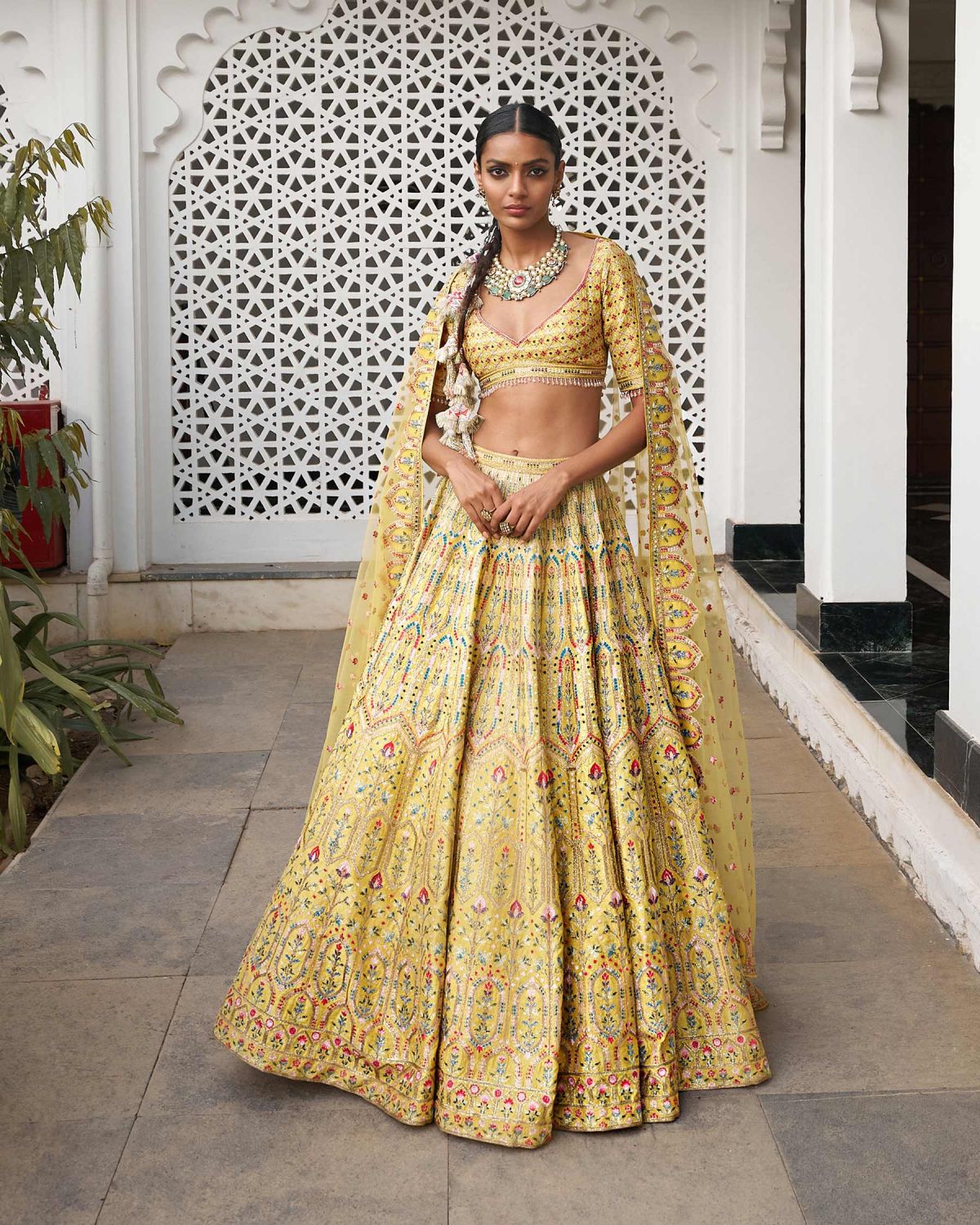 Pick a vibrant hue for your Haldi or Mehendi like this Falguni Shane Peacock number. The mustard yellow, embroidered Lehenga is decked with dainty foliage motifs. The Lehenga is teamed with a blouse lined with tassels. The Dupatta is created with butti motifs and arch motifs at the borders.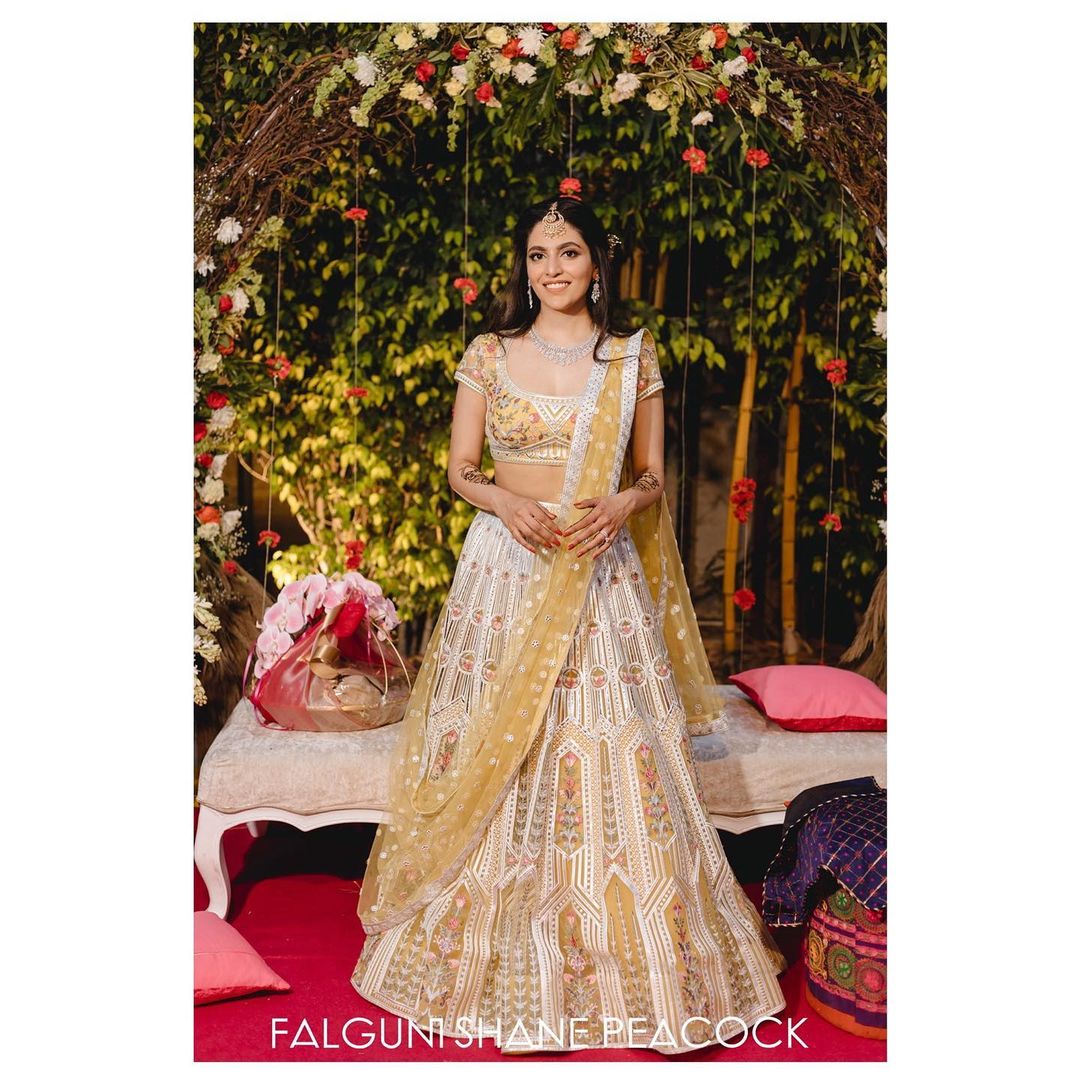 The FSP bride picked a pale yellow, chrome applique Indian Lehenga teamed with a cropped corset blouse. The ensemble, replete with floral and foliage motifs, and teamed with a tulle Dupatta, made a pretty pick for a lively Mehendi.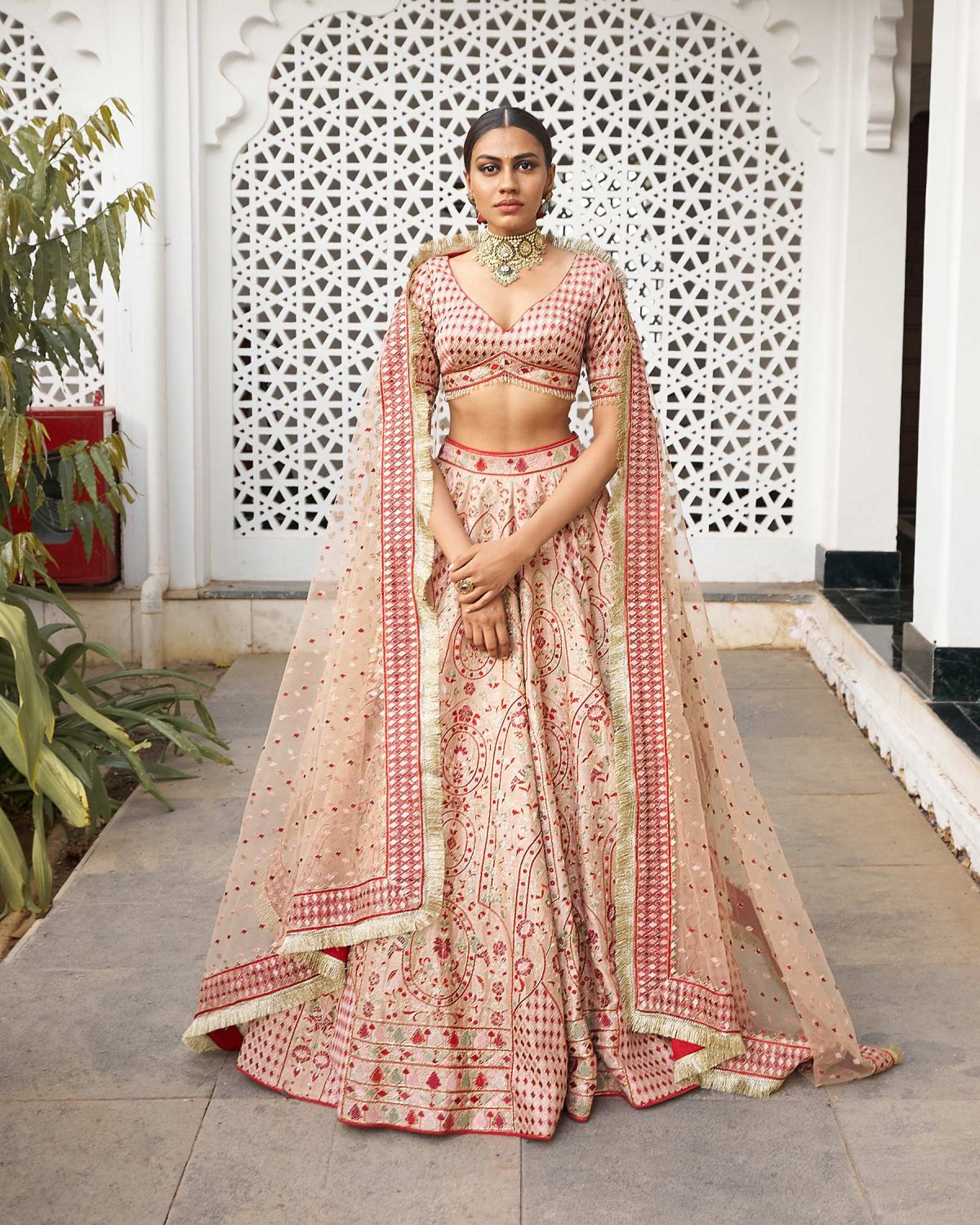 Pick an ethnic ensemble like this subtle and soft hue for your Mehendi like this peach Lehenga. The embroidered Indian Lehenga, created by Falguni Shane Peacock is replete with floral and foliage motifs. The blouse is decorated with tassel details. The ensemble is completed with a tulle Dupatta.