With a nearly three-decade-long career, there's so much Johar redefined and glamourised between action and cut. The journey continues in all its glory, getting better, stronger and mightier each day, unapologetically.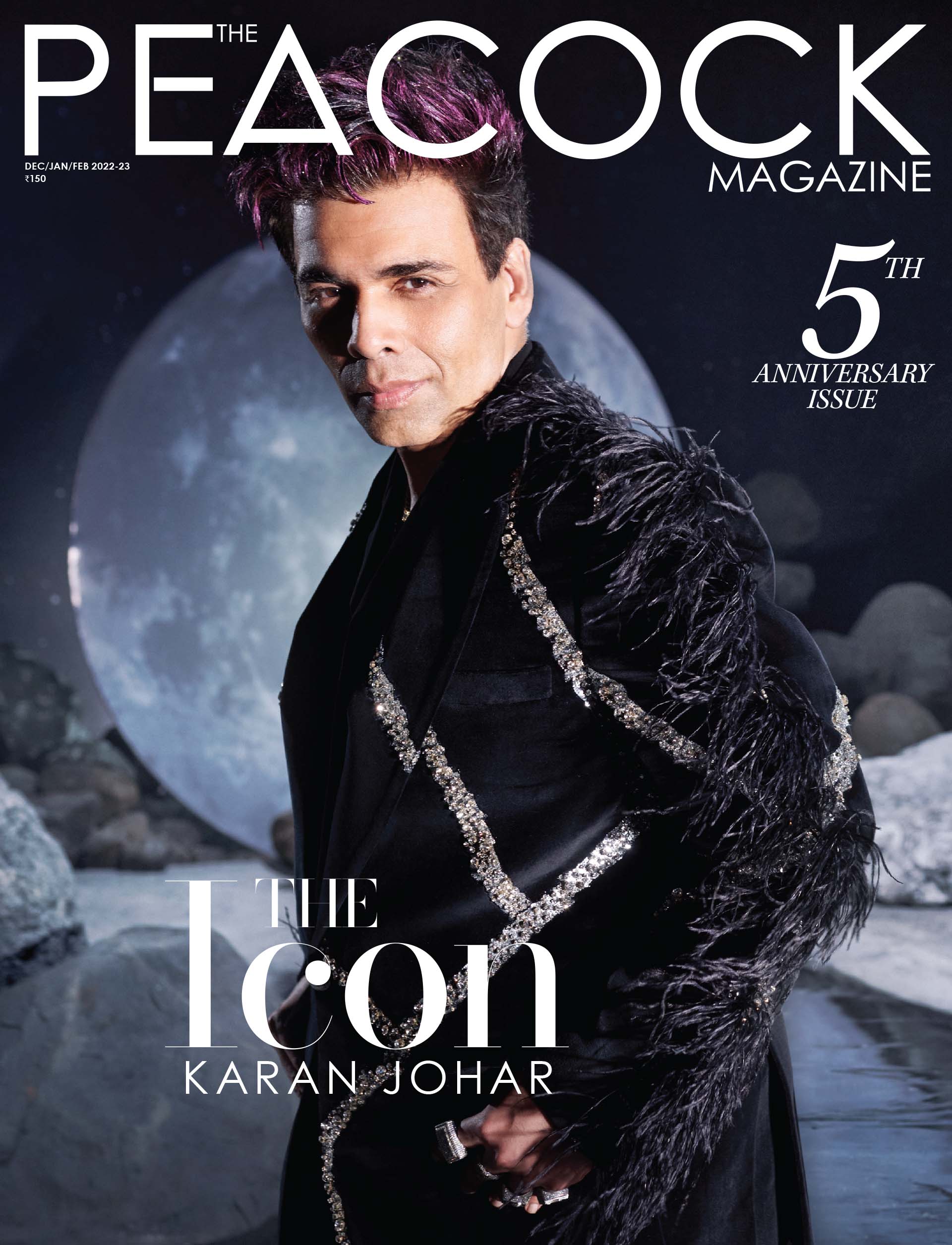 From dancing to Dafli Wale Dafli Baja while growing up to reviving the aura of old in the modern world, Johar's content rightly touches every chord of relevance and relativity. Thus, no wonder, the Indian filmmaker has always topped the headlines in every era. Celebrating the grandeur, glamour and creatively-rich content that the director-producer brings to the table, The Peacock Magazine features the timeless trailblazer for its fifth anniversary. 
The Peacock Magazine is a print and digital luxury magazine that decodes fashion, travel, beauty, lifestyle, and culture. It strives to revive and reinvent itself constantly by bringing in unconventional content to print and digital, with a view of bringing about a radical difference in the world of fashion and lifestyle.
Karan Johar is seen wearing a black blazer from the Falguni Shane Peacock's menswear designer dresses. The fashion designer dress is adorned with feathers and sequins, styled with a black shirt and a pair of black trousers, on the cover. While in conversation with the team, he shared insights of his thoughts that birth masterpieces such as the movies he makes. Johar's love for Indian cinema has been quite evident and thus, the world has seen the actor, host, judge expand his expertise to multiple peripheries of the cinema. 
Reminiscing his days before the fame and acknowledging the glory that came with movie-making, Johar in conversation with The Peacock Magazine talks his heart out, stating, 'I lived in a very moderate, tiny house when I was growing up, and I always imagined when I saw those movies that were larger-than-life that one day I would actually be able to captivate that larger-in-life feeling in my cinema. I love beauty, I love glamour, I love grandeur, and I like the glory of all that comes with movie-making. And I hope that my cinema has reflected that because I've enjoyed it at every beat. For me, cinema is a larger-than-life medium, and capturing that essence is what I've always aspired for.' 
Karan Johar, The Peacock Magazine's cover star for Dec '22 and Jan-Feb '23, celebrates the five-year journey of the magazine, getting candid and lively like never before. 
To keep a tap on everything new, happening and exciting in fashion, travel, beauty, lifestyle, and culture, check out The Peacock Magazine. For exquisite, classic and dapper fashion designer dresses, check out the menswear collection by Falguni Shane Peacock to make a statement that's truly unique, innovative and captivating.  
Keep exploring! Keep shopping!