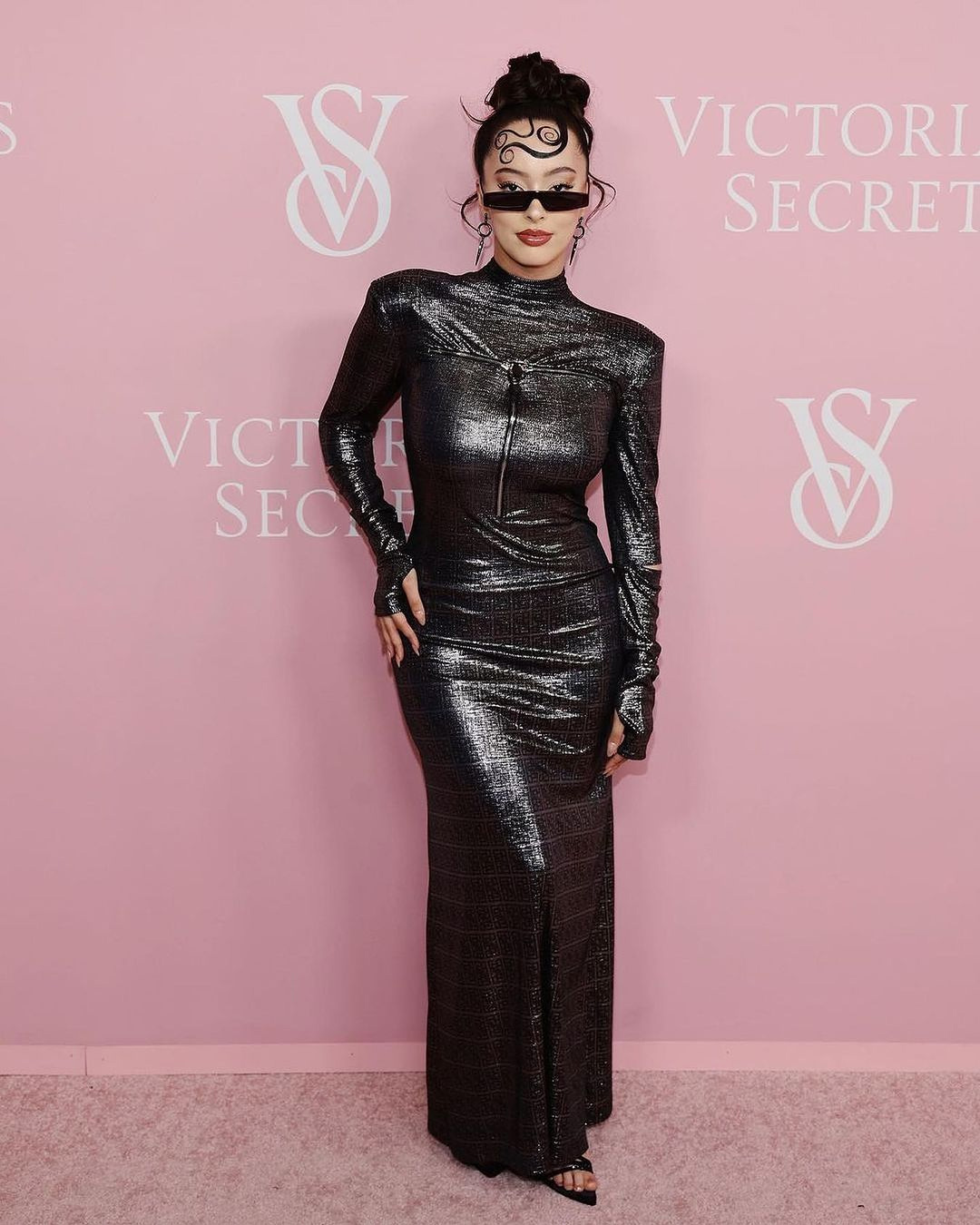 Luxe fabrics, bold silhouettes and ornate embellishments best define what FALGUNI SHANE PEACOCK stans for. The brand has over the years built a loyal clientele which is highly influential and elite and with each passing year, that list keeps on getting more extensive.
FALGUNI SHANE PEACOCK has long been associated with Hollywood celebrities and A-listers alike. The fashion-savvy, famous personalities can never get enough of the avant-garde designs of the designer luxury brand and are a preferred choice when attending a star-studded public appearance.
Morocco-born singer and songwriter, Faouzia was spotted attending the New York Fashion Week event of a lingerie brand, dressed up in a custom-made long dress by the celebrated Indian designer luxury brand, FALGUNI SHANE PEACOCK.
The "Tears of Gold" singer was seen donning a metallic black, FSP monogrammed custom-made long dress as she graced the red carpet for a famous lingerie brand's NYFW event.
The edgy floor-length dress is curated from the signature monogrammed fabric with a front zip closure detailing. The fitted long dress showcased full sleeves with thumbholes which gave the dress a chic and polished look. The pop singer was radiating glamour at every glance dressed up in the metallic-hued creation. The celebrated singer who has a sizeable community of fans across her social media platforms was seen posing confidently for the cameras before proceeding to the event.
The 23-year-old Moroccan-Canadian singer has collaborated with some of the most renowned music industry artists such as John Legend, David Guetta, Kelly Clarkson and Ninho for individual projects and has been soaring high in her musical career at a very young age.
One of the most revered names in the fashion scenario, FALGUNI SHANE PEACOCK is known for their distinctive creations which are the perfect synthesis of traditional and contemporary designs. To catch a glimpse of their creative brilliance, check out their brilliantly crafted couture as well as ready-to-wear collection.