Earlier the gush of a new beginning with your mate was memorialized with an elaborate banquet, a horde of people frolicking around the couple and was marked by enormous splurges. The new normal thrusted upon the world by the pandemic brought along a number of lifestyle shifts, particularly in social, economical, and commercial aspects. The lifestyle changes became a harbinger of many sartorial possibilities. From phenomena like work-from-home to minimalist weddings, people embraced comfort, convenience and subtlety. The same notion was witnessed in many intimate lockdown weddings that occurred in 2021 as well as last year.
The minimalist weddings focused on celebrating the occasion with smaller groups but equal pomp. The choices of ensembles for brides and grooms broadened too. Brides did away with the traditional hues like red and opted for pastels and muted shades for the wedding ceremony. Even for the pre and post wedding ceremonies and socials, the traditional garbs for the bride saw a variety of contemporary twists. Perpetuating our fondness for contemporary weddings, we handpicked our favorite Falguni Shane Peacock picks in Indian Lehenga Choli for every occasion that would render your lockdown wedding to be the highlight of a lifetime.
An exquisite engagement
Kick start the thread of ceremonies with mild and muted hues but elaborate details. For a close-knit engagement soiree, make the best use of traditional motifs, chrome applique details along with graceful embroidery highlights in the Indian Lehenga Choli.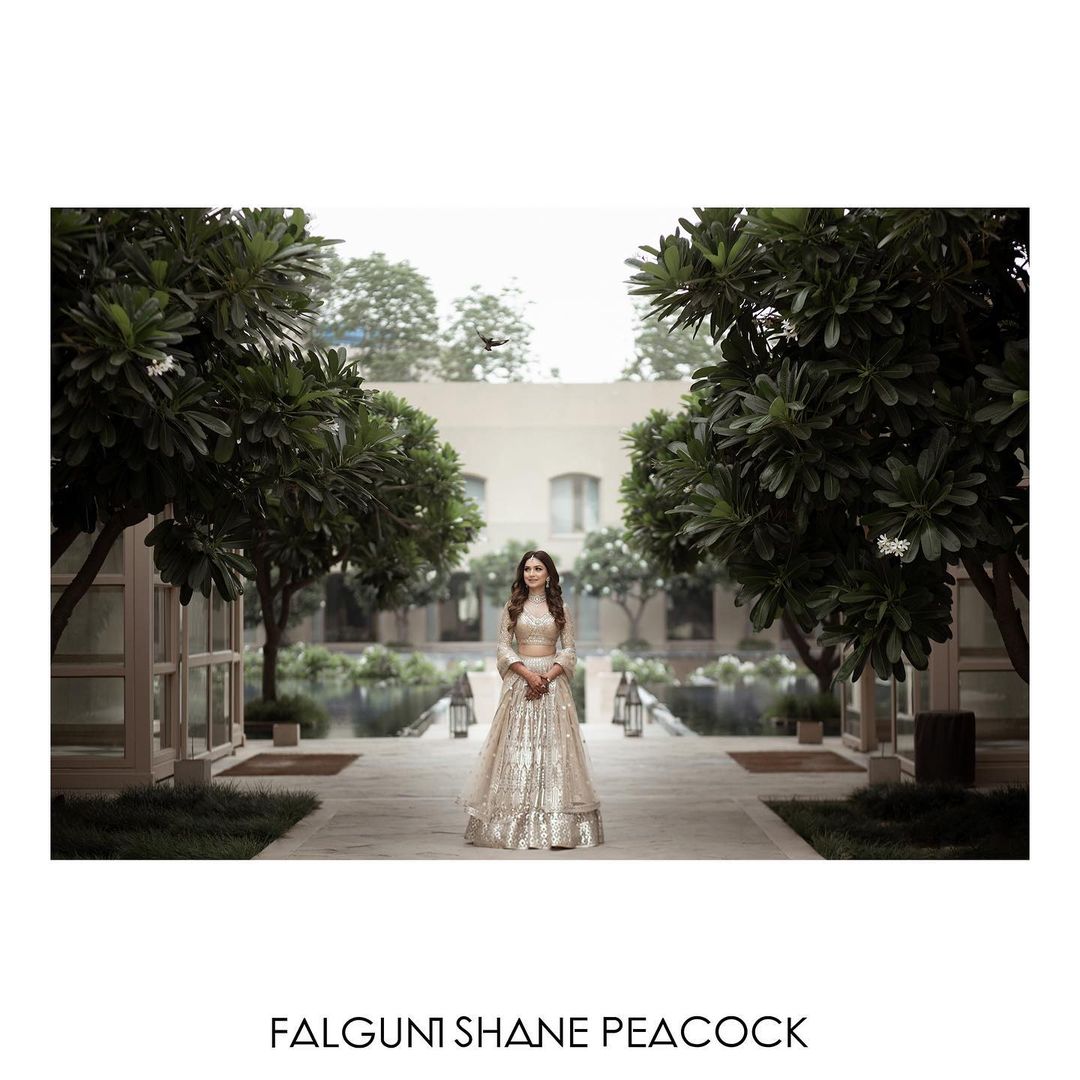 Pick an Indian Lehenga Choli in a subtle and neutral hue like this FSP bride for an engagement or sagan ceremony. She chose a light beige, chrome applique Lehenga teamed with a corset blouse.
A heartfelt Haldi
Do away with neutral hues and add vibrance to your Haldi shindig. Add a touch of dainty, floral details to the Indian Lehenga Choli through accessories.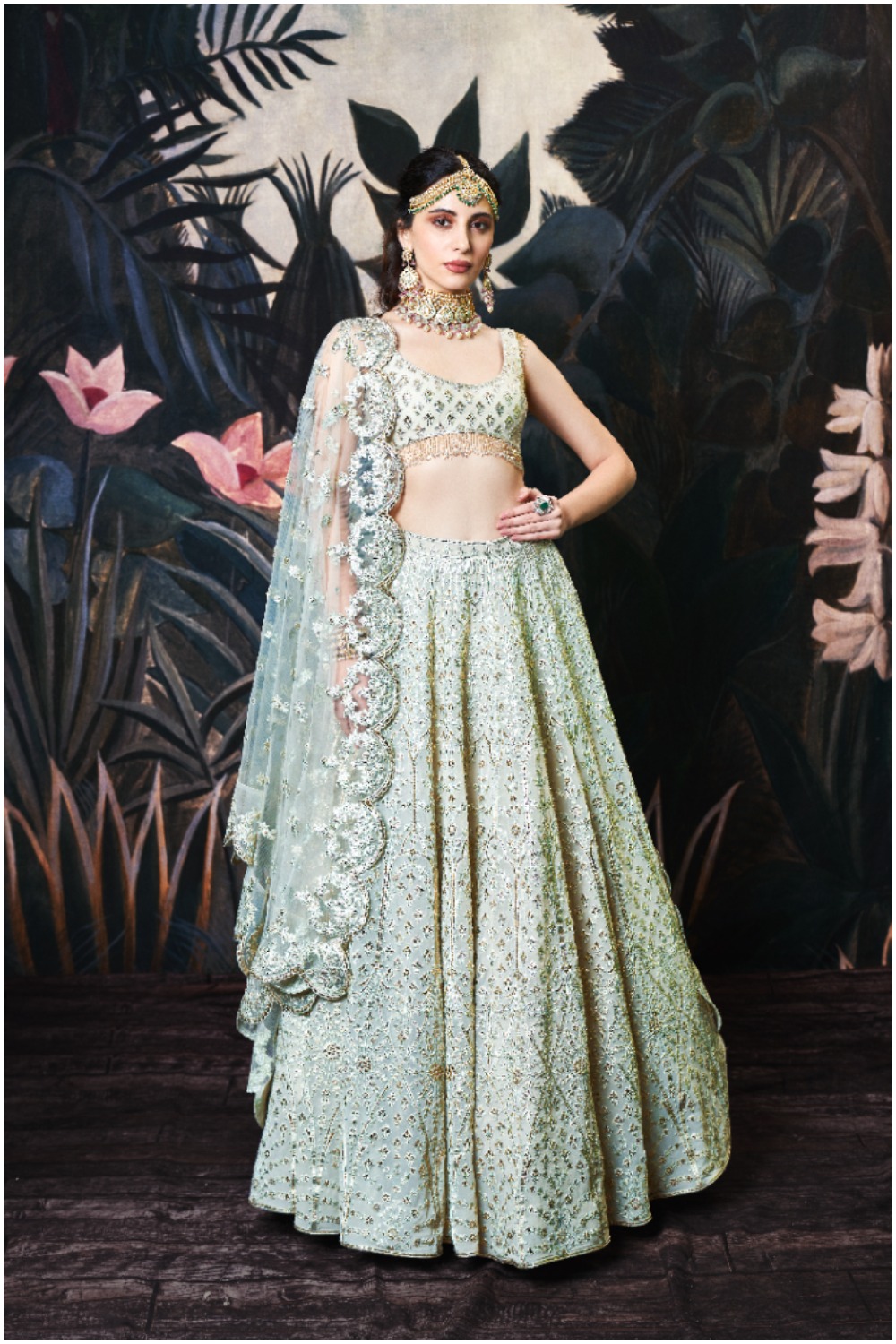 The light green chrome applique Lehenga by Falguni Shane Peacock is detailed with embroidery in golden metal threads. The ensemble is teamed with a sleeveless blouse lined with tassels and a dupatta helmed with scallop finish.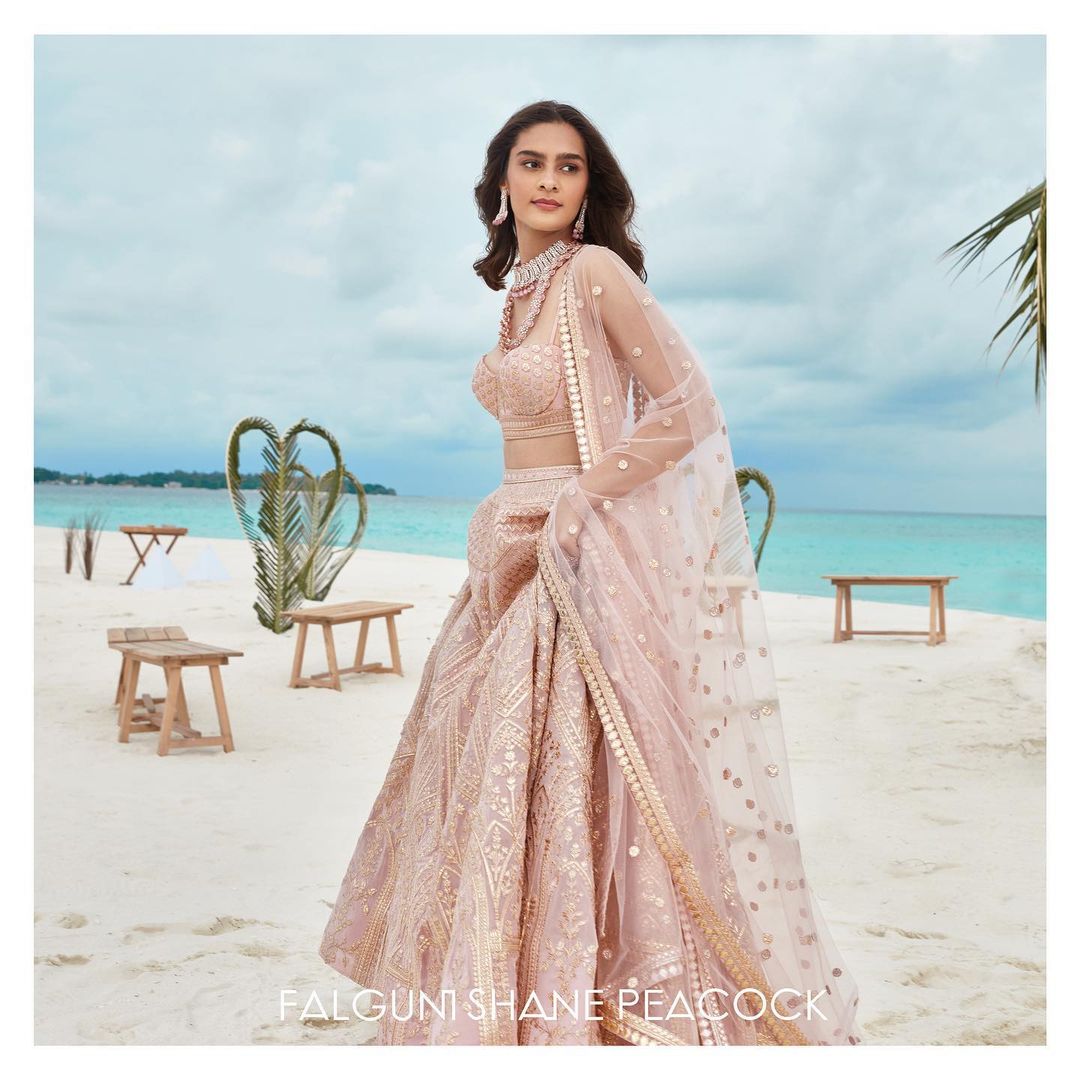 Experiment with varied blouse styles and silhouettes like this Falguni Shane Peacock number. A dainty, bralette style blouse in the delicate hue of dusty rose makes a romantic pick for a winsomely vibrant Haldi.
A minimally mystical Mehendi
One of the keys to build an ideal Mehendi look, if you are picking an Indian Lehenga Choli, is to ace the sartorial aesthetics as well as functionality.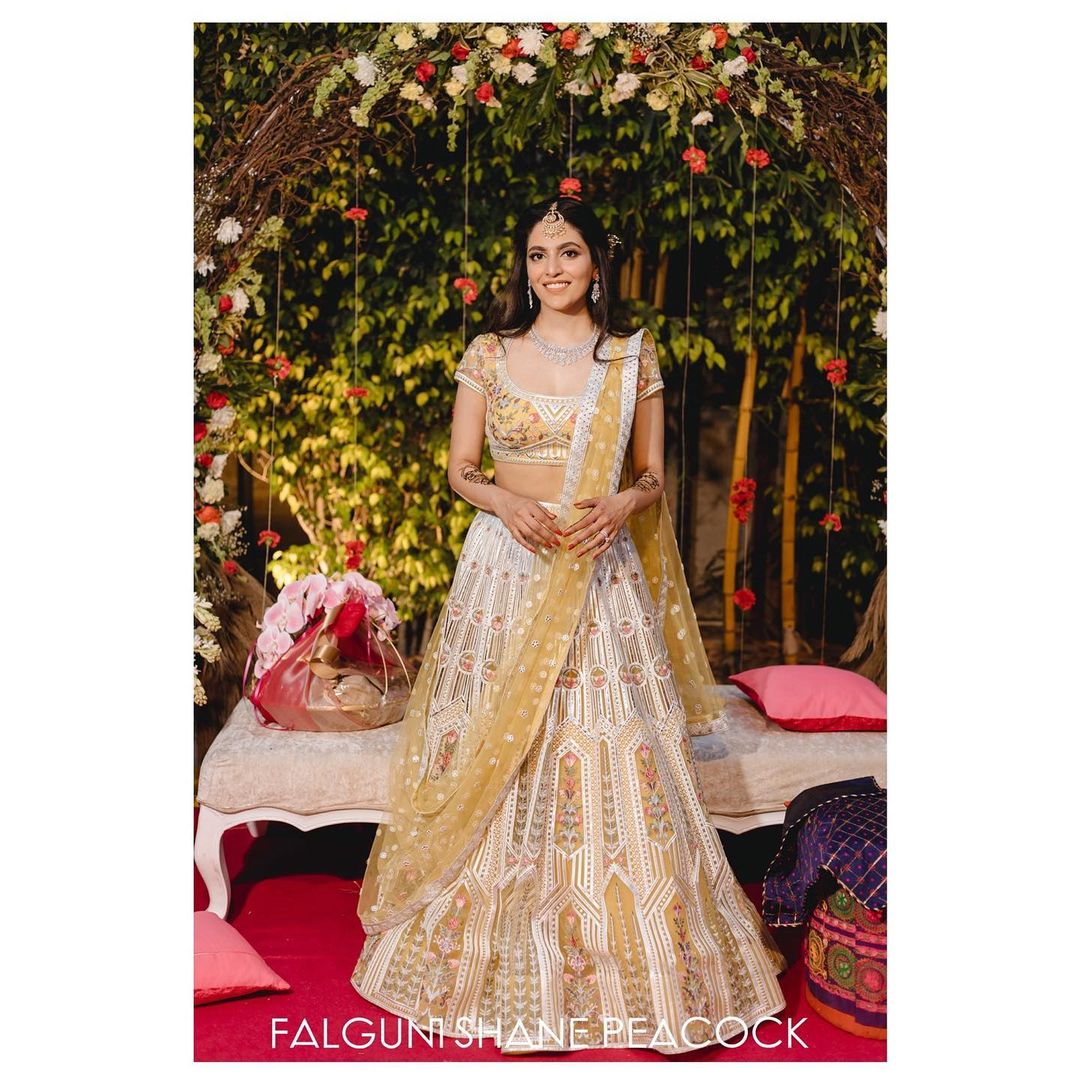 This FSP bride picked a pale yellow Falguni Shane Peacock Lehenga detailed with multicolored floral motifs for the Mehendi ceremony. The ensemble contains a short-sleeved blouse crafted with similar motifs like the Lehenga and a tulle dupatta.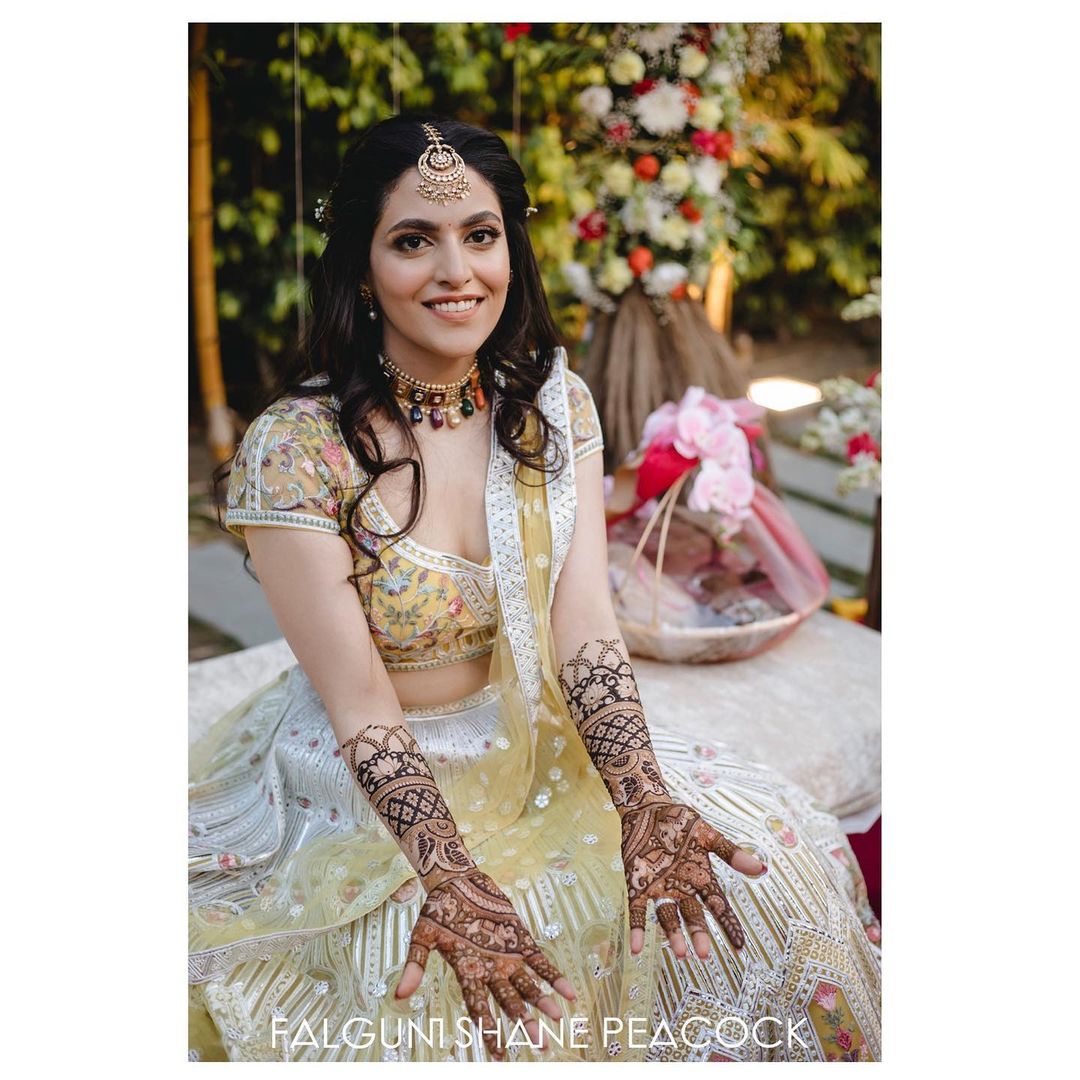 You could opt for an unconventional silhouette in blouse style like this Falguni Shane Peacock Lehenga. A mint green Lehenga teamed with a halter-neck blouse makes a fitting choice for an enchanting Mehendi look.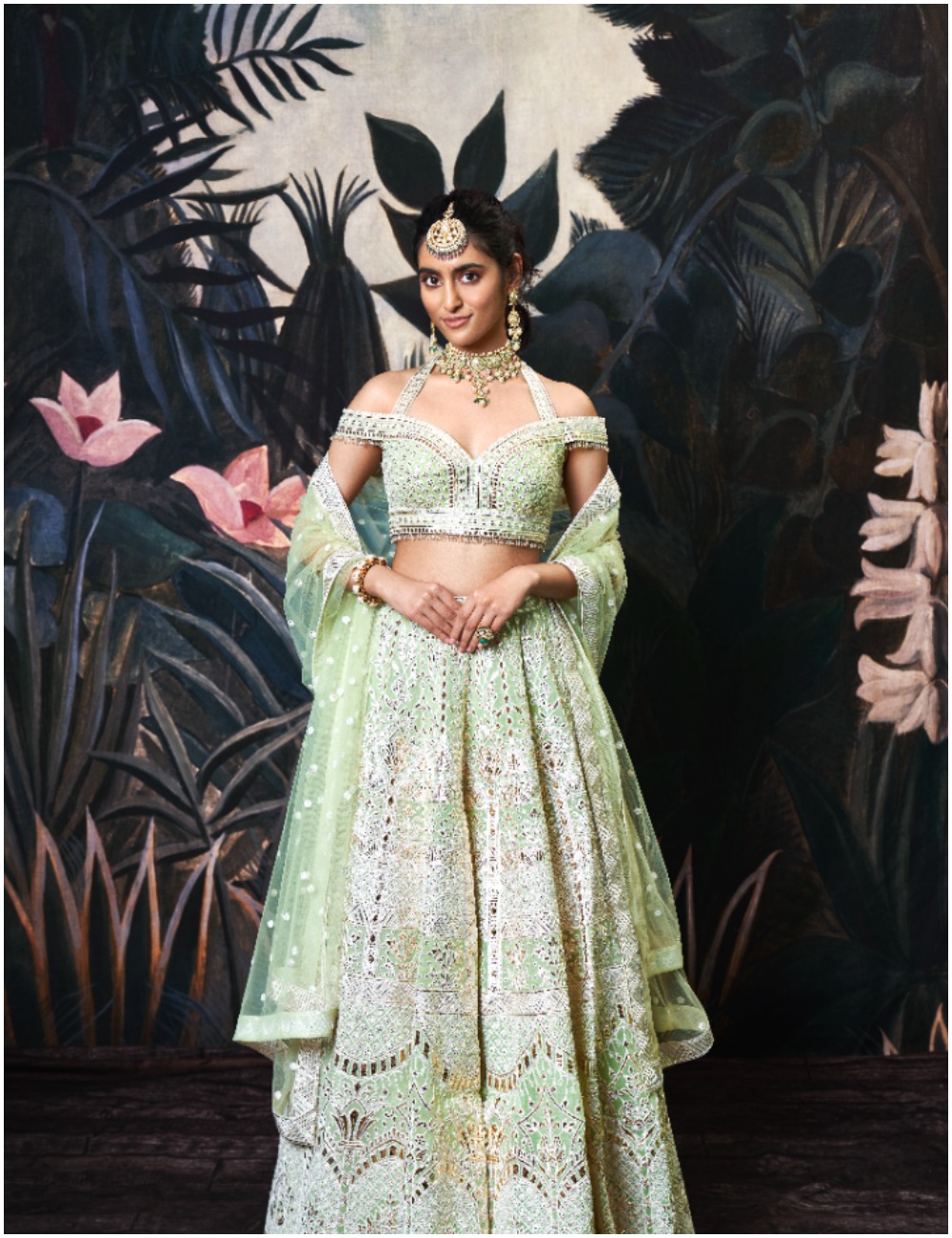 A bijou Sangeet
For an intimate Sangeet, opt for a non-fussy yet exquisite ensemble like a saree-gown if you want to stray away from Indian Lehenga Choli. Enhancing your glam quotient, a saree-gown could be a fitting and facile pick for a Sangeet or cocktail.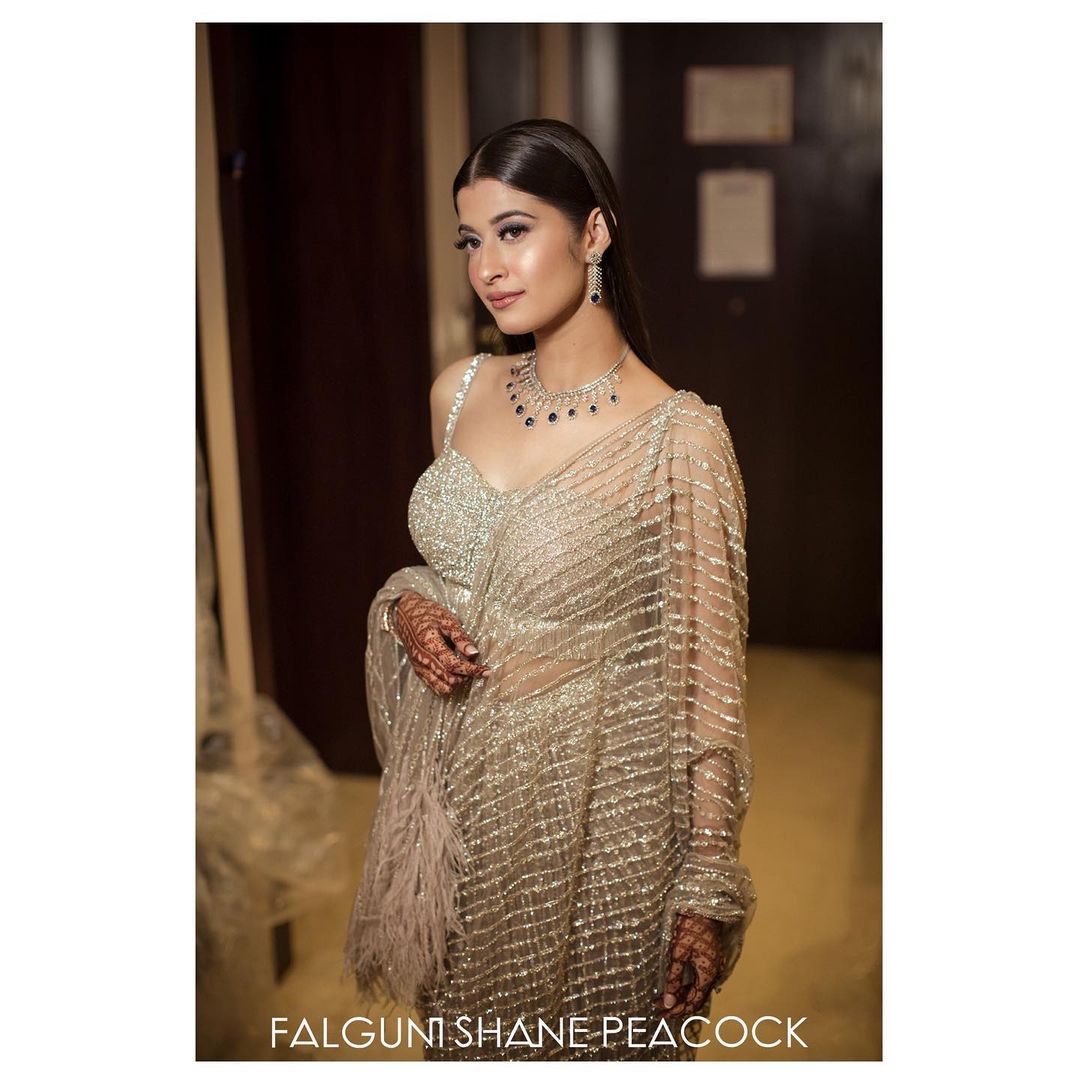 This FSP bride picked a nude-based, encrusted saree-gown for one of the wedding socials. To add an off-beat touch, the Falguni Shane Peacock ensemble is finished with feather details. It makes an ideal Sangeet choice for the contemporary bride.
An intimate wedding ceremony
Our traditional, cultural, and religious virtues have always dictated a certain silhouette for the bride and groom's garb. But we have been witnessing expansion in sartorial choices for the bride as well as the groom. For example, an increased preference for hues other than the classic red like pink, beige, ivory, etc in Indian Lehenga Choli.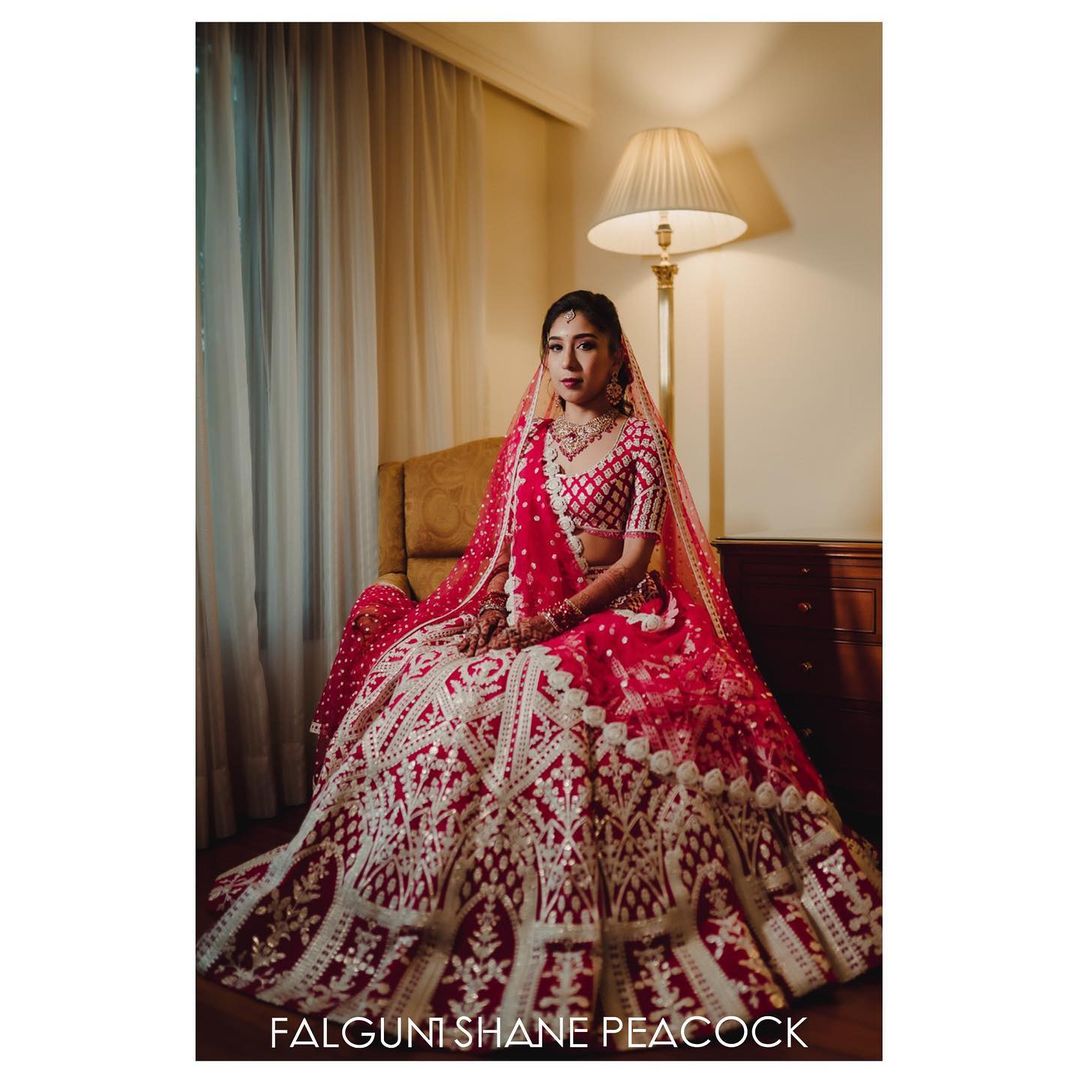 This FSP bride picked a sprightly hue of berry pink for her bridal Lehenga. It is handcrafted intricately with chrome applique details and ivory silk threads and traditionally aesthetic motifs. Teaming the Falguni Shane Peacock ensemble with two Dupatta, she kept the tone of accessories on a similar line with the Lehenga.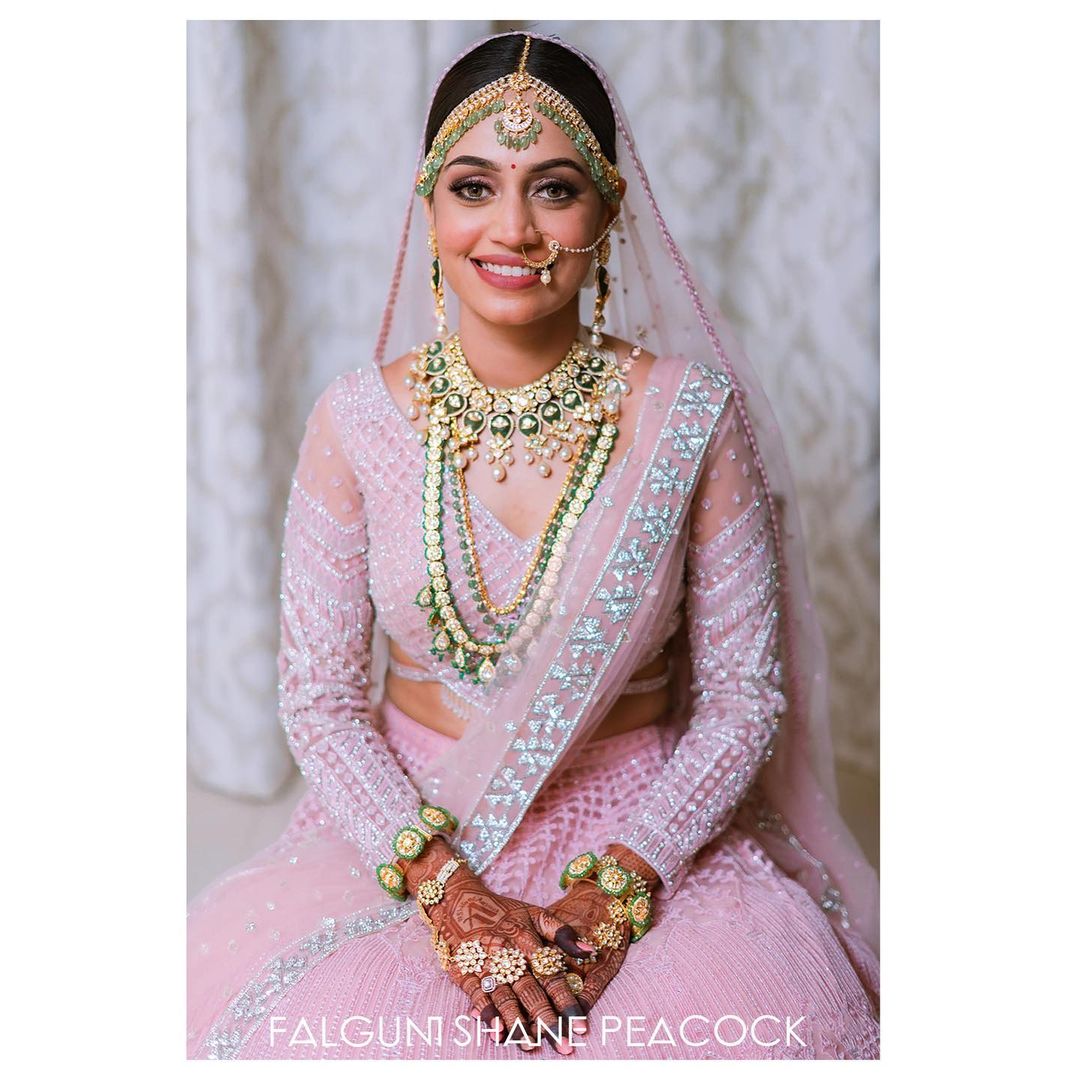 The light pink Lehenga by Falguni Shane Peacock made an ultimate pick for this bride. The Lehenga is encrusted with numerous beads, crystals and stones and is teamed with a full-sleeved corset blouse and two tulle Dupatta.