When in doubt, wear gold! The power of this pigment is like no other, adding richness and warmth to your wedding dress and giving you the confidence to reach your true potential, the pros are inexhaustible. The modern day bride is valiant and audacious which unlocks the realm of experimentation and adopting an unconventional color palette such as this will surely do justice to the new bridal spirit.
Golden threads and foil work have been used in the traditional Indian craftsmanship since time immemorial, to weave luxurious patterns and to cooee a maximalist tone in outfits. This resonates well with the Indian nuptial's that is all about razzmatazz making this aureate semblance the cure to all the confusion that takes place while choosing the perfect wedding dress.
At Falguni Shane Peacock, a brand that is famed for curating vivacious wedding dresses, one can find an array of golden bridal wear options, a notable element to add to your bridal trousseau.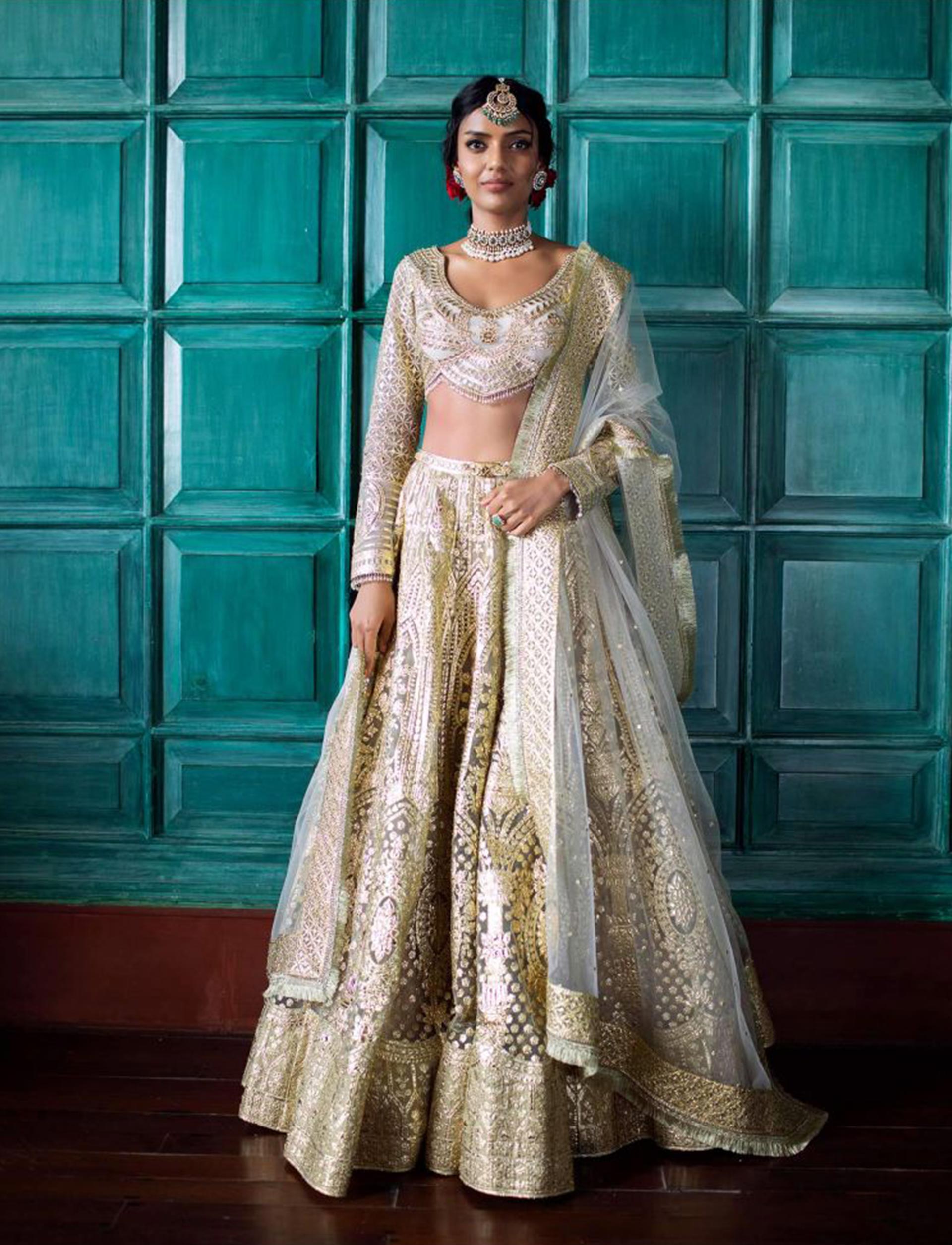 The lilou by Falguni Shane Peacock, is a golden chrome applique 'Lehenga' in a grey base that features the intricate 'Jharokha' motifs and breathes an oodle of oomph. The pairing of the skirt is done with a blouse comprising of a fan panel, tassel details and replete grid-work motif.  A tulle 'Dupatta' with 'Butti' motifs and ornate fringed border is added for the finishing touches. The sheer and elegant design looks best when paired with fresh floral hair accessories.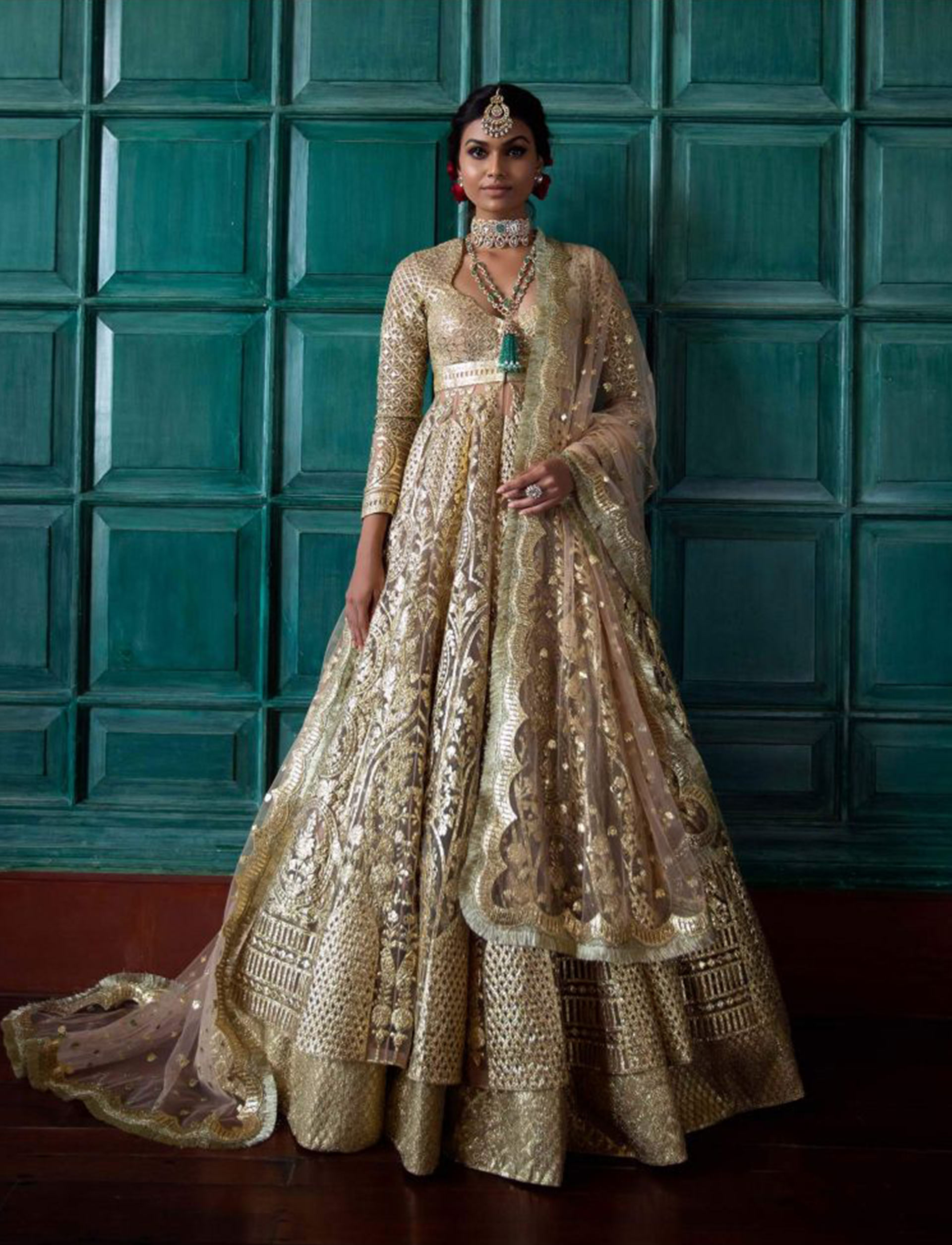 Allure your way into the wedding season with the Etienne by Falguni Shane Peacock, a unique mix of an 'Anarkali' and a 'Lehenga'. The work displayed on this beige based set is a golden chrome applique and foliage motifs finished with an elegant and light 'Dupatta'. This particular ensemble is comfortable yet dressy and goes well with choker neckpieces owing to the classy cutwork.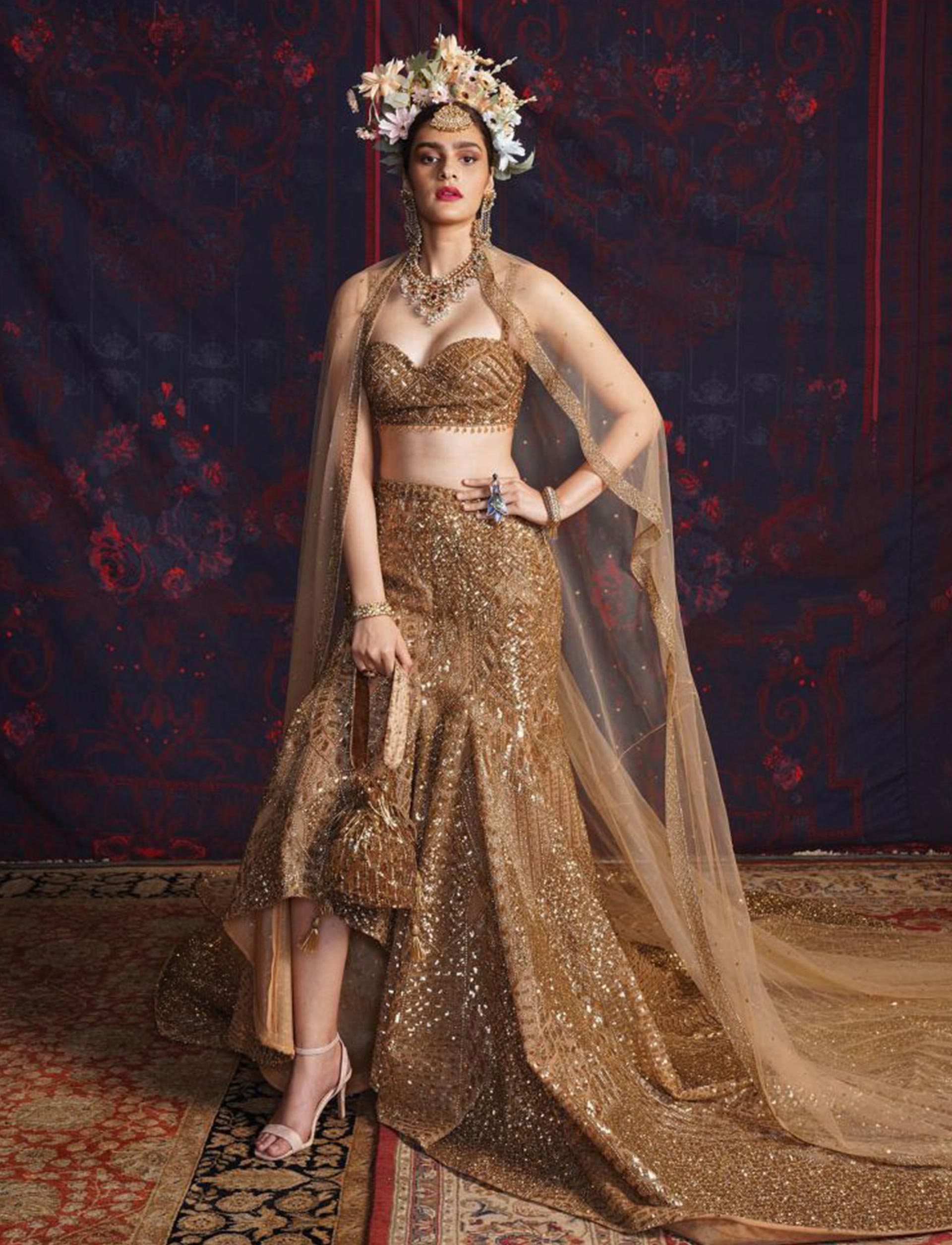 The majestic and ever stylish Bell 'Lehenga' from Falguni Shane Peacock, strikes the right balance between modern and traditional. The golden asymmetrical outfit with a side slit and magnificent trail will turn you into the bell of the ball. It is more than just a 'Lehenga' set, and is a piece of art which portrays the clever artistry of the designer duo.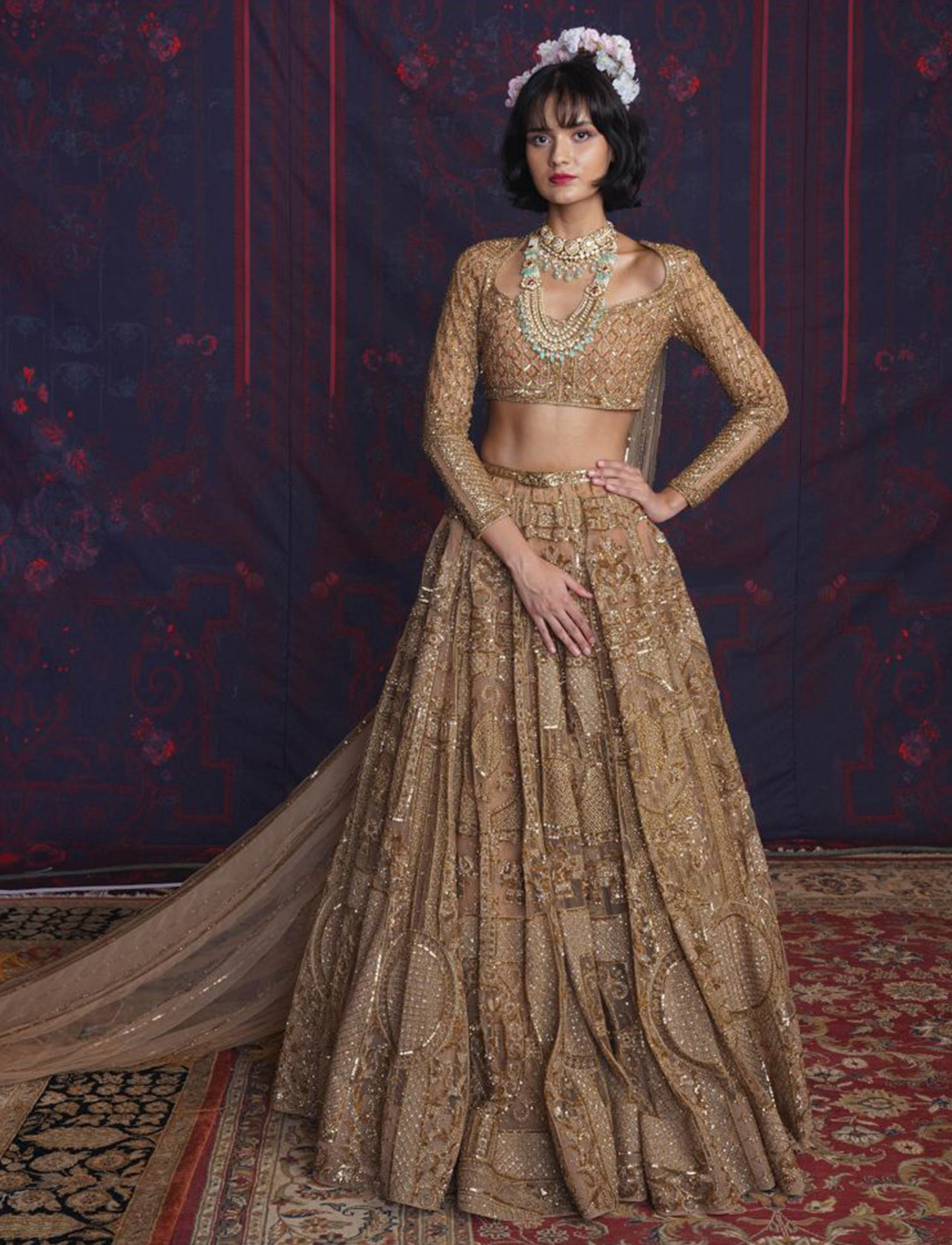 Reyna by Falguni Shane Peacock is a quintessential golden 'Lehenga' that comes with a no fuss long sleeves blouse, adorned with net and sequin work which gives the outfit a wholesome fluidity. This is a 'Lehenga' for the iconic Indian bride and gets an enriched charm when worn with layered precious jewelry pieces.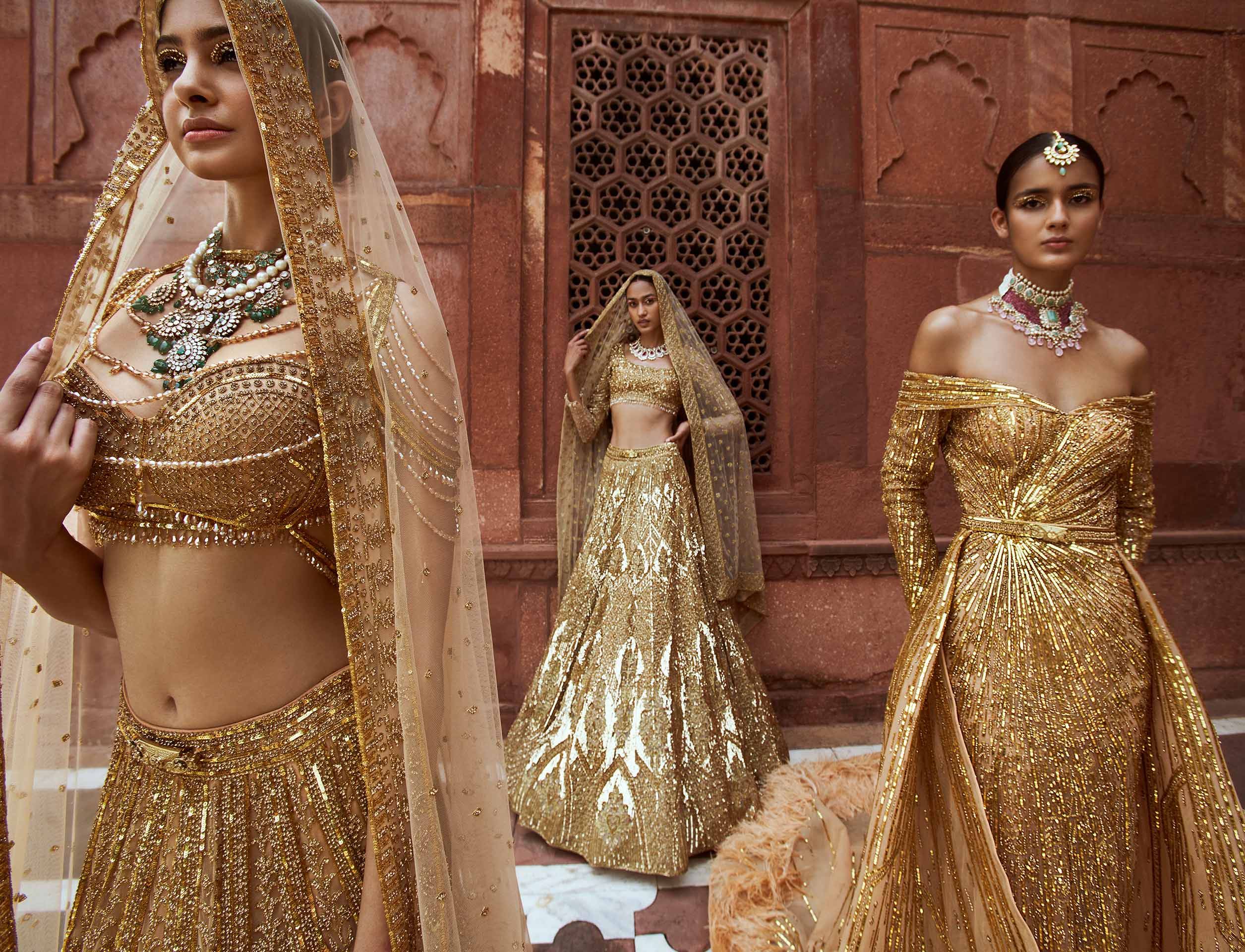 Last but not the least, shop stellar golden 'Lehengas' from the latest collection 'Love Is' by Falguni Shane Peacock which is an inspiration derived from the Taj mahal, famous in India for being a symbol of love. The techniques used to construct the 'Lehenga' replicates the architectural marvel on the fabric with dome and minar motifs. Fitted and flared silhouettes found in these costumes will make for a befitting wedding day bridal trousseau.