Crop tops gained popularity and mass acceptance among the crowds in the '60s and early '70s. But it wasn't until the '90s that this style became a staple in every fashionista's wardrobe and has been a must-have item since.
Master couturiers FALGUNI SHANE PEACOCK are redefining the face of Pret wear fashion and how. The globally renowned luxury fashion brand known for its swoon-worthy couture fashion pieces is ready to give your daily wardrobe essentials a creative makeover.
The elaborate Pret wear collection catalogues everything from breezy dresses to stylish co-ord sets to whimsical crop tops, all curated in comfortable fabrics, innovative prints and eccentric patterns to give the fashion-savvy crowd their mandatory dose of serotonin.
The enticing crop top collection at FALGUNI SHANE PEACOCK is the perfect embodiment of dreamy silhouettes and rare prints on luxe fabrics and is sure to get the heart racing of every fashionista out there.
So, buckle up and get ready to explore the mystical crop top creations of the fashion initiators themselves.
Crimson Nouveau Crop Top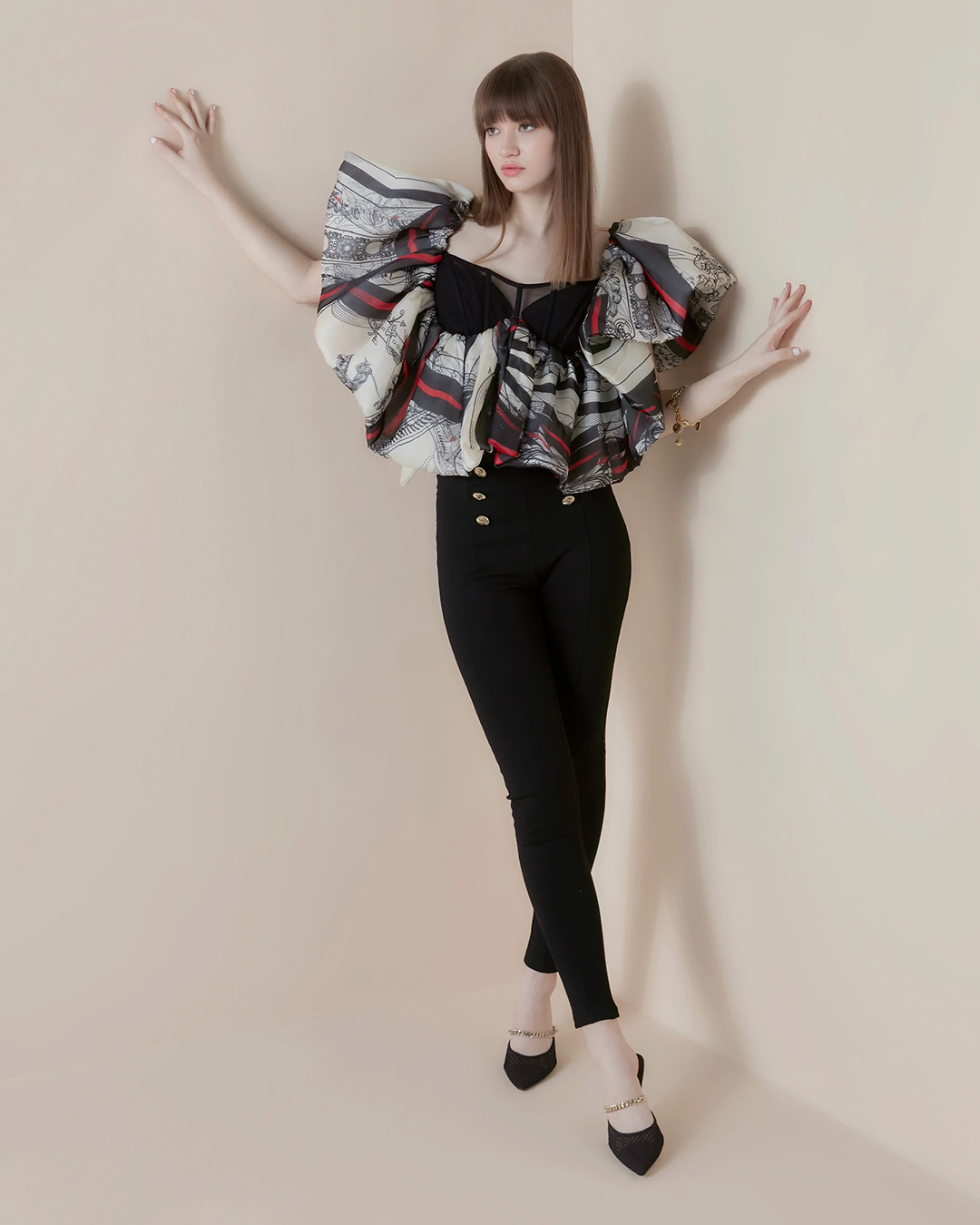 This stunning FALGUNI SHANE PEACOCK ruffle corset crop top in red, black and ivory looks nothing less than a piece of art. Crafted from 100% organza silk, the crimson nouveau crop top can easily be styled for a fancy brunch or a romantic dinner date.
Ireland Star Corset Top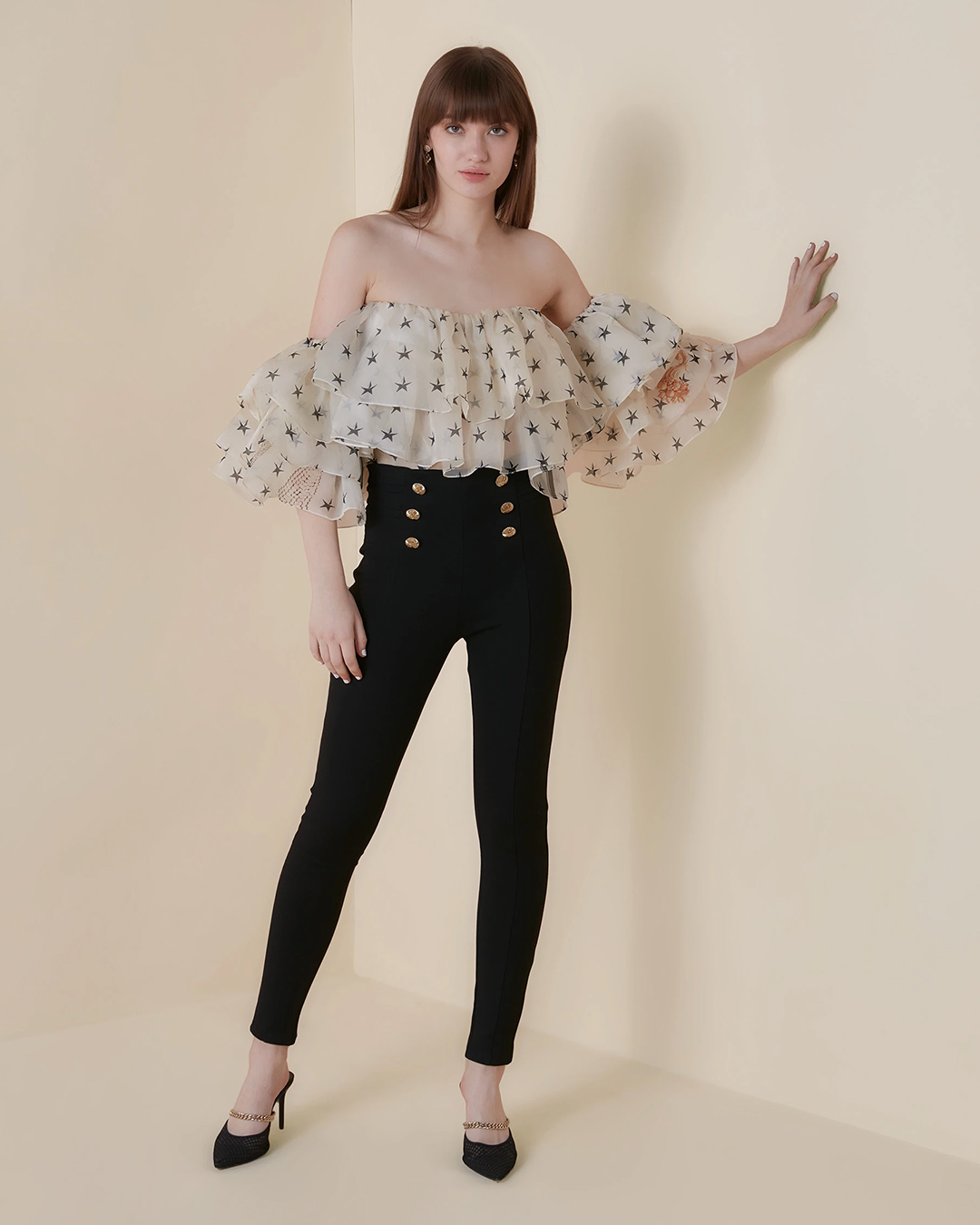 The Ireland star corset top by FALGUNI SHANE PEACOCK is a stylish yet sophisticated take on the popular clothing item. The layered ruffle effect imparts a flirtatious vibe to the twirl-worthy off-shoulder top making it a fashion wardrobe staple. Style it with your favourite pair of jeans for a casual day out or a cute mini-skirt for a night out with your girl gang.

SOME COMMON QUESTIONS RELATED TO CROP TOPS:
What is the best way to style crop tops?
The way you decide to style your crop top solely depends on your preference. These are versatile pieces of clothing and can easily be paired with any bottom of your choice. Be it a pair of wide-leg jeans or a short corduroy skirt; you can easily mix and match your crop top with different bottoms to create an assortment of looks.
Which is the best online store to get crop tops?
You can shop for your favourite crop top designs from a preferred online store. There are numerous online stores retailing in-fashion designs with a huge variety to choose from. To find the perfect crop top for yourself, you must browse through various online portals before picking your ideal fit.
What are the different types of crop tops?
There are innumerable styles of crop tops available in both online and offline stores. Some of the popular styles are:
       

Corset crop top

       

Ruffled crop top

       

Bardot crop top

       

Cut-out crop top

       

Off-shoulder crop top

       

One-shoulder crop

       

Bustier crop top

       

Peplum crop top

       

Halter crop top
Why crop tops are popular now?
Crop tops have been popular amongst women for a few decades now. But in the last decade, crop tops have become a popular day-to-day clothing choice for women. Crop tops are easy to style and comfortable to wear which makes them a popular choice among women seeking comfort and style in one.