Time to set new fashion benchmarks with the latest collection of embellished long skirts for women by Falguni Shane Peacock.
A timeless classic piece, the long skirt is here to rule the fashion wardrobes for years to come. The luxury fashion brand, Falgun Shane Peacock has effortlessly combined the humble silhouette with their avant-garde style to create magnificent pieces which are their reinterpretation of the long skirts for women. Every single piece in the collection is creatively curated for women who love to experiment with their sartorial choices. 
The elaborately designed long skirts for women collection is replete with exquisite details such as sheer panels, 3d flowers, rhinestone detailing, sequins and more to give your wardrobe a couture-inspired makeover. The coveted pieces are designed to give you a taste of luxury couture but in a more wearable package.
The exemplary creations straight from the runway are designed to satisfy the need of the fashion-loving crowd to wear something chic and head-turning worthy.
Let's take a look at what the luxury fashion brand has to offer with their latest high-street fashion meets couture style long skirts for women online.
GOLD EMBELLISHED LONG SKIRT WITH A WHITE SHIRT AND A CROPPED JACKET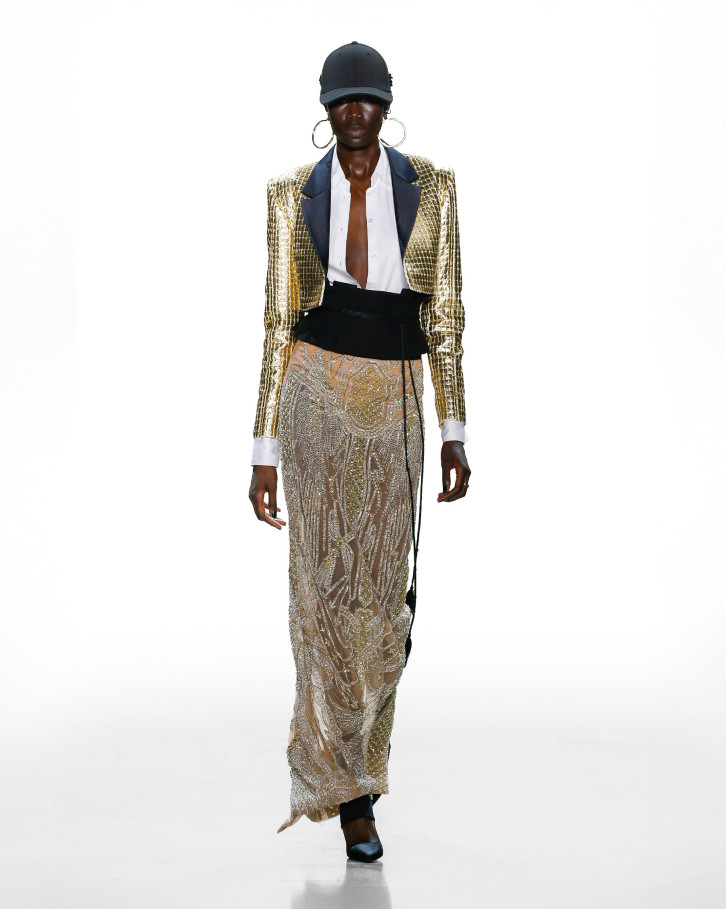 This sheer gold embellished long skirt is designed to take away all your fashion woes. The sheer high-waisted embellished skirt is adorned with pearls and gold crystals in innovative patterns. Style this embellished skirt with your favourite top or shirt to give people a glimpse of your high-street fashion choices.
BLUE DENIM APPLIQUE SKIRT WITH A WHITE SHIRT AND BLACK BELT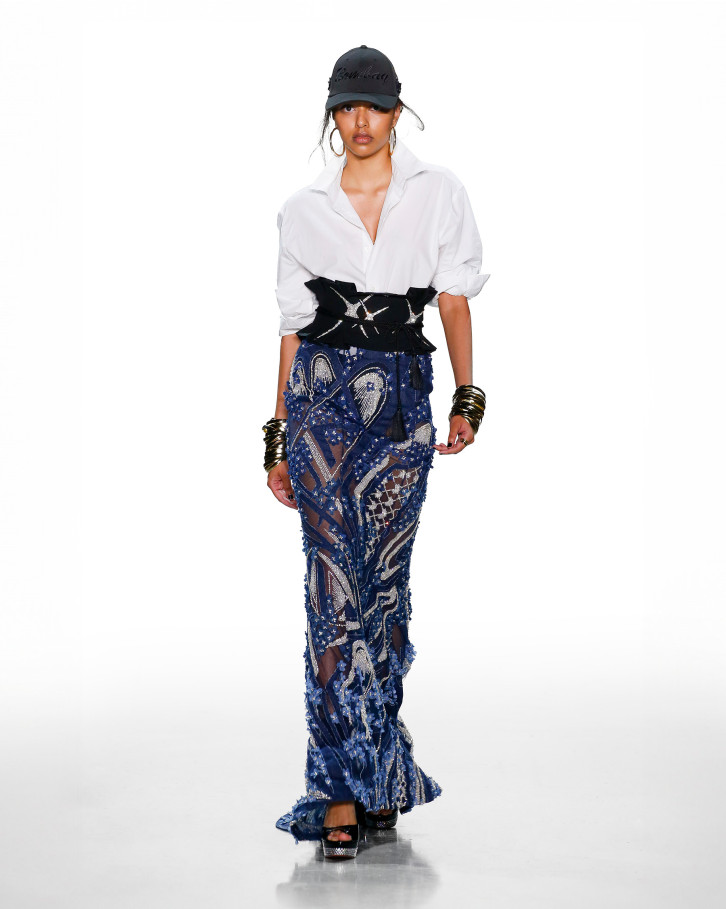 This blue sheer maxi skirt will instantly add high-fashion glamour to your ensemble. The high-waisted mermaid-style skirt showcases denim applique details, along with sheer panels, fabric flowers, silver rhinestones, sequins and cut beadwork. Style it up with a plain shirt to make yourself stand out from the crowd.
SHEER CUT-OUT BRALETTE AND SKIRT ARM WARMER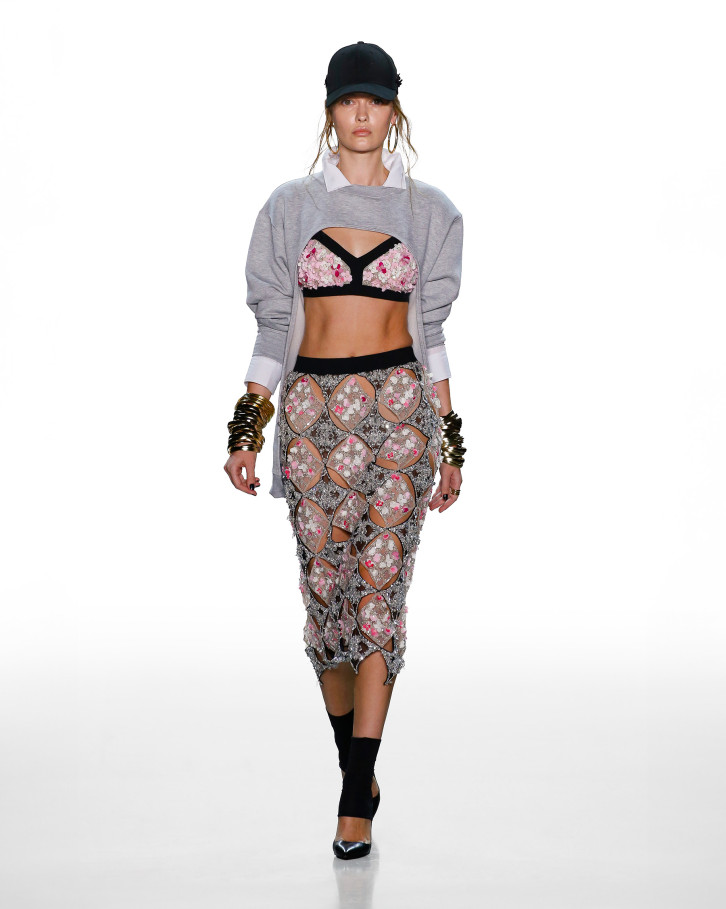 This sheer skirt is a high fashion piece which you can wear at a club as well as a red-carpet event. The sheer cut-out skirt showcases alternate panels to create a grid-like pattern. The skirt is adorned with white and pink 3d flowers, crystals, sequins and acrylic beads.
MONOCHROME SHIRT WITH AN EMBROIDERED LONG SKIRT AND A BELT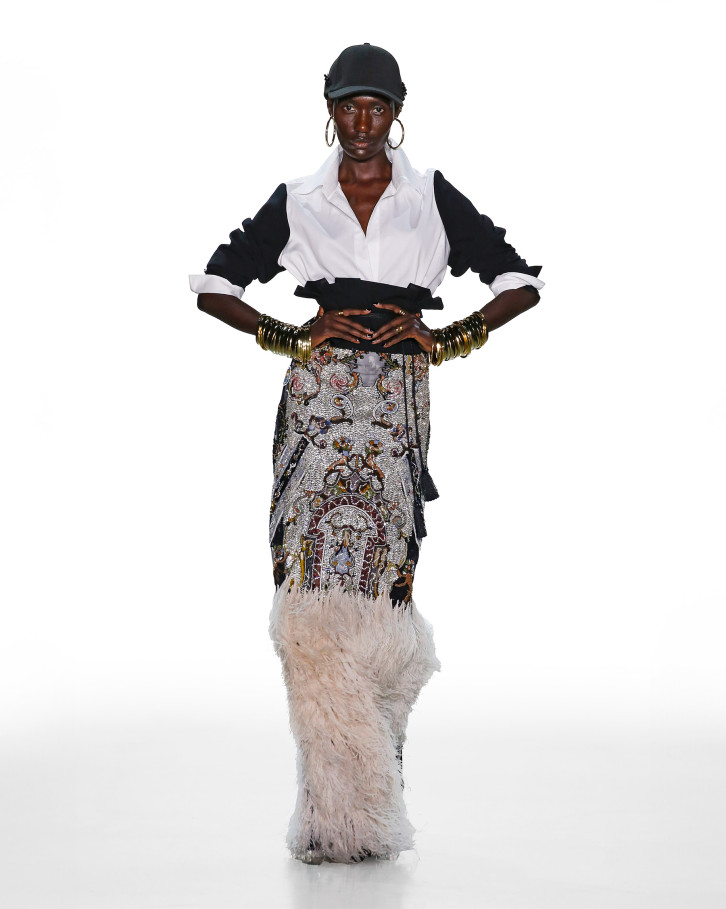 This long skirt will make you feel like you are strutting on the runway wearing the most exquisite fashion. Curated on a black base, this long skirt is adorned with multicoloured sequins, and crusty and cut bead embroidery. The elaborate skirt is detailed with moonstone feathers down through the knees.
SHEER LONG SKIRT WITH A WHITE SHIRT AND A CROPPED BLAZER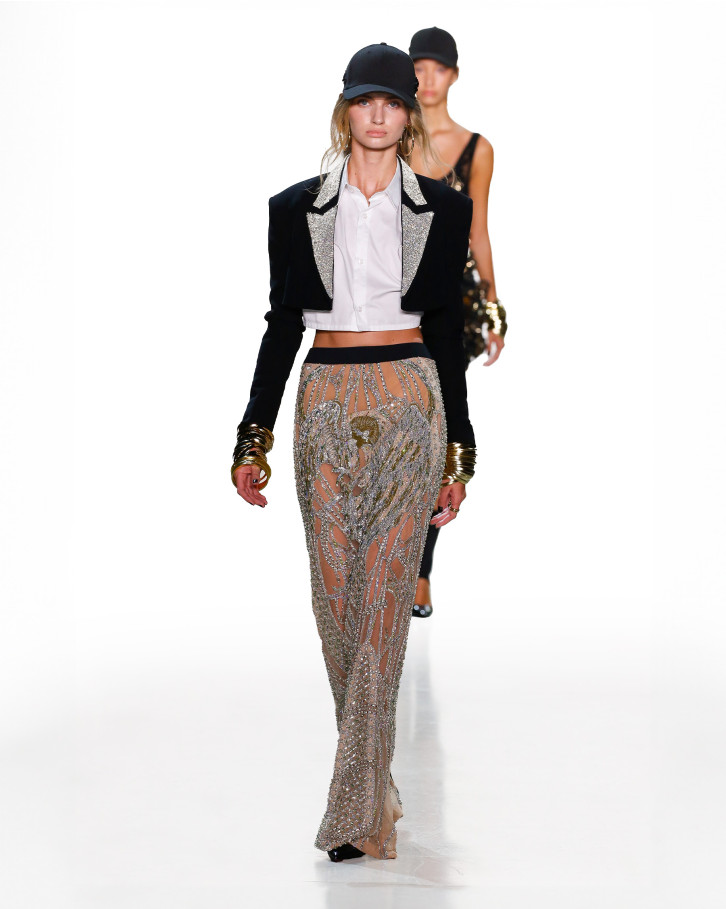 Another versatile long skirt which you can style with ease for any occasion. Curated on a sheer base this embellished skirt is adorned with multicoloured rhinestones, sequins and cut beads. The skirt also showcases a back slit or a kick pleat for extra flare and ease of movement.