Hollywood stars such as Humphrey Bogart and Peter Sellers in the 60s made trench coats popular amongst the fashion-forward crowd. Once used as a utility garment, these coats have now become one of the most affluent pieces in the high-fashion industry.
It is no longer worn for the purpose it was developed for and is more about getting that high-fashion aesthetic right. Brands are ditching the thicker gabardine material which was originally used to make the coats and are incorporating lighter and more crowd-pleasing materials and prints to make the pieces more suitable for fashion-admirers.
The trench coat collection for women by FALGUNI SHANE PEACOCK reflects fashion, creative brilliance and accessibility all combined in one big bundle of luxe fashion pieces. This casual-chic collection of trench coat style is designed to elevate your fashion quotient and add layers of style, comfort and glamour to your ensemble.
So, sit tight and scroll your way through our curated edit of the most stylish trench coat online and take inspiration for your fall wardrobe makeover.
IRELAND STAR TRENCH COAT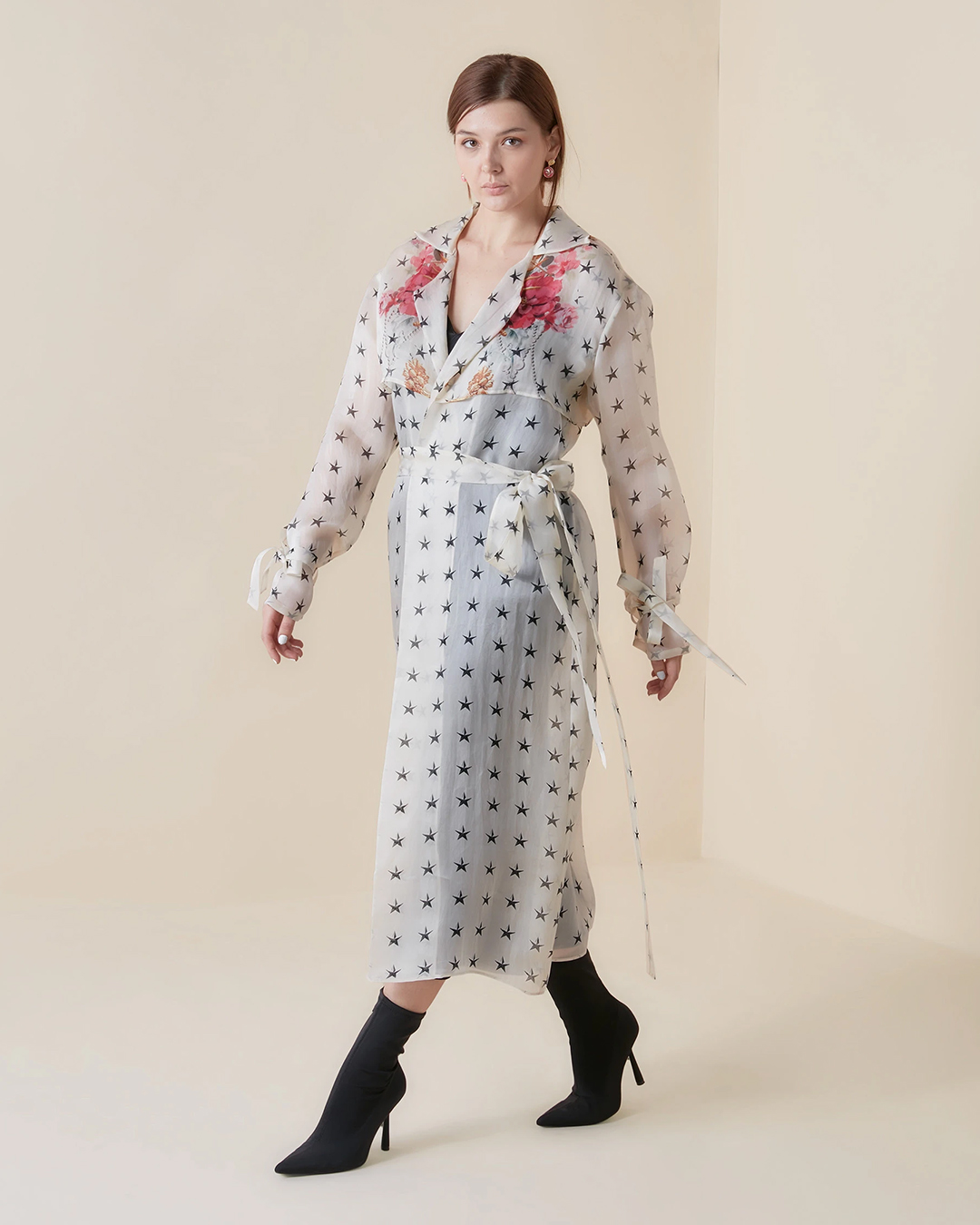 The perfect melange of fashion and utility, the Ireland star trench coat is not your average trench coat style. Curated from luxe, 100% silk organza, the sheer garment is replete with a peak lapel, waist belt, front and back vent and a wrist tie-up. Layer it up with a satin slip dress to get ready for your dinner date in a jiffy without compromising on the style quotient.
DREAM MIRAGE TRENCH COAT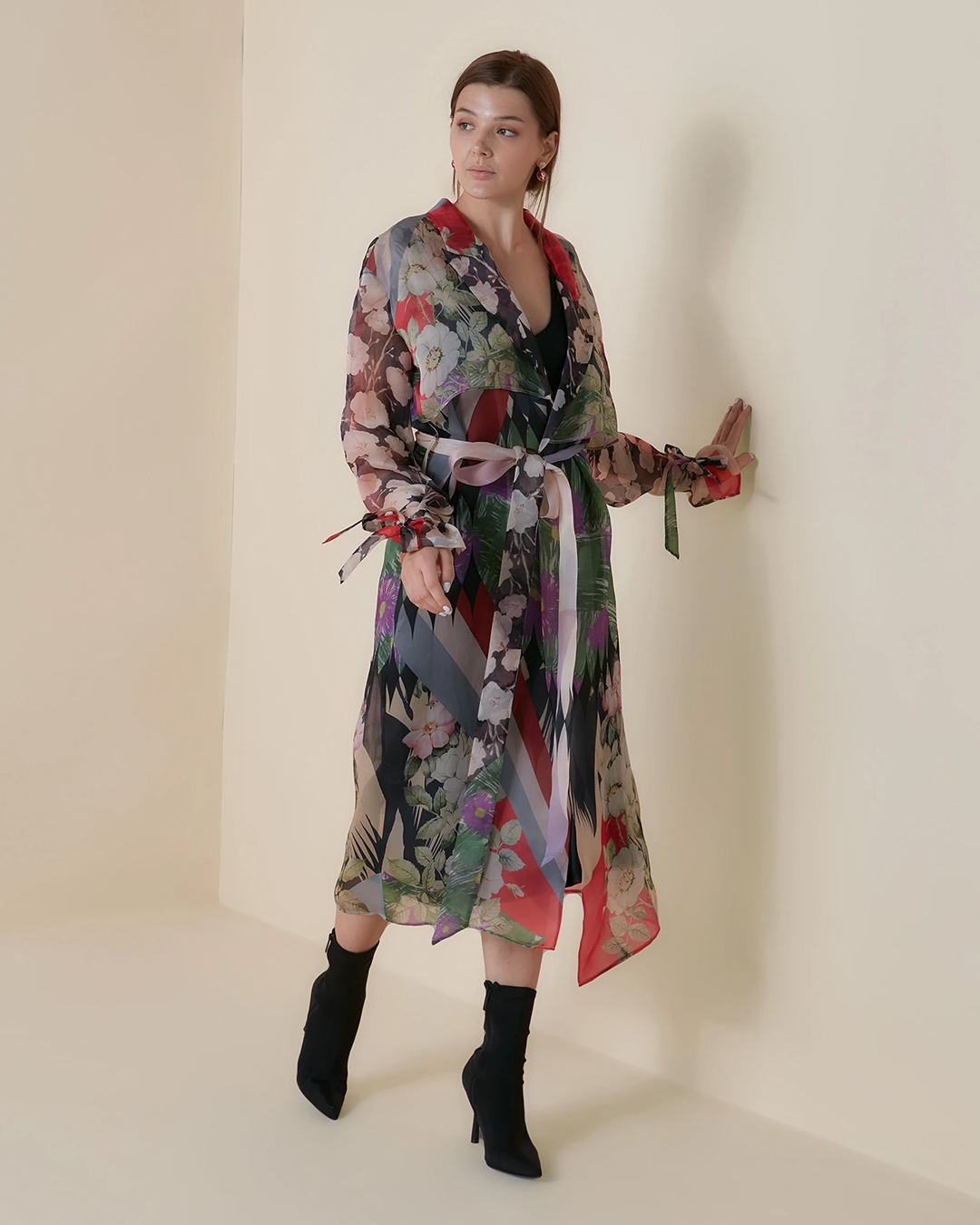 Our dreamy mirage trench coat combines a unique floral print with innovative abstract patterns to create this casual yet chic fashion wardrobe staple. Seamlessly crafted from the best quality organza silk, this remarkable piece showcases a peak lapel, waist belt, front and back vent and a wrist tie-up.
INFLORESCENCE TRENCH COAT

Exude comfort and style like no other dressed up in our inflorescence trench coat. Seamlessly crafted from 100% silk organza, this sheer, dressy trench coat style is a staple in every fashionista's wardrobe. The combination of floral mosaic prints in pink, black and white is what elevates the look of this particular one.  
FSP MONOGRAMMED TRENCH COAT

Get ready to live your rock-chic, designer-wear dream with Falguni Shane Peacock's Monogrammed Trench Coat. This one is our signature take on the classic trench coat style and is a crowd-pleaser for sure. Tailored from FSP monogrammed fabric, this trench coat is everything you want from a high-fashion piece like this one. If utility combined with fashion had a name, it has to be this one.
GOLDEN FSP MONOGRAMMED TRENCH COAT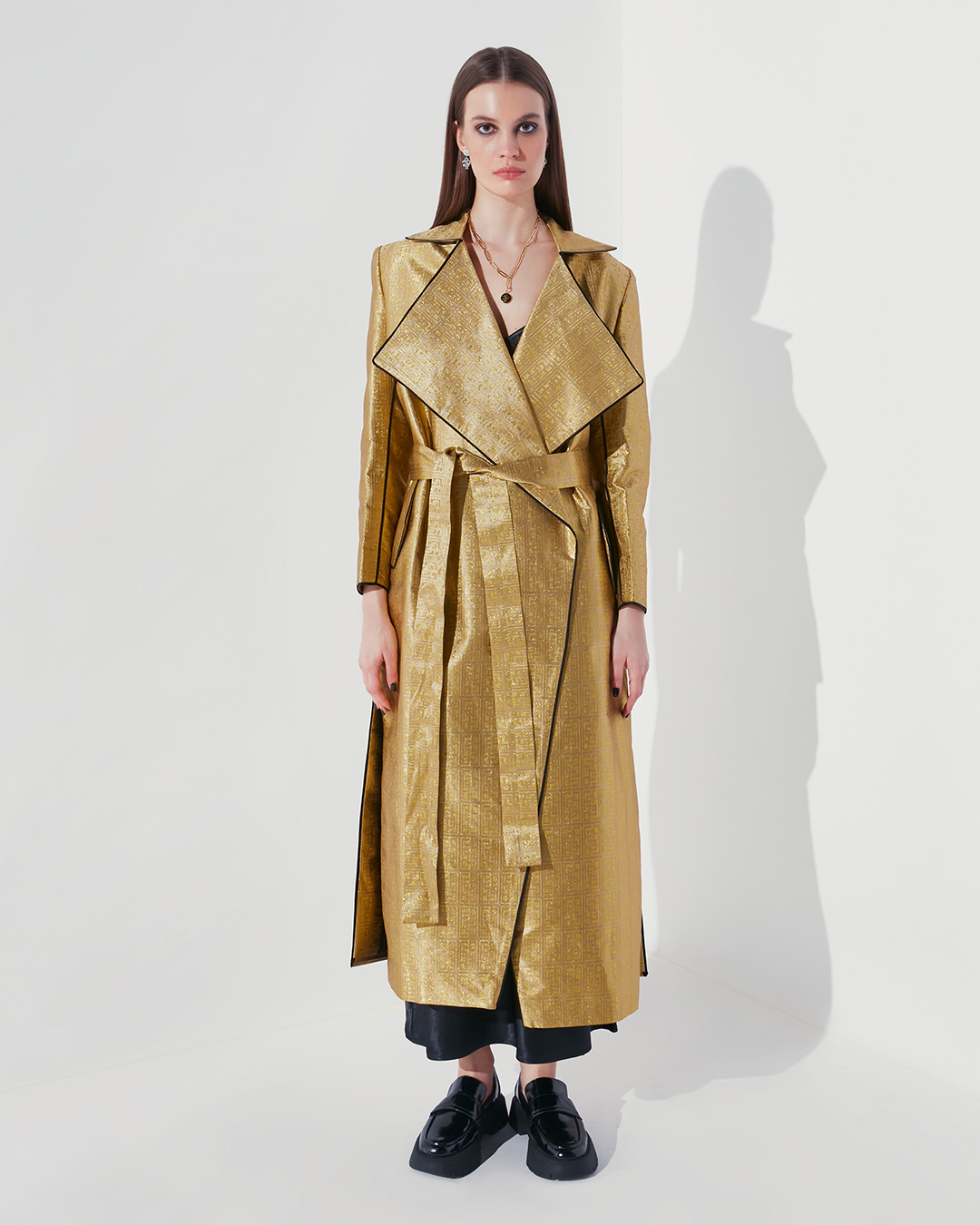 High on fashion, high on style and high on glamour—the golden FSP monogrammed trench coat is something you need to dress yourself up in for an extravagant event. Everything about this piece screams attention—the colour, the cut and the detailing. Tailored from FSP monogrammed fabric, the designer double-breasted trench coat style showcases a waist tie-up, peak lapel and contrasting black piping all over the coat.